The time had finally come - time to pack up, say our goodbyes, and leave Japan. To celebrate our final days I tried to document our "lasts".
We had talked about visiting the Edo Tokyo Open Air Architectural Museum for several months and finally decided to make the hour trip to Tokyo's residential west side on our second to last Sunday. This museum contains several historical buildings that were picked up and moved for safekeeping.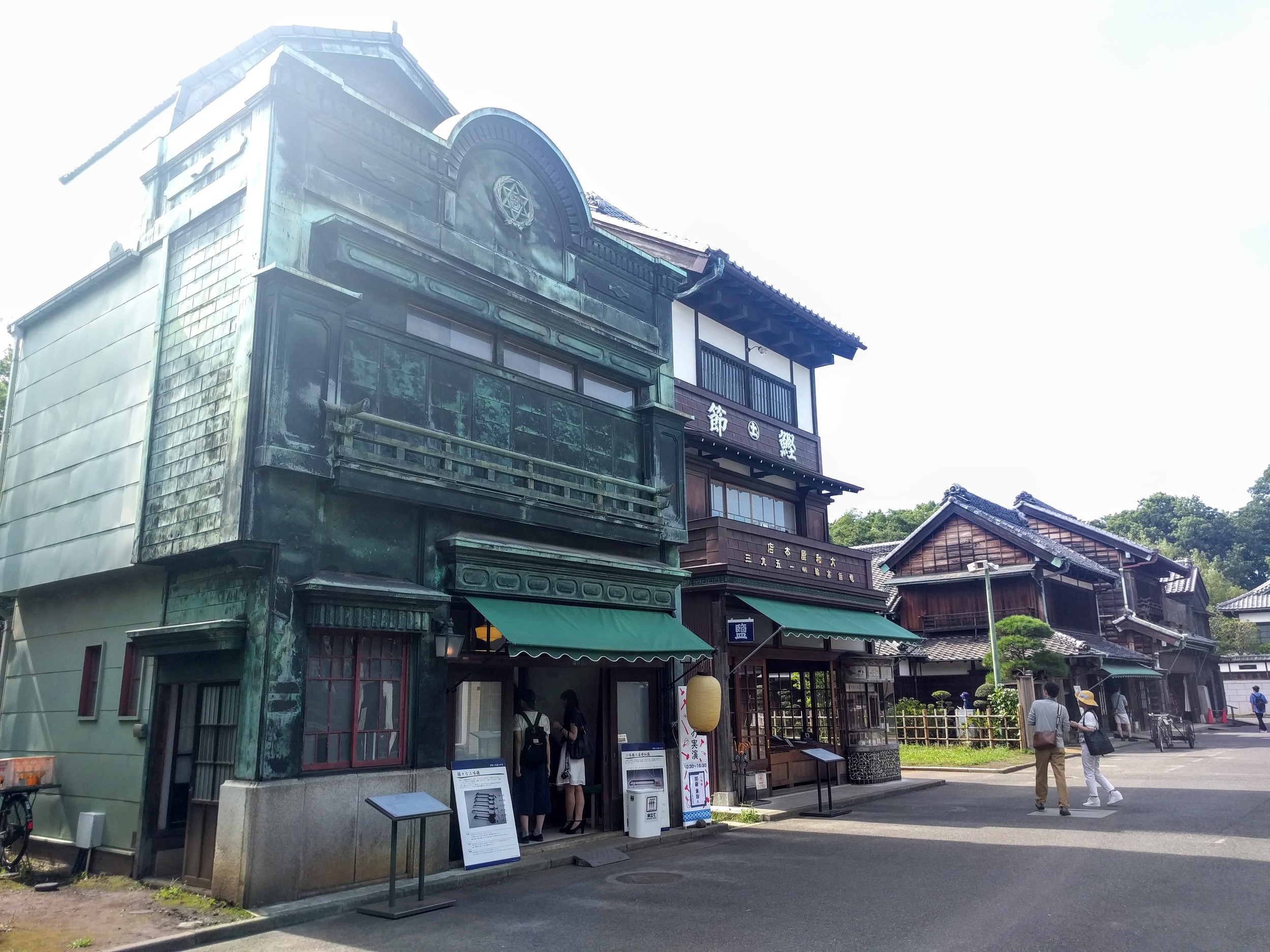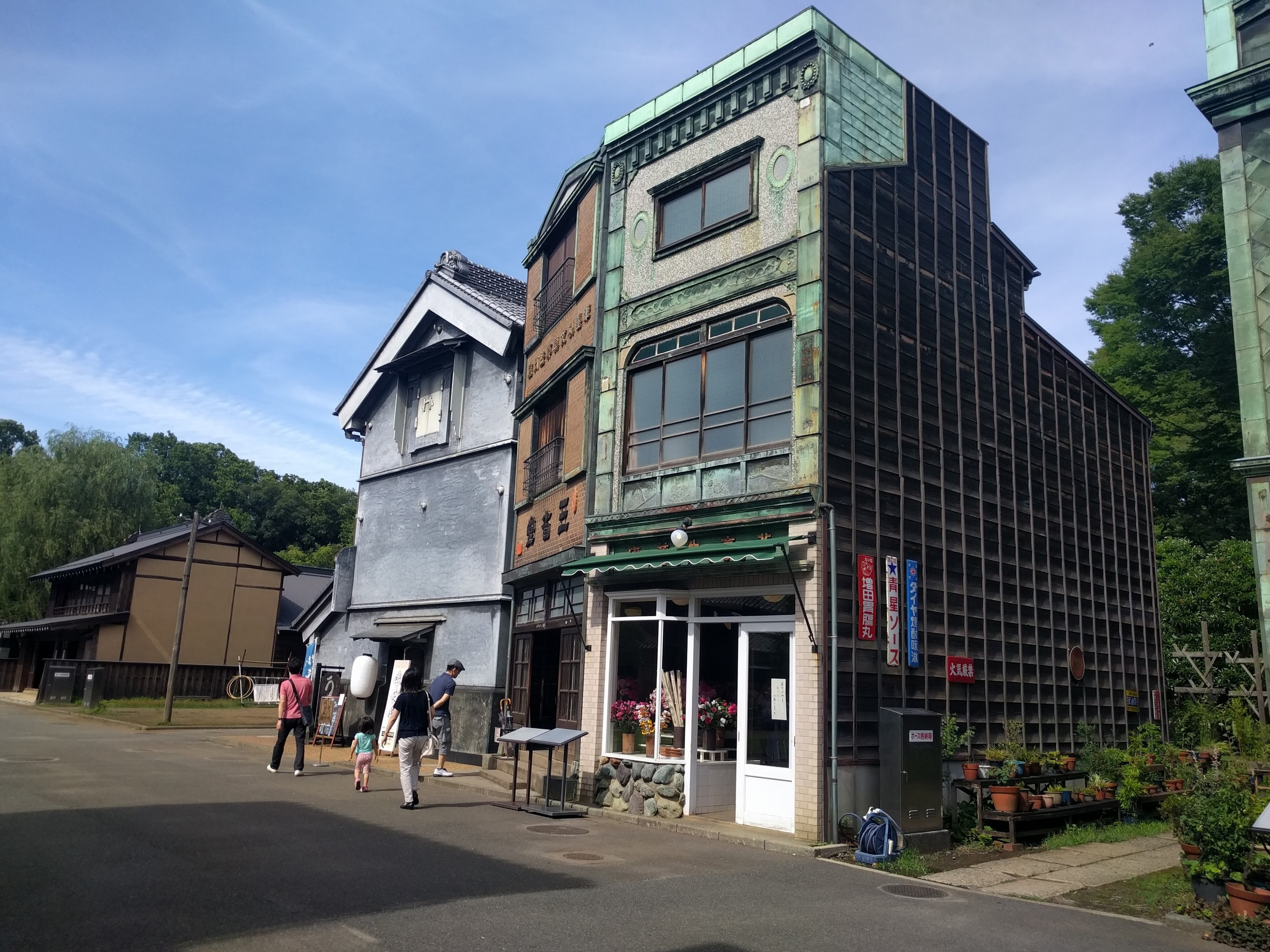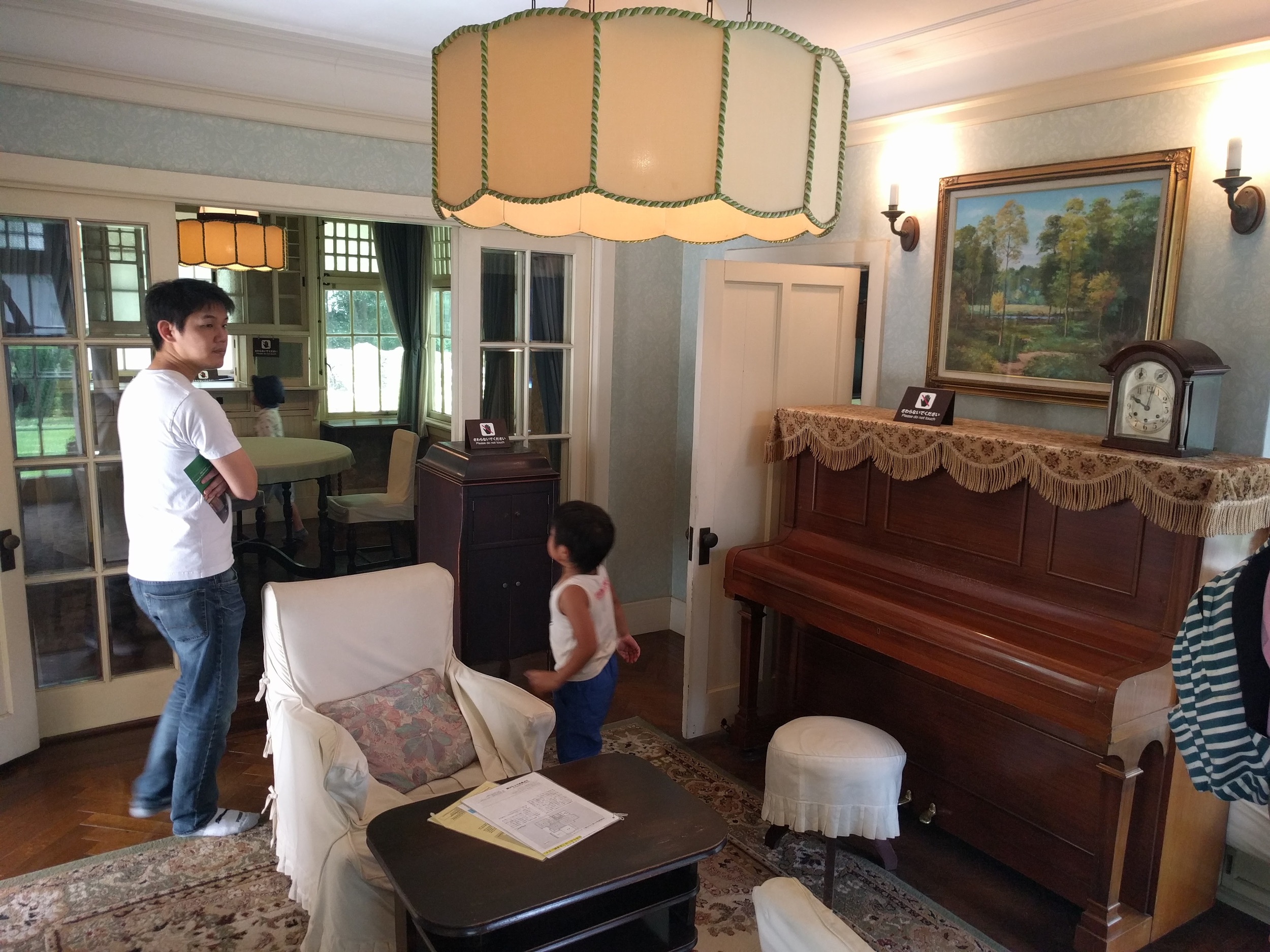 We have favorite dinner spots around our Ebisu apartment and we made sure to visit them one last time (warning: lots of food ahead). Coco Curry is one of our faves because the curry is extra spicy. We even have our own booth.
Just a few steps down the road from our apartment is Yellow Company, a delicious Japanese curry restaurant. Tim's coworker introduced it to us and we fell in love. One of the most interesting things about it is the manga library that sits by the front door. Grab a book and enjoy with your curry.
One of the cheapest go-to spots we have is Tsurumaru udon. For about 500¥ ($5) you can get a big bowl of steaming udon plus one or two pieces of tempura.
Blue Papaya is a delicious and very affordable Thai restaurant that we pass on our way to the train station. Ladies love this spot for lunch because for 1000¥ ($10) you can get all you can eat appetizers plus an entree, tea, and dessert.
We love Spajiro's Japanese twist on spaghetti. Our favorite dish? Mentaiko (spicy cod roe) spaghetti! This spot is just across the street from the station.
Almost all of our guests made it to our favorite soba restaurant - Kaoriya Soba. This spot doesn't look like much from the outside but their tempura and soba is amazing. And the locals know it. This place is always full of Japanese business men, lunching ladies, and young people on dates. It's as authentic as it gets.
L'Antica Pizzeria da Michele is our favorite pizza spot in the city. And it just so happens to be located right next to our train station.
Tim said goodbye to his co-worker, Nanase, at a Shibuya sushi spot that we'd been trying to hit for a long time. Every time we went by the wait was at least two hours. Thankfully, midday on a Friday it wasn't too bad. Oishi desu! Nanase is moving to New York City next month so hopefully their paths will cross again if/when Tim travels to Palantir's NY office.
I made sure to get in a goodbye get-together with my friend, Yesenia. I met her during my 1.2 intensive course at Coto Language Academy. Yesenia and I met for lunch at a delicious Japanese restaurant just around the corner from where she works in Akasakamitsuke (near Ginza). We hope to see each other again when she visits her friends and family in SoCal!
Tam is Tim's coworker, Trevor's, wife and together we make up the Palantir Tokyo Wives Club. Tam and I met up for picnic time in a park in Ebisu, one of her favorite study spots. She even brought along some delicious Japanese sweets! I was very impressed with her level of Japanese fluency. Being a Japanese language major in college and spending one year going to school in Kyoto meant she already came to Tokyo with a great grasp of the language but she also made a point to have language exchanges every week to enhance her skills.
We also got together with her husband, Trevor, for a final dinner. It was Tam's birthday the next day so we got in a few pre-birthday drinks in her honor! We went to Ebisu Garden Place's Summer Terrace and then to the 39th floor of the Ebisu office building next door, with beautiful night views.
We were having lots of fun seeing our friends and celebrating our "lasts" but we knew it was time to get down to business. Packing up and cleaning the apartment was rather surreal. It was hard to believe that after a year in Tokyo, we were really getting ready to leave for good. Our nine boxes and three large suitcases got picked up and delivered to Narita Airport on Friday, and our flight left on Monday. We planned to check the bags into our flight rather than pay for the shipping, which would have been 3x the cost.
We locked the apartment door, walked down the hallway, rode the elevator, and exited Ebisu Spacia for the last time. And I documented every sad step.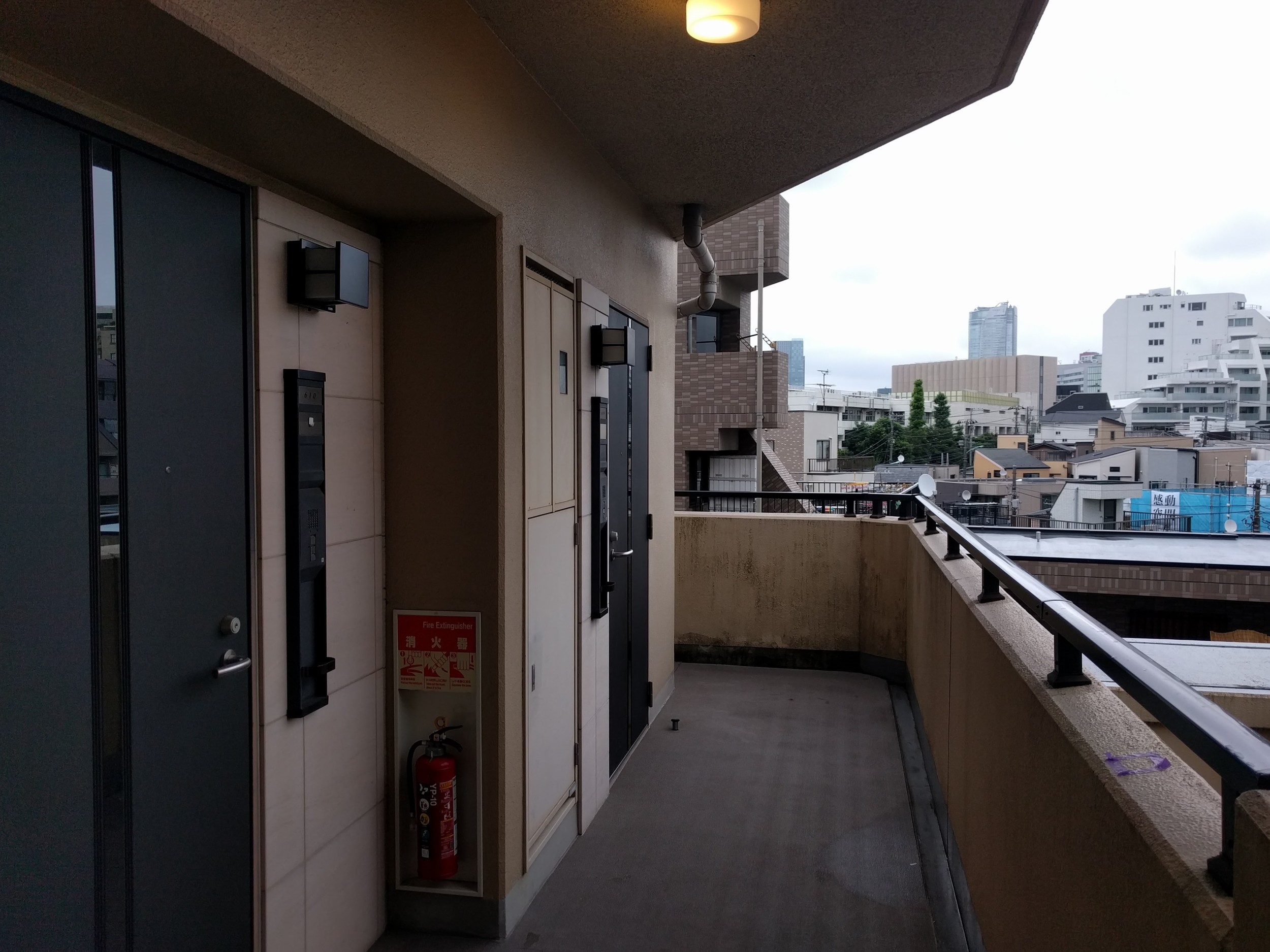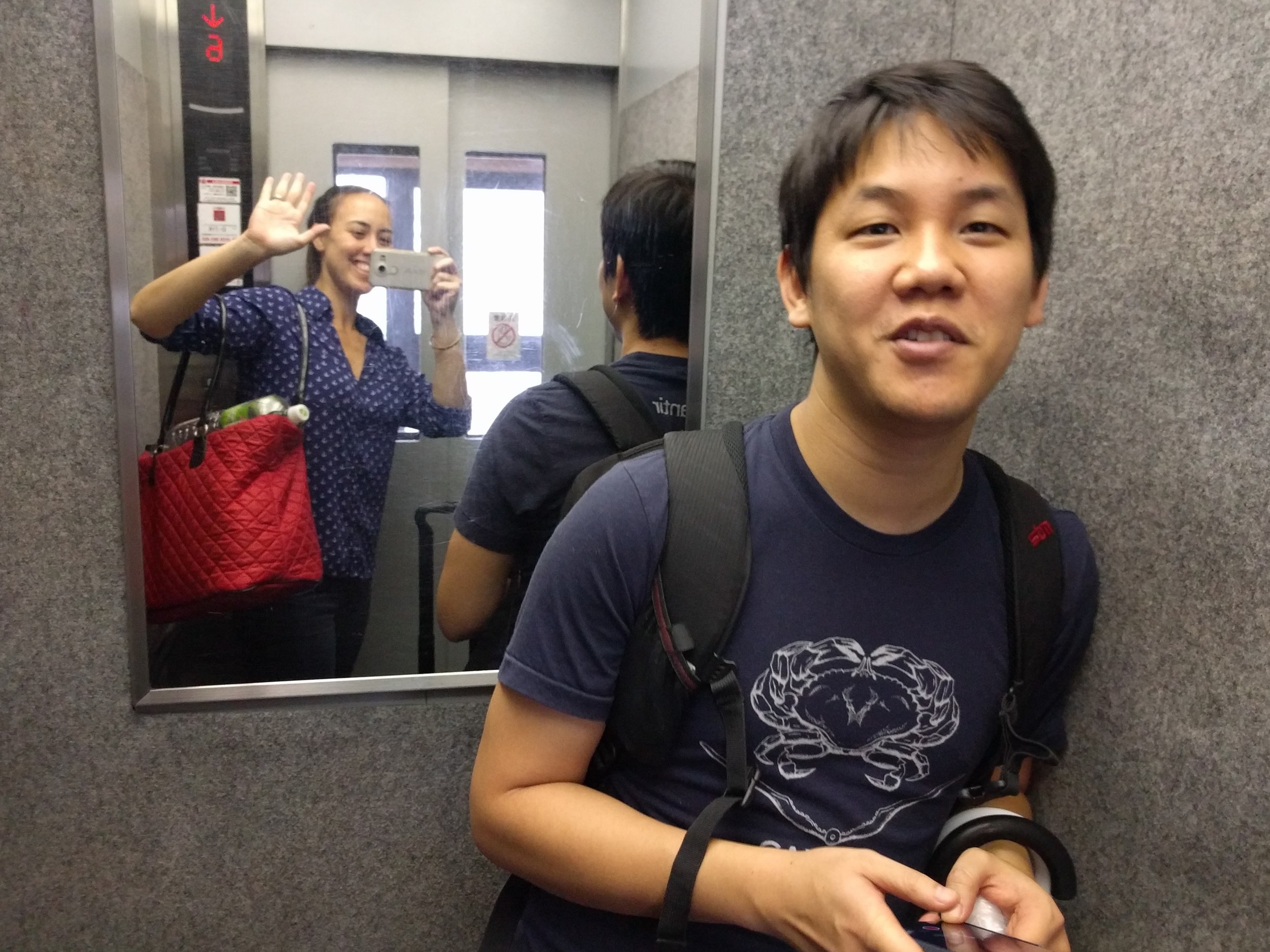 Tim had the brilliant idea to pack up and head out a couple days early so that we could enjoy our final weekend in Tokyo as real tourists. He used points to stay at The Westin, located right next to the corporate apartments, where we used to live. The walk to and from the station reminded us so much of the start of our year in Tokyo!
In Shibuya we took care of some last-minute errands and hit Shibuya Crossing one last time. We wondered how many tourists' photos and videos we'd appeared in over the course of our year as we walked across the famous Shibuya "Scramble". We also stopped in Ebisu Garden Place, enjoyed some ice cream, and watched the little ones play on the astroturf of Ebisu Garden Place's ongoing Summer Picnic event.
We love going to the movies and going to movies in Japan is just as fun, if not more so. In addition to the rotating popcorn containers, I can understand some of the Japanese translations on the screen, which is sort of fun (although sometimes distracting). The only annoying part is that the Japanese are so polite that they wait until all of the credits are over before they exit the theater. Argh. Tim got tickets for "Finding Dory" and we headed to Roppongi's Toho Cinema for one last show. It was a bonus that the Doraemon figures were on display (just like last summer) and that we got a glimpse of Godzilla!
Tim headed to Palantir's Ebisu office one last time on our final day in Tokyo. He tied up some loose ends, I snapped some goofy co-worker shots for nostalgia's sake, and he said goodbye to his year working abroad. Thank you for this amazing opportunity, Palantir. :)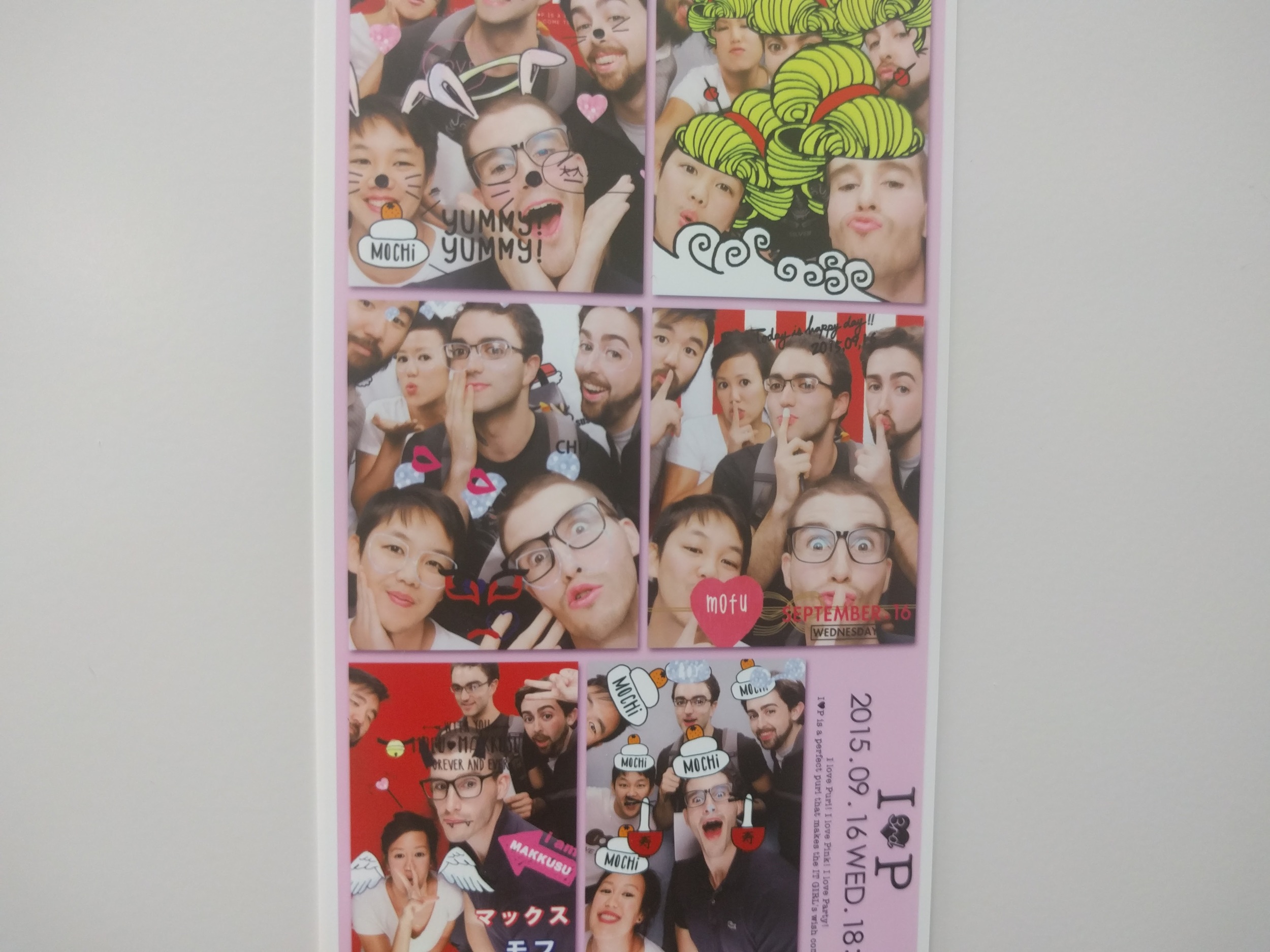 On Monday, July 18th, we arrived at Narita Airport, prepared to say sayonara to our home of one year. We were reunited with all of our stuff - 9 boxes and 5 suitcases, to be exact - and managed to get everything checked in.
Japan managed to wow me one last time with this automated beer pouring machine in the airport lounge.
Tim used points to put us in business class and it was pret-ty amazing. We made sure to eat all of the food offered, relax in our fully reclining chairs, watch tons of movies on our massive screens, and generally enjoy our time in the air.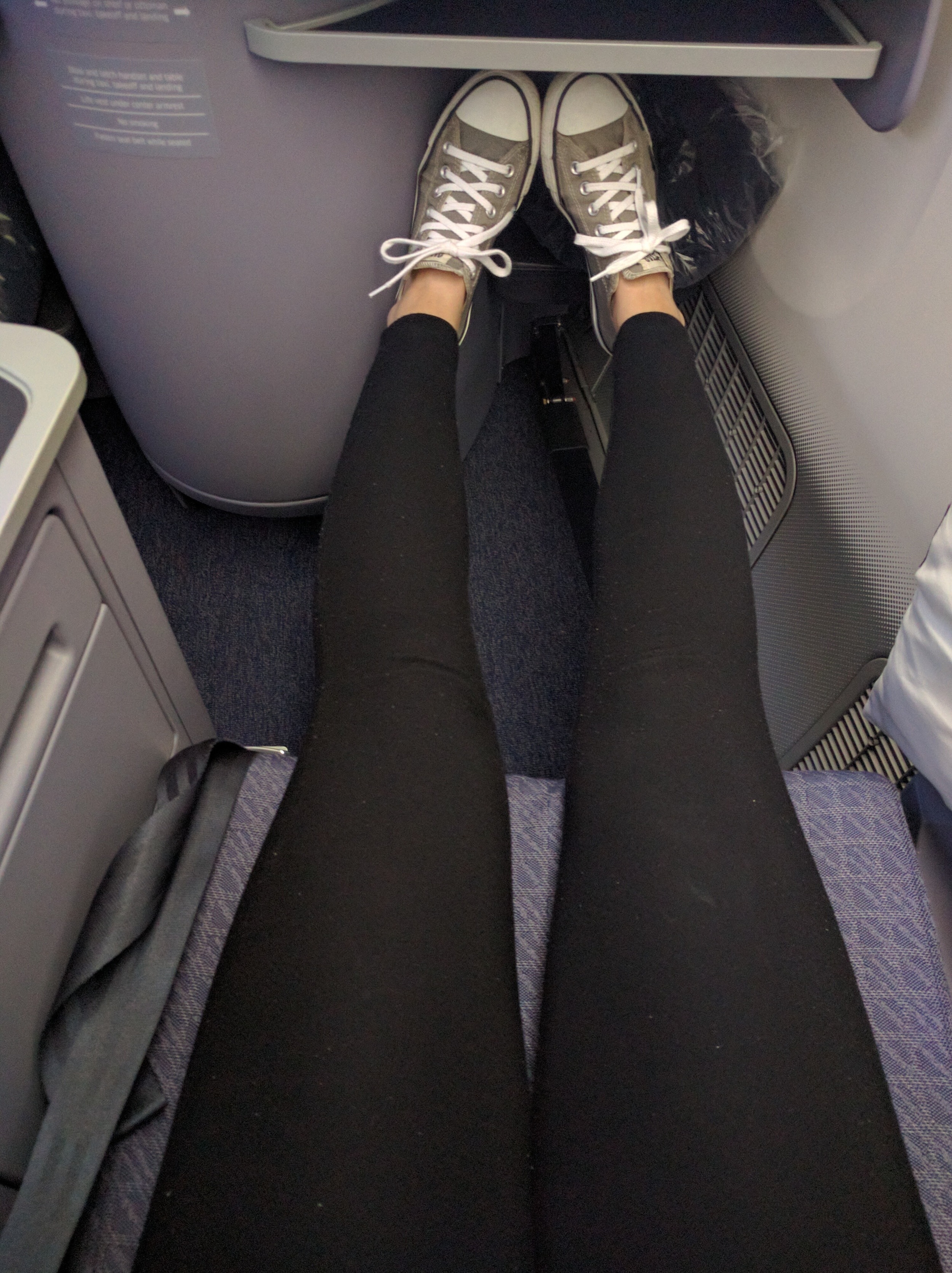 Wow. A full year in Tokyo has come to an end. We don't know how we got lucky enough to have the opportunity to live in a foreign country - Japan, no less. Neither of us traveled abroad during our time in college so living outside of the country never seemed like it would happen for us. We fully recognized that a year in Tokyo was something to cherish, and I think we did a pretty good job of taking advantage of it.
From touring all of the big Tokyo tourist spots, hitting Kyoto, Hiroshima, Miyajima, Kamakura, Mt. Fuji, Hakone, and Nagano to the countries of Cambodia, Singapore, Vietnam, South Korea, India, Thailand, and Australia - we fit in A LOT.
The thing that we cherished the most was the time spent with friends and family who made the trip out to see us and to explore Japan for themselves. Thank you!!! We are so sad to leave Tokyo behind but extremely excited to get back to the people we love the most. Thank you for following the blog during our year away, for cheering us on, for taking care of our babies, Figs and Smoke, and for welcoming us back home. See you state-side!
xoxox,
Sarah & Tim