Mom and Dad Schwinge were officially our last guests here in Tokyo (last but certainly not least!). We were excited to show them around town and to see some iconic Tokyo sights for ourselves one last time. The entire time we were crossing our fingers that the summer weather would cooperate and they ended up getting VERY lucky.
Day 1
Mom and Dad's flight landed at Haneda Airport at 4:45am and they were wide awake! So, after dropping off their things at our apartment, we decided to make the most of the day. First stop - the amazing Sensoji Temple. We got very lucky and didn't encounter many tourists. Maybe part of that had to do with the fact that we arrived before 9am(!). Of course the famous Ichiran ramen was on our list of places to eat and with a location right around the corner, lunch was a no brainer.
Another "must see" that happened right off the bat was Robot Restaurant. It was as loud and chaotic as ever, and a good introduction to Tokyo's crazy Shinjuku district. Firefighter Dad noticed that it wasn't the safest venue, being several levels underground and full of pyrotechnics. I wonder what their fire codes are like.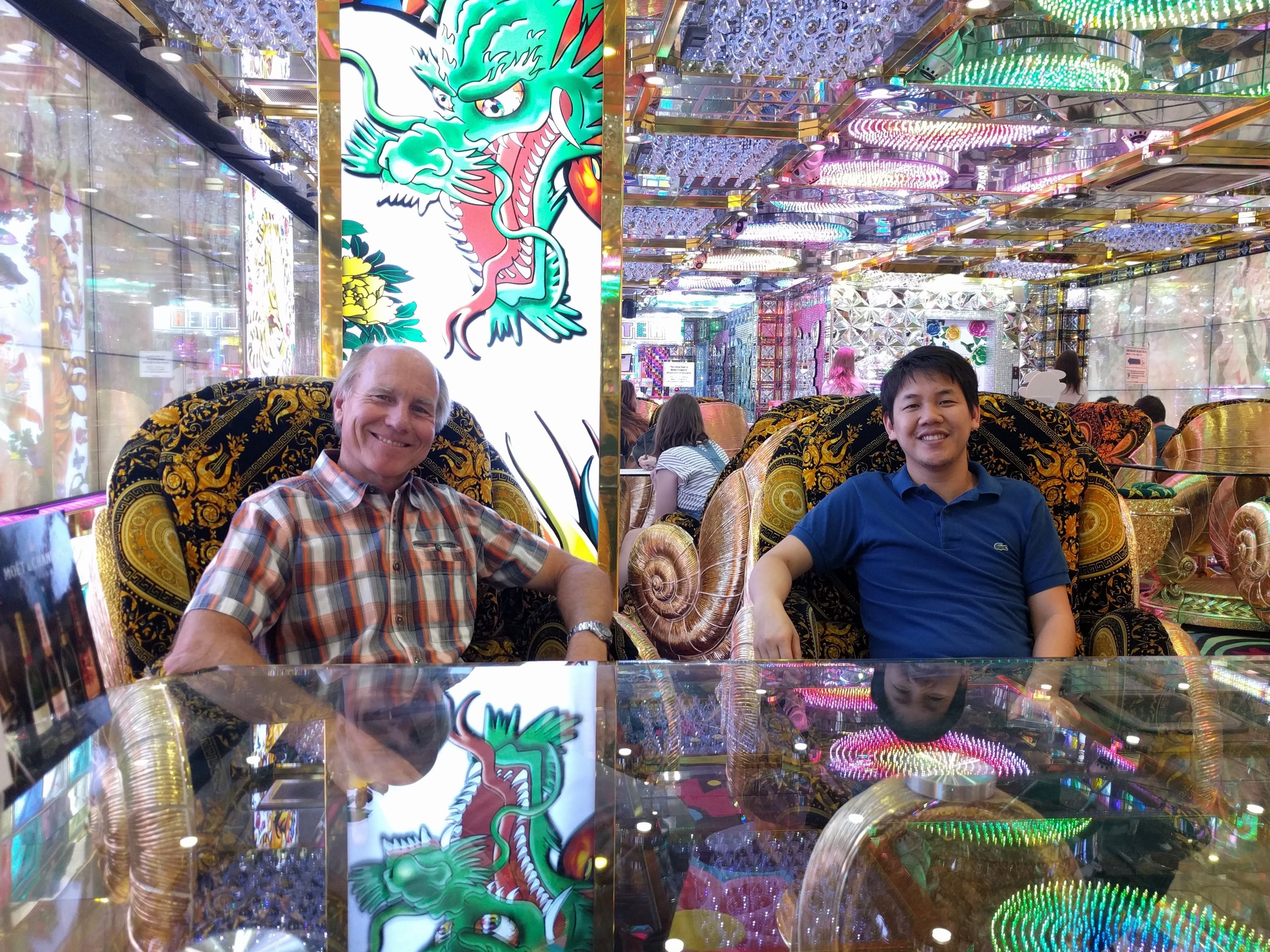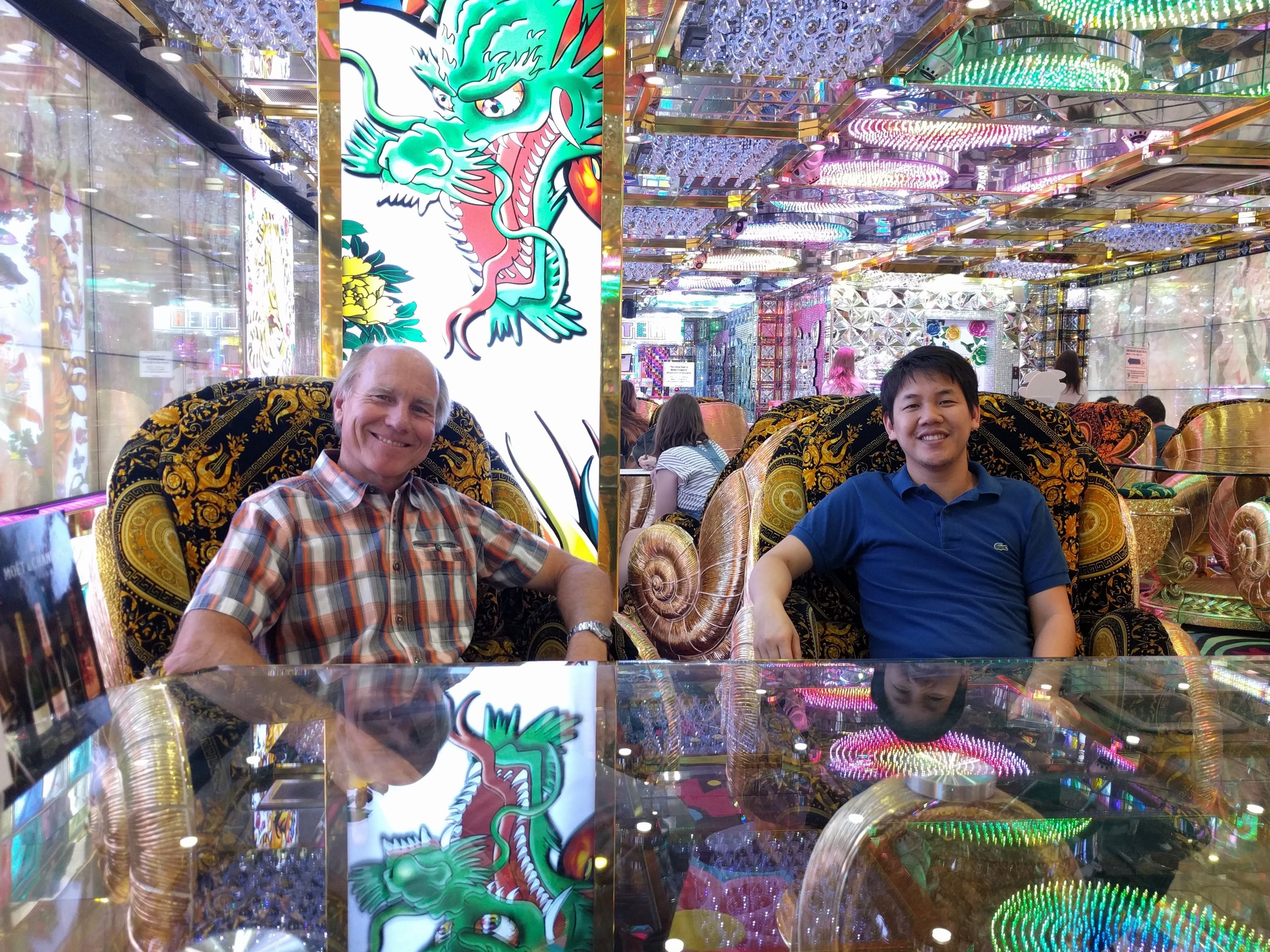 Day 2
Since it was a warm day, we thought a stroll through Ueno Park and passing the afternoon in The Tokyo National Museum was wise. We toured the main building's second floor, a condensed version of Japan's history through prints, vases, kimonos, scrolls, and more. Even though I'd seen this museum before, there were many things I'd missed.
From there it was on to Tokyo Skytree. I was particularly excited about this because I had never been to the top. There was an amazing view, as expected. And we even paid to go to the highest deck - 634 meters up (2,720 feet)! At their high-altitude bar we sipped champagne and enjoyed the view as day turned to dusk and then evening. Beautiful!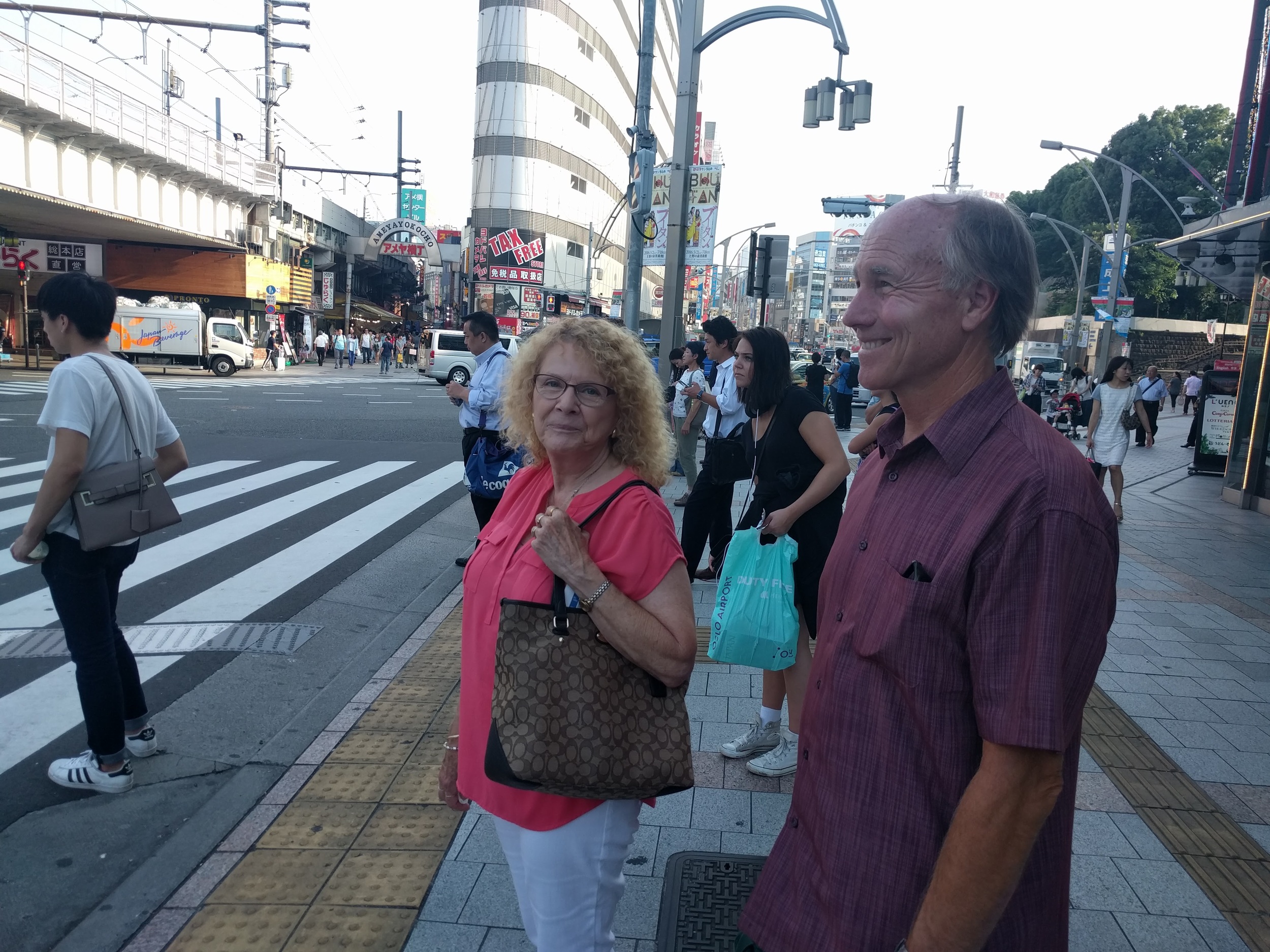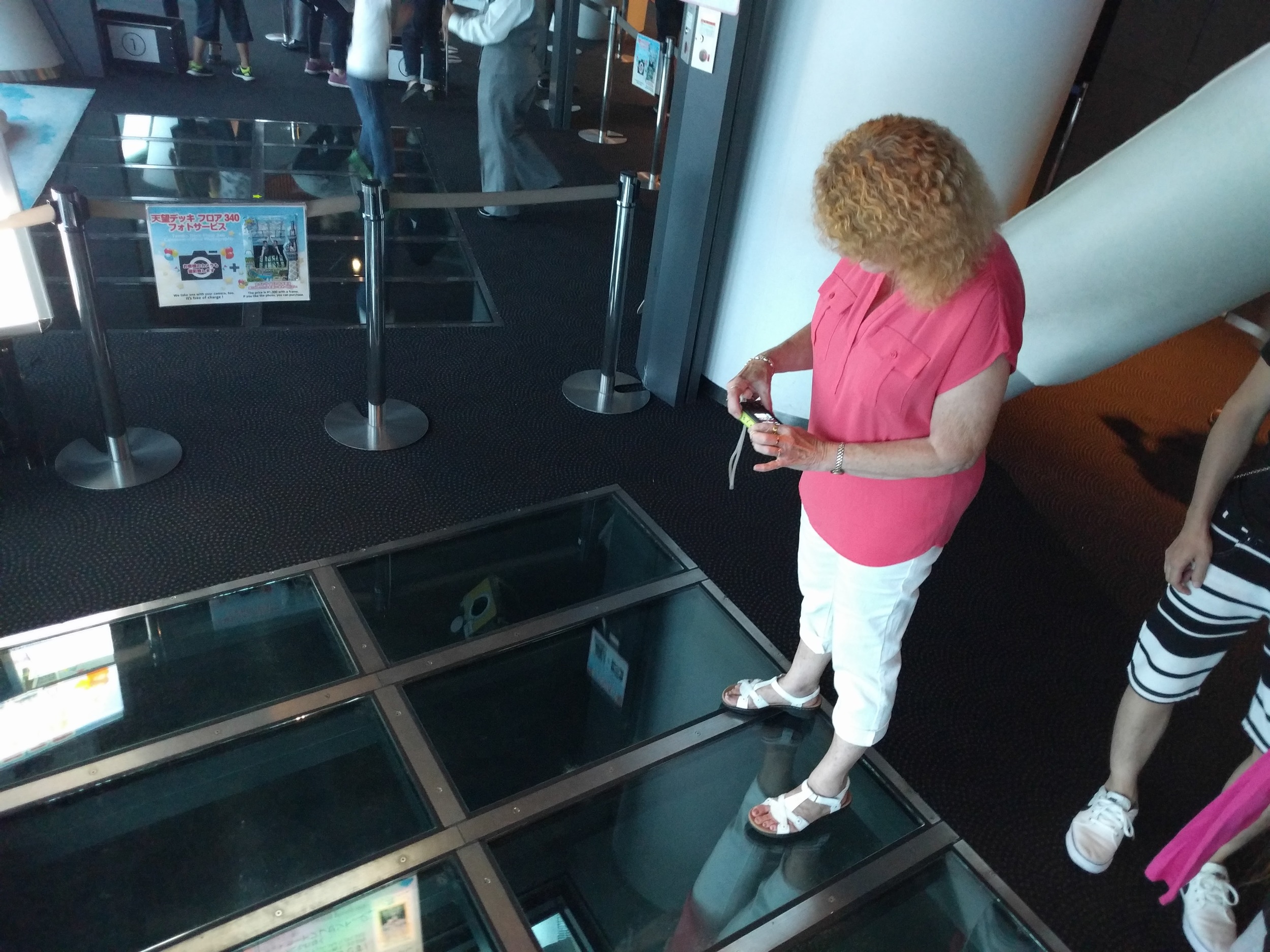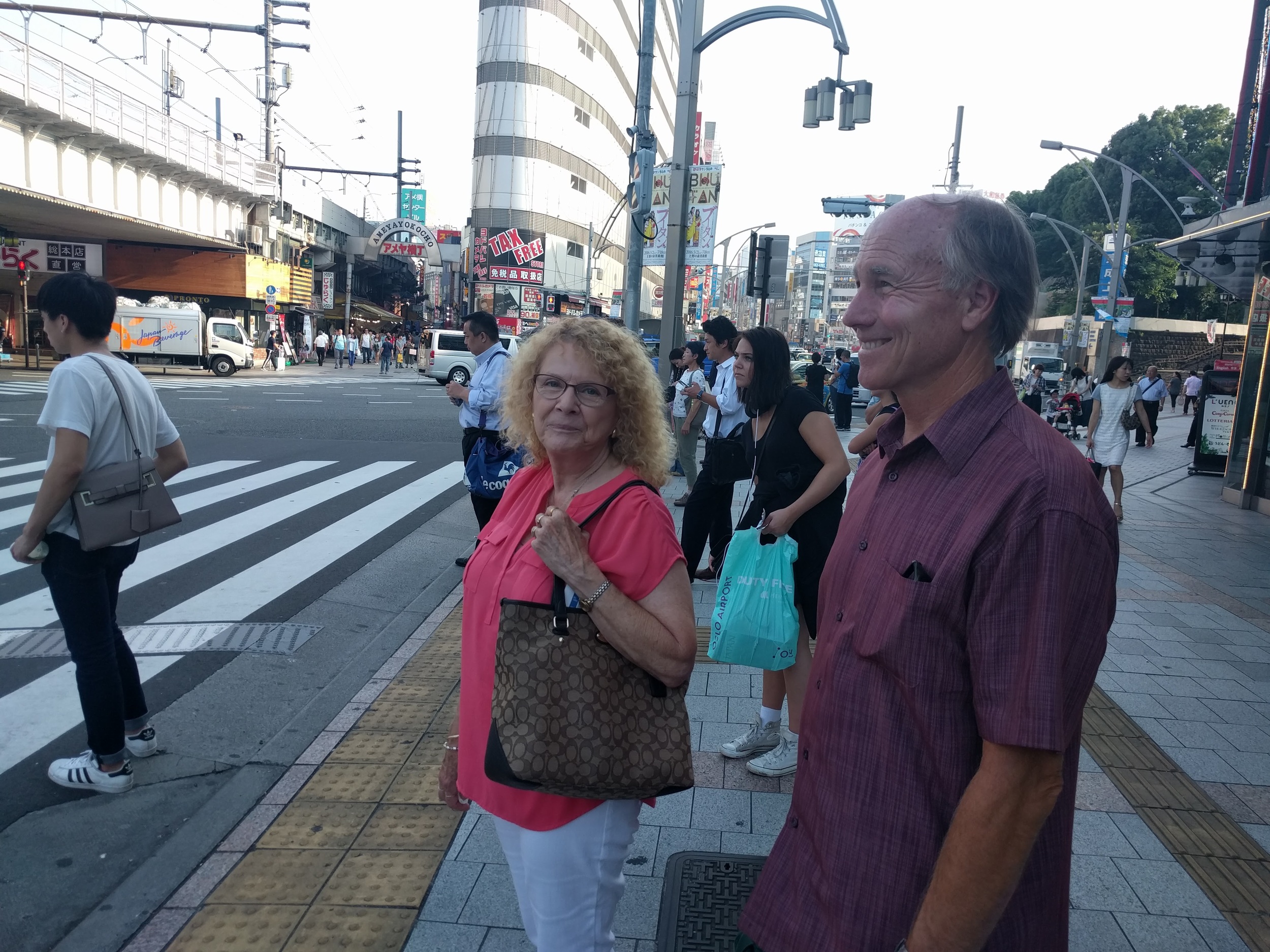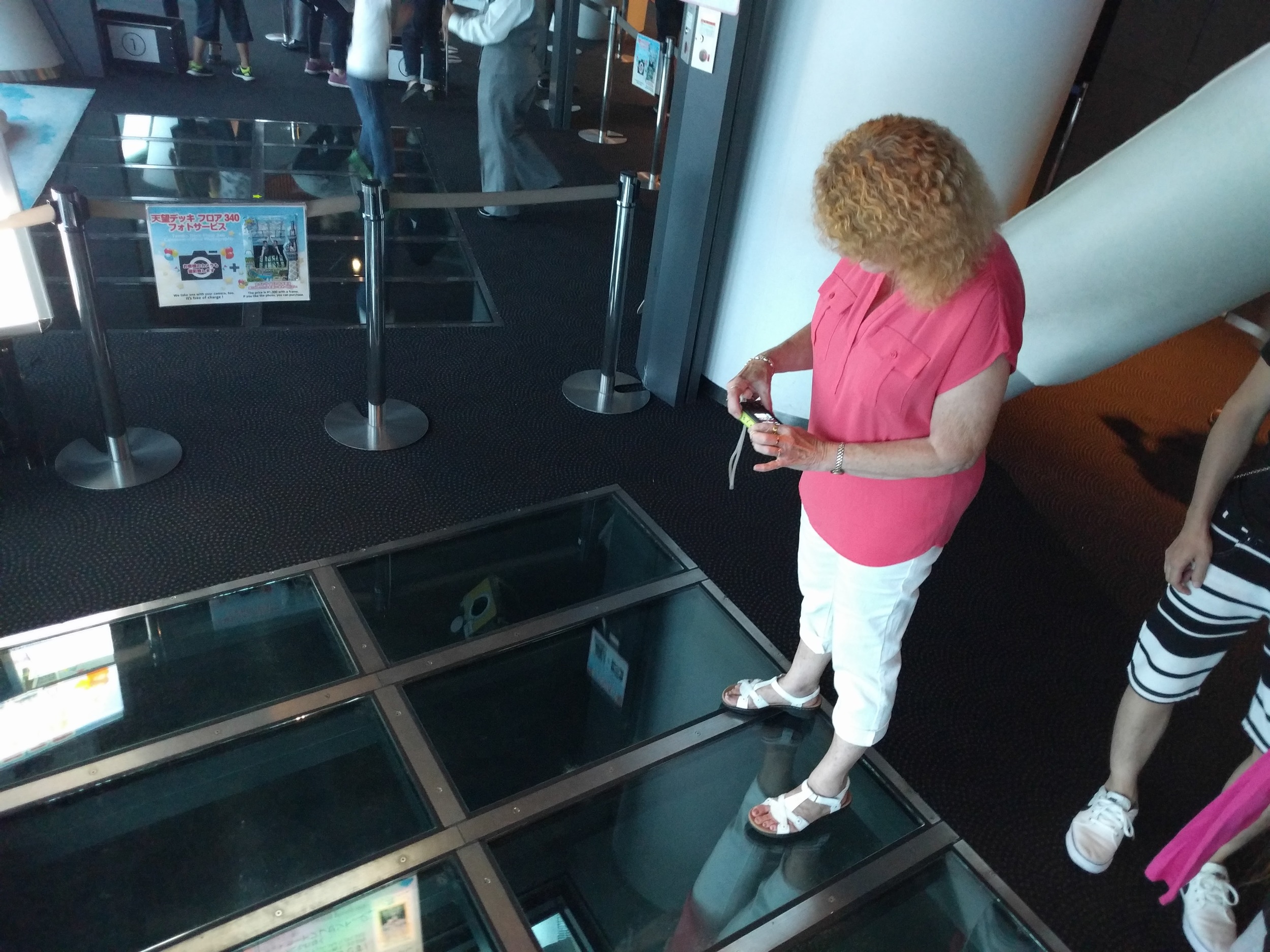 Day 3
On this bright Saturday morning we decided to take the short train ride over to Meiji Shrine to marvel over the serene forest surroundings and take in the beautiful shrine. We were not surprised to see a bride and groom taking photos and preparing for their wedding ceremony; we had learned that weddings take place at Shinto shrines and funerals take place at Buddhist temples.
From there we jumped on the green line and disembarked in crowded, bustling Akihabara. First stop - Akiba Fukurou owl cafe! I was happy to see that the staff still remembered me. We each enjoyed our owl friends and found it hilarious when Dad's owl ended up on his head! Mom's first owl just loved nibbling and burrowing in her hair. Gorilla was a massive brown and white owl who was very sweet and calm. And sadly, I knew this would be my last visit so I made sure to get some time with my favorite little owl, Ms. Yoshinori. :)
Then we met up with Tim, who took us on a tour of one of the massive electronics stores of Akihabara - Yodobashi Camera. We toured level after level of every electronic you could imagine and then stopped for some quick and fun conveyor belt sushi on the top floor.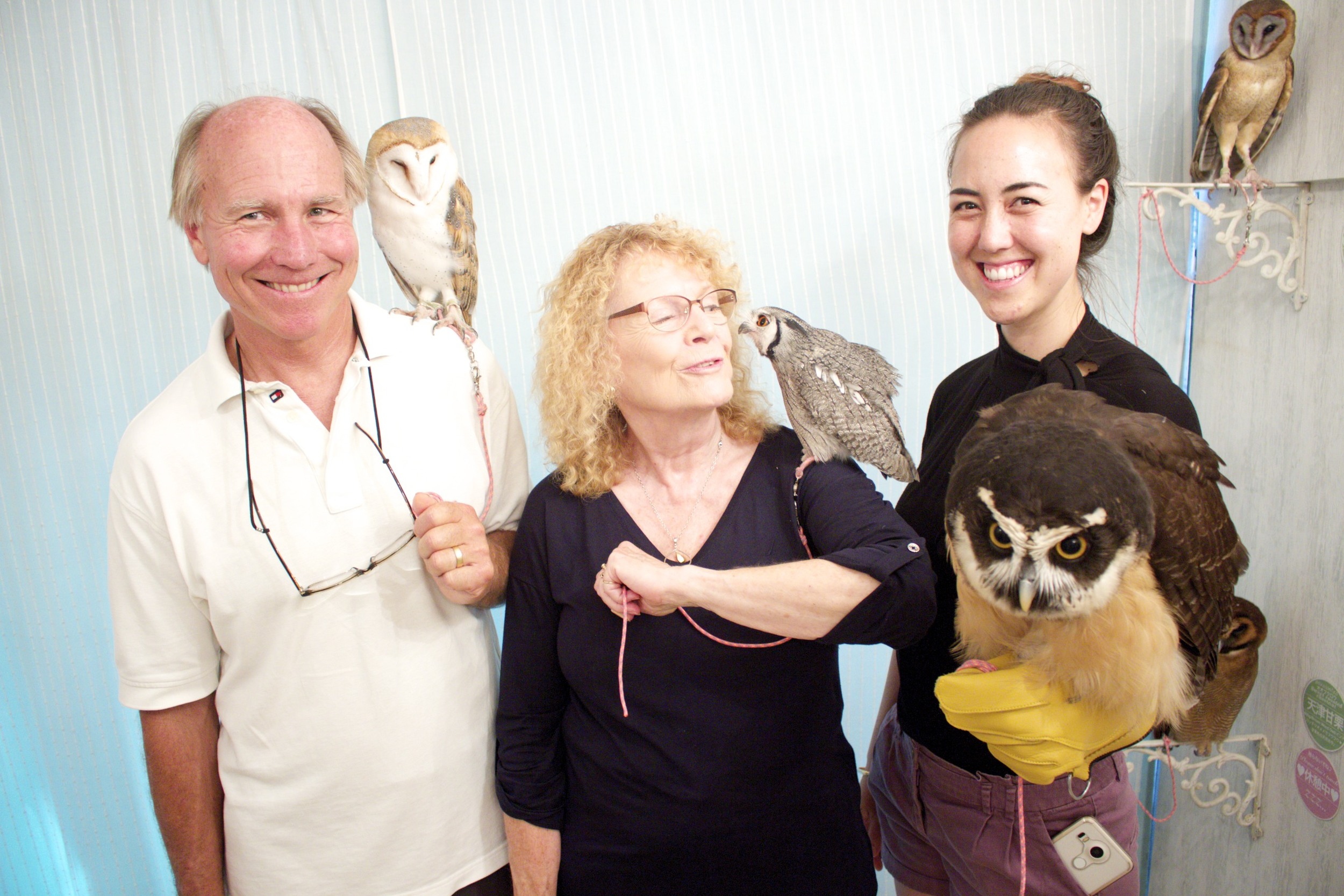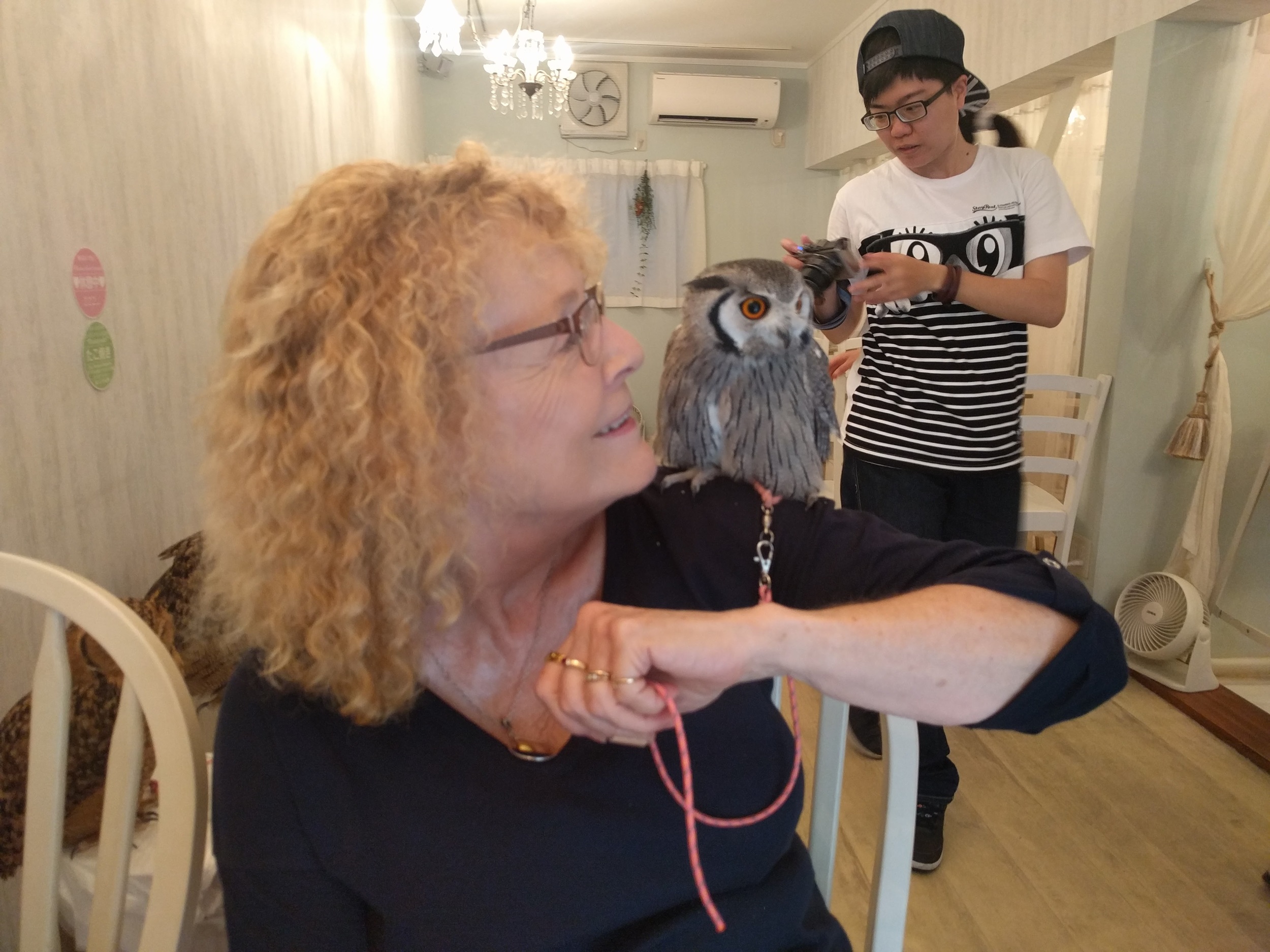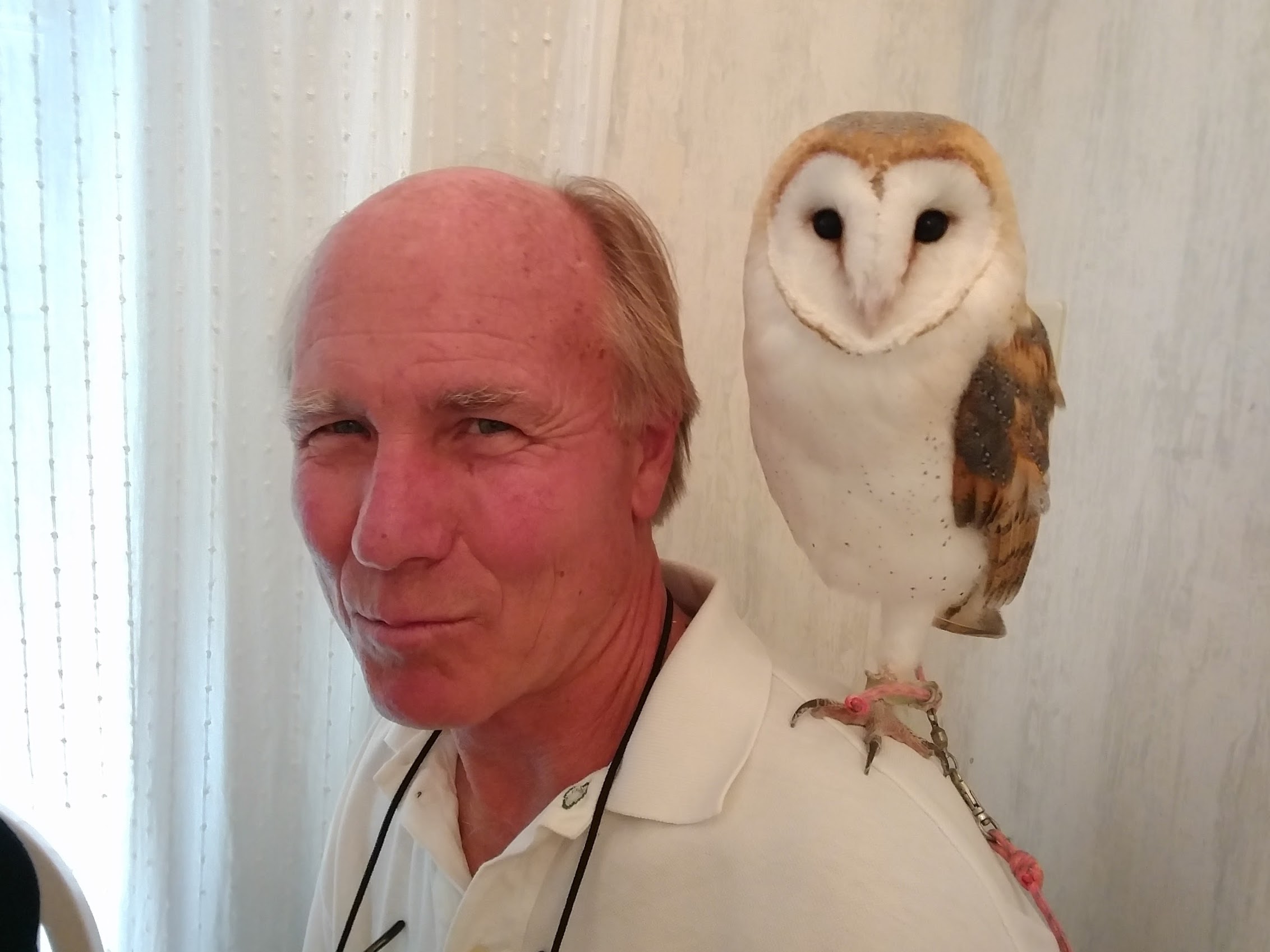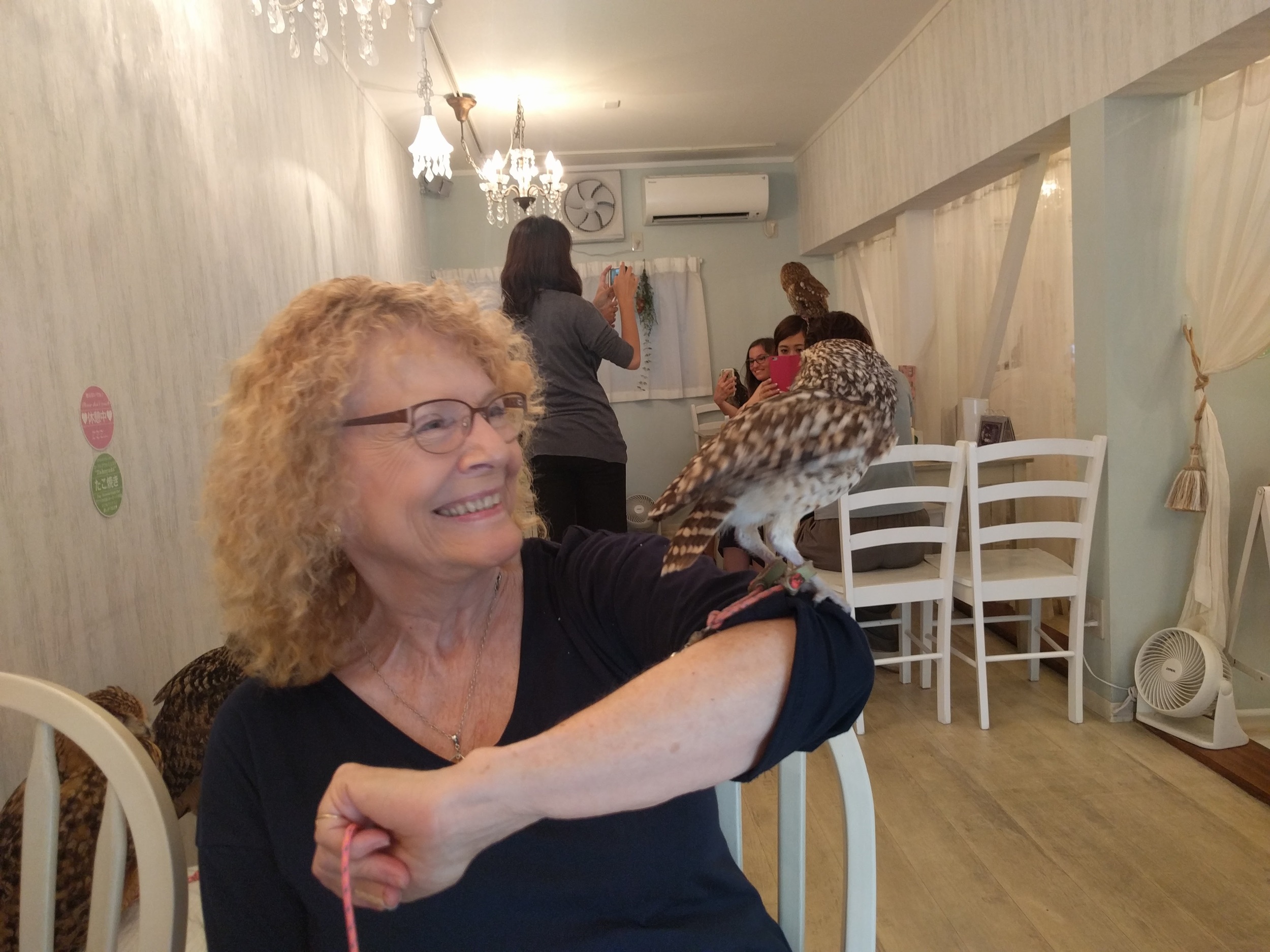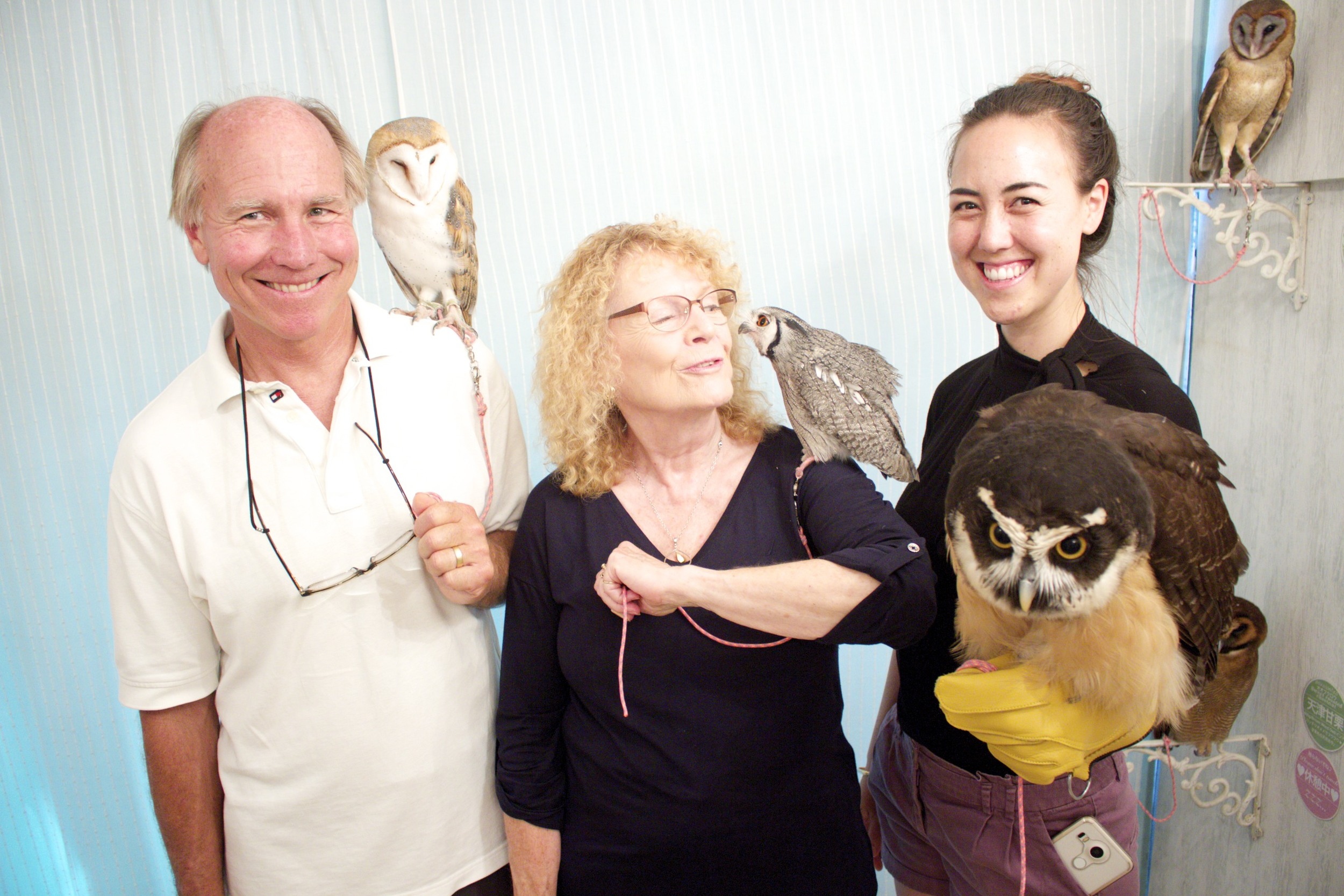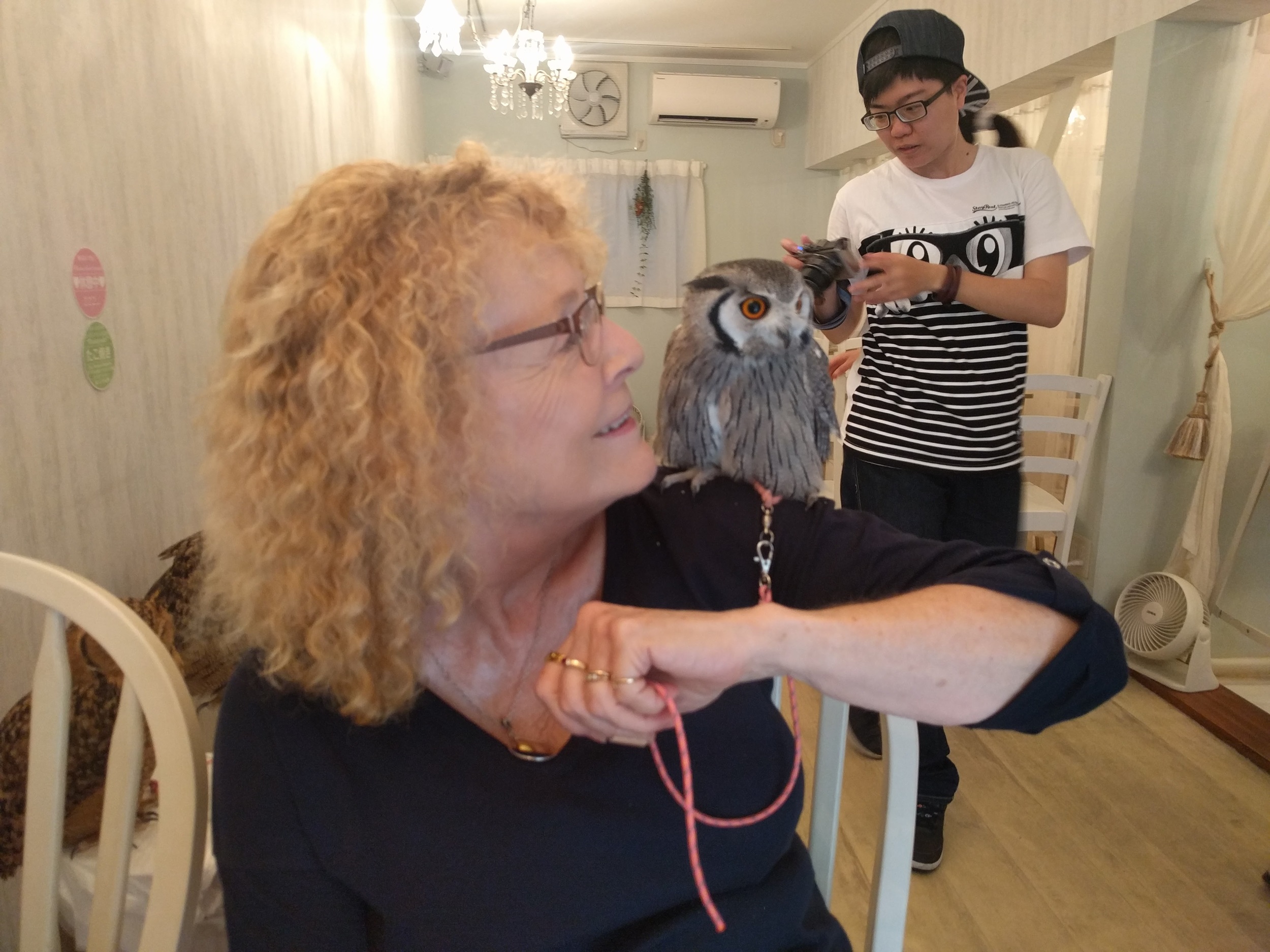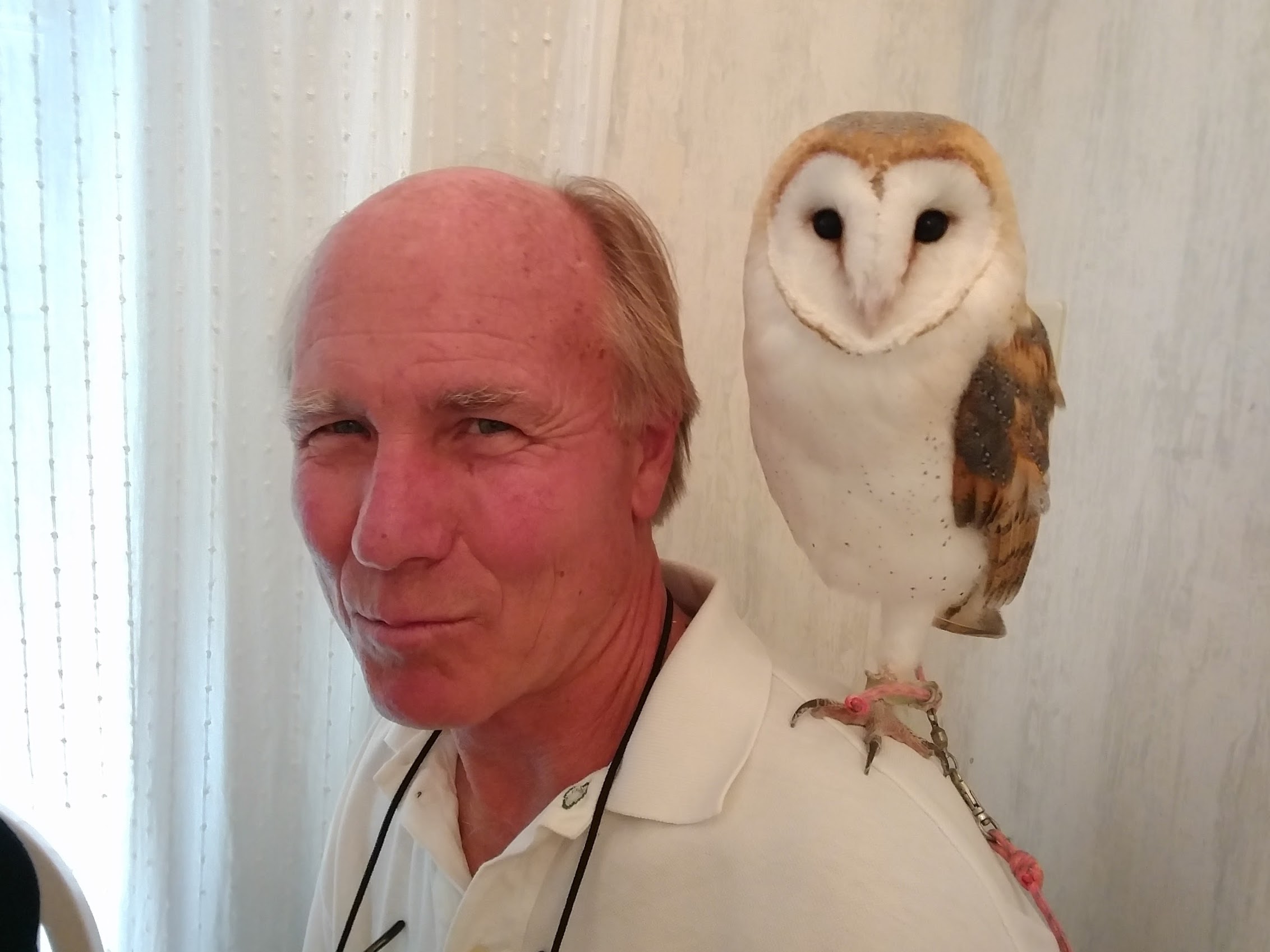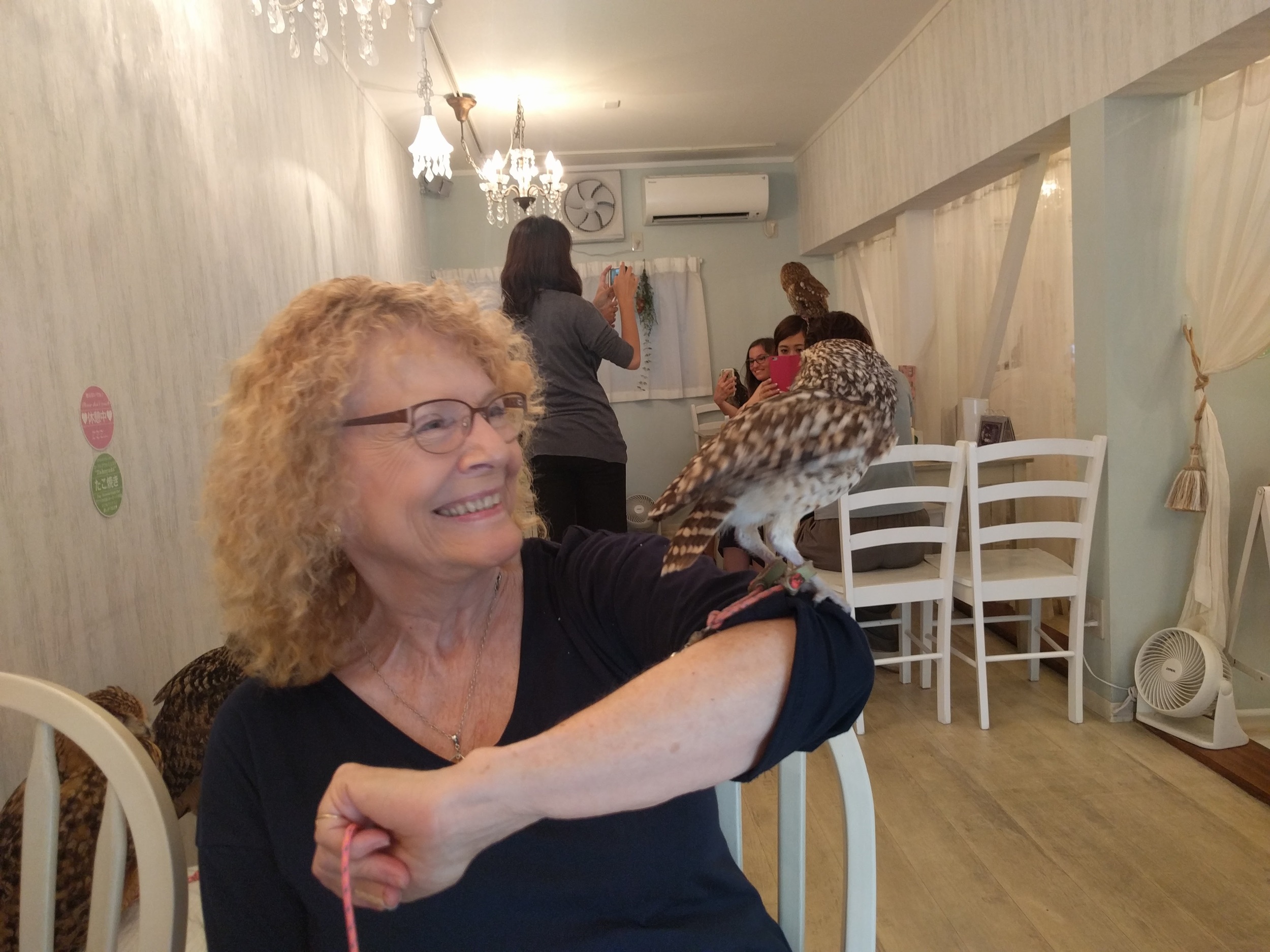 Day 4
Mount Fuji was our priority on this sunny Sunday. Courtesy of Sunrise Tours we rode a bus two hours out to Mt. Fuji and got to see all but the very top (which was, unsurprisingly, shrouded in clouds). We then ascended to Level 5 of the mountain and got out to admire the top of the mountain up close, as well as sneak in some souvenir shopping. There were many tourists out and about, some looking like they were getting ready to make the climb up the mountain.
We enjoyed a traditional Japanese lunch at a nearby hotel and then continued on to Hakone, known for its' onsens. While this tour didn't include hot spring bathing, we did get to ride Hakone Ropeway, an aerial lift, which took us down the mountain and delivered us to Lake Ashinoko's pirate ship at the bottom. Lake Ashinoko was formed from the caldera of Mount Hakone, which erupted 3,000 years ago. While a bit of quirky trip, we certainly enjoyed it. The only downside was the massive traffic jam we hit on the drive back. Small price to pay for a view of the countryside and beautiful Fuji San.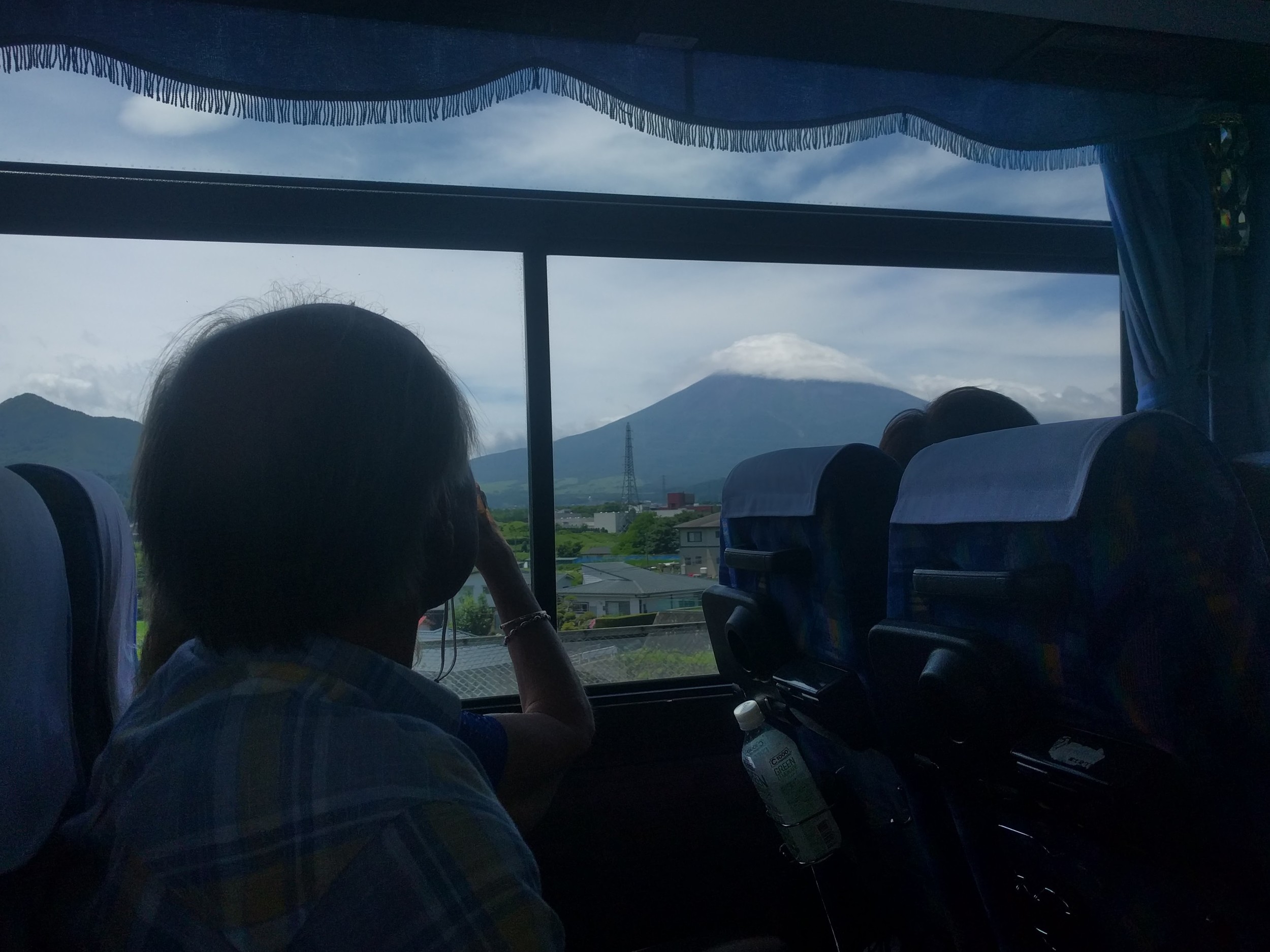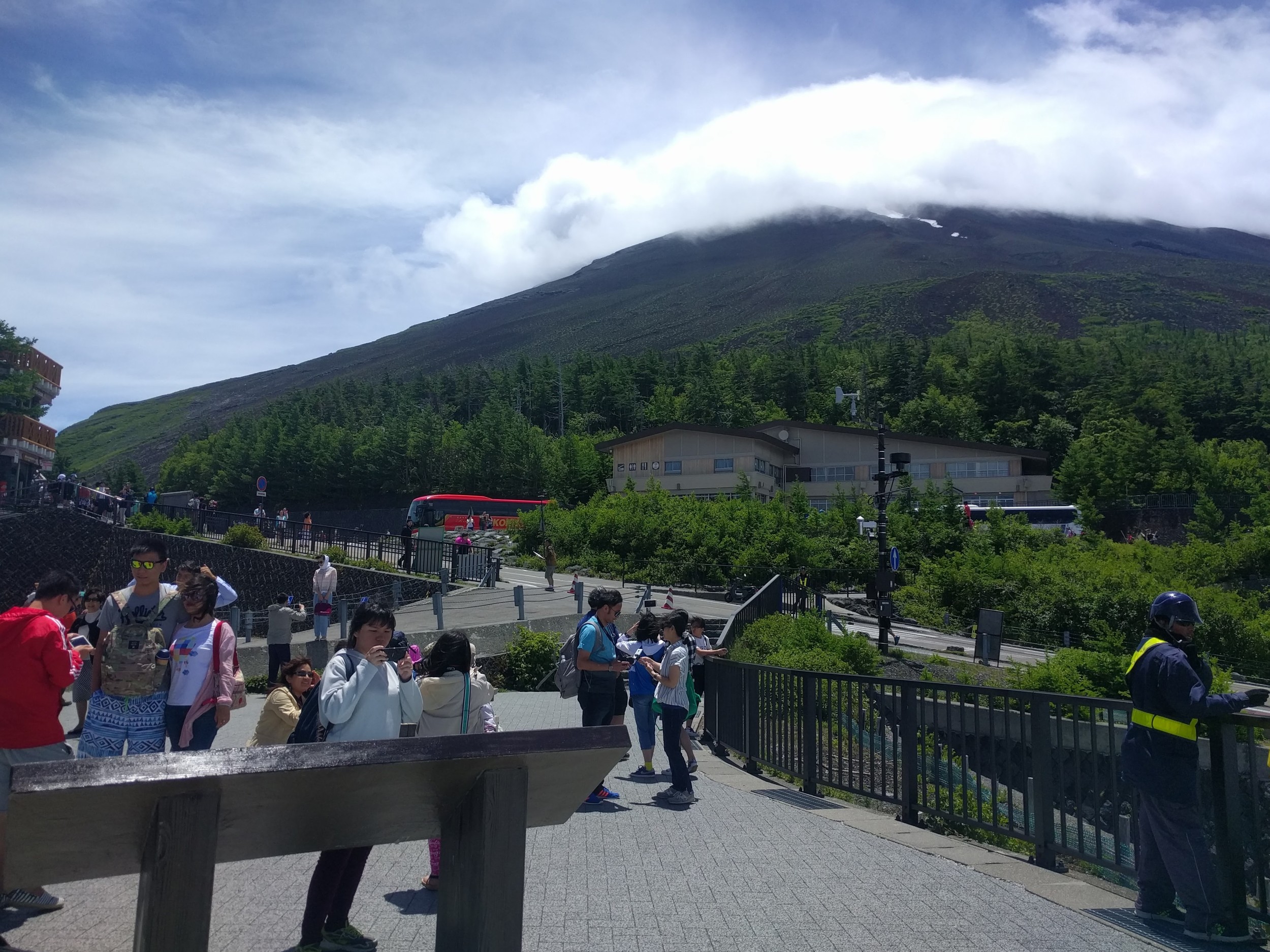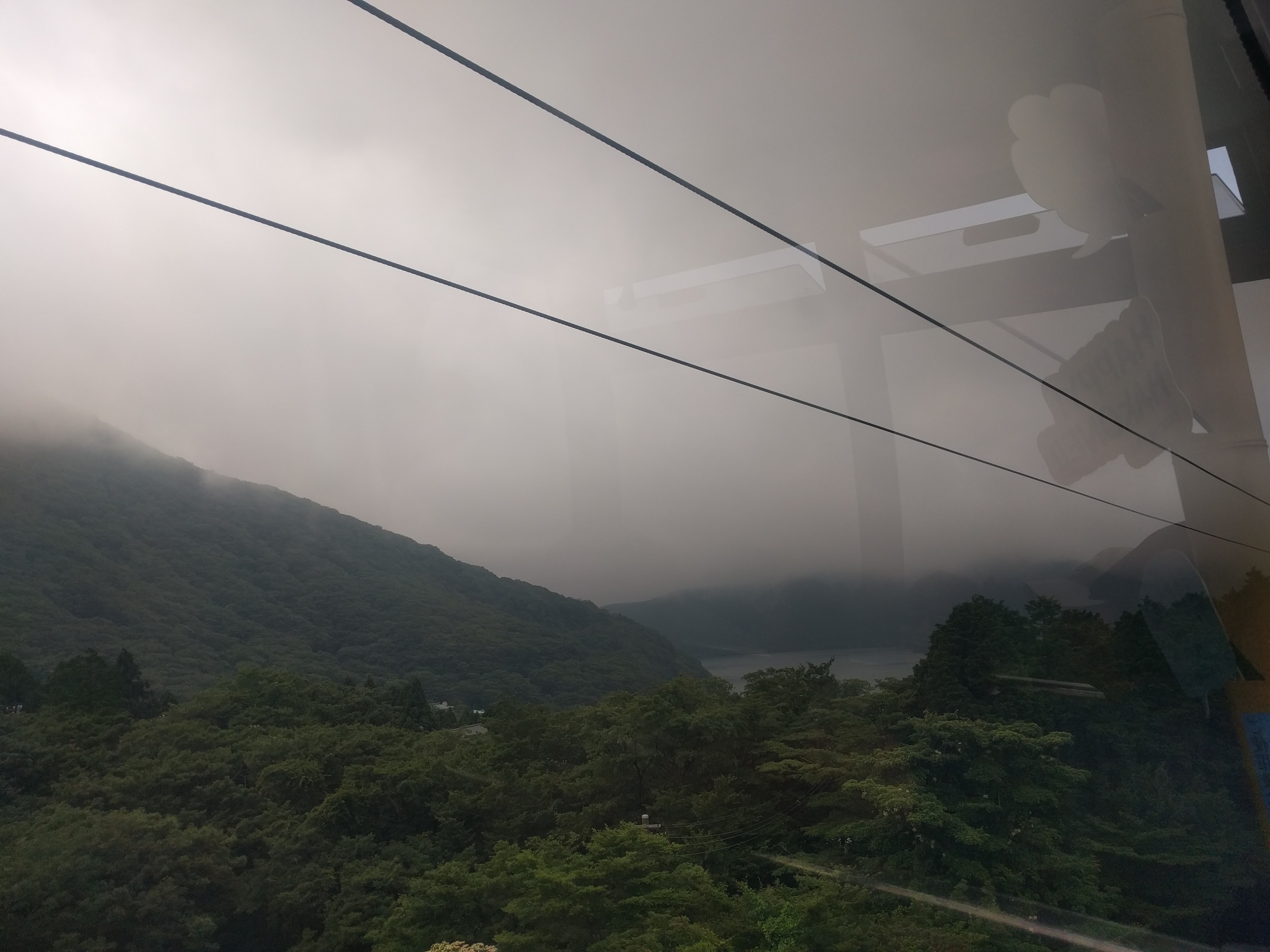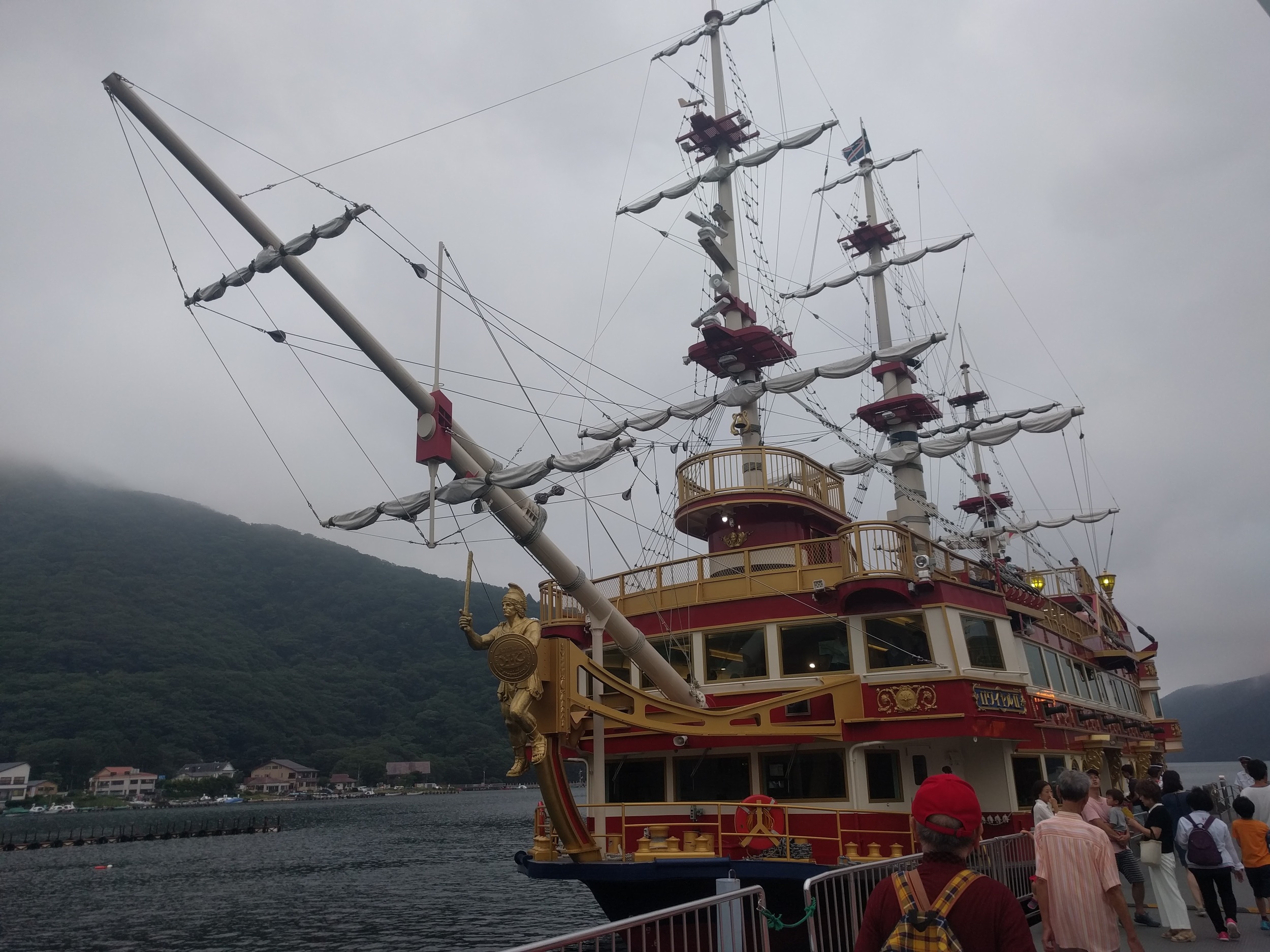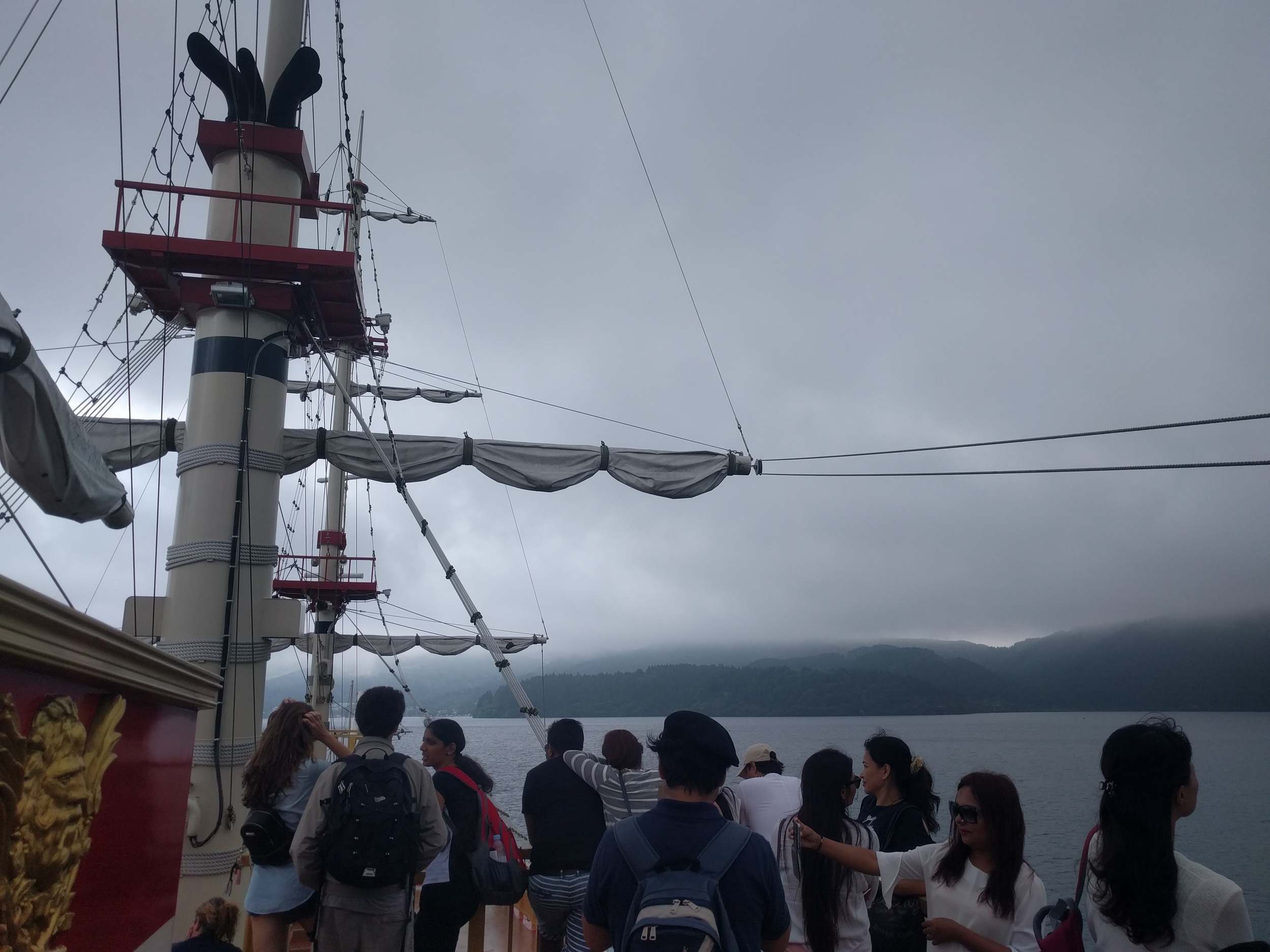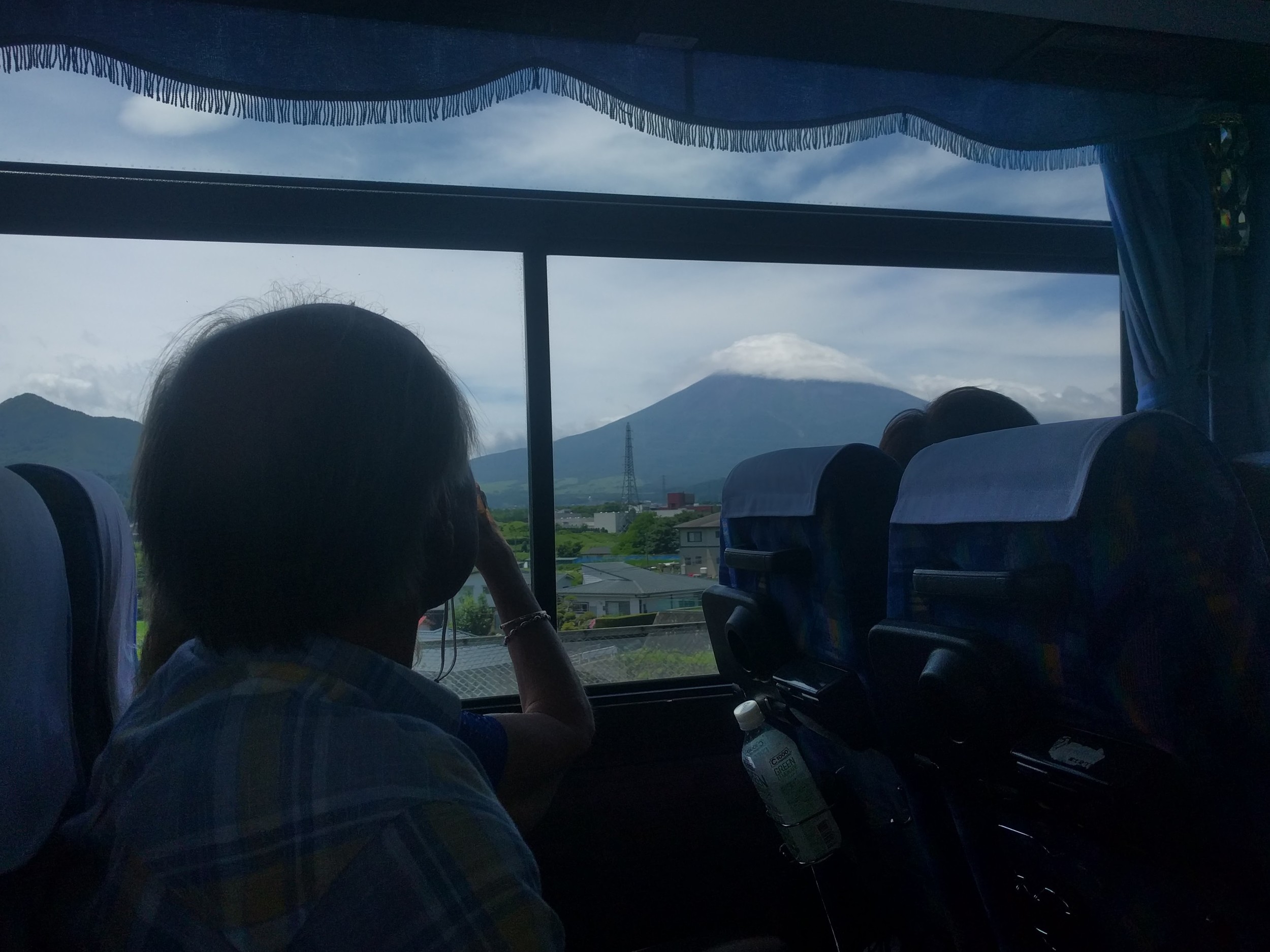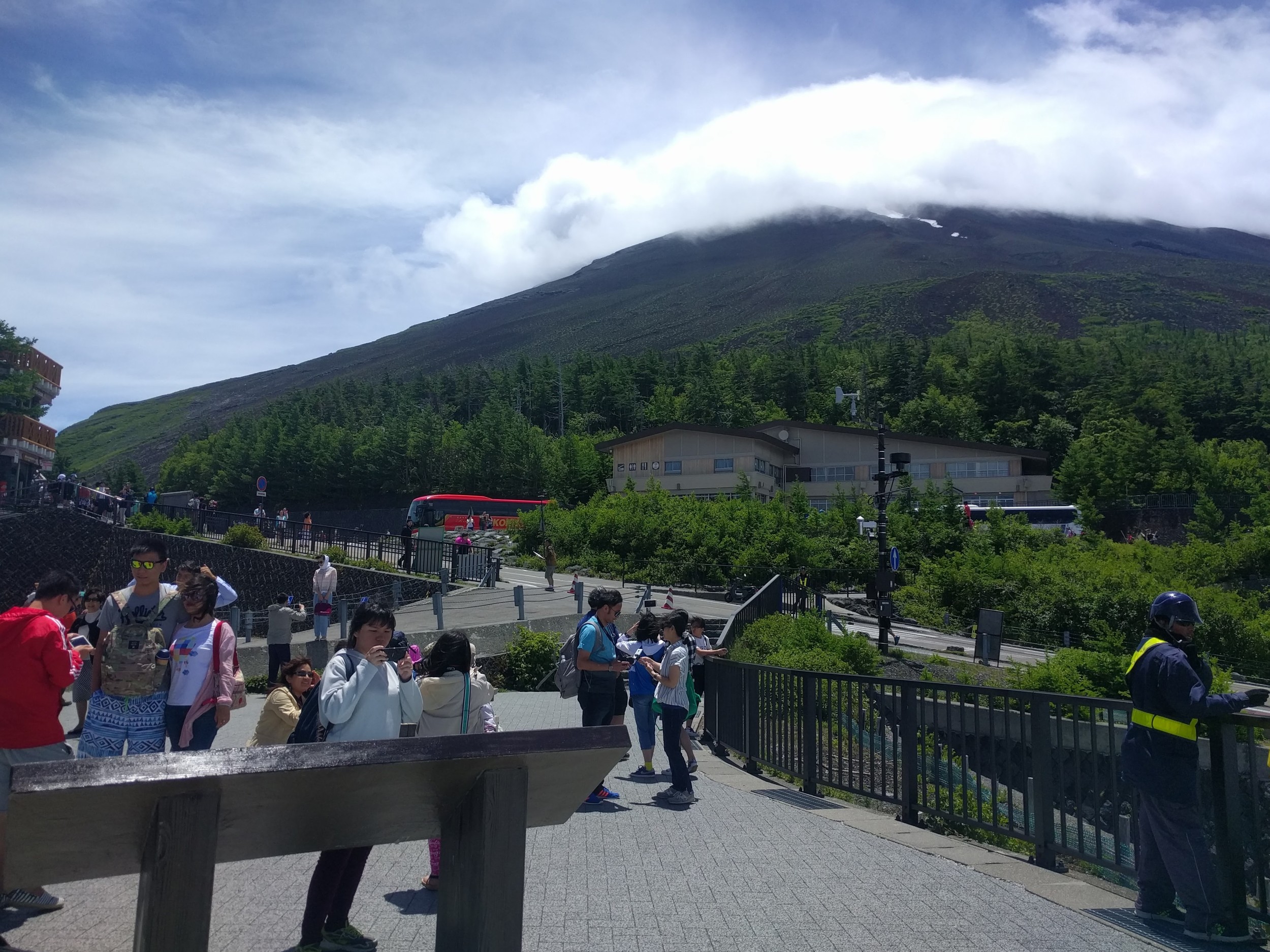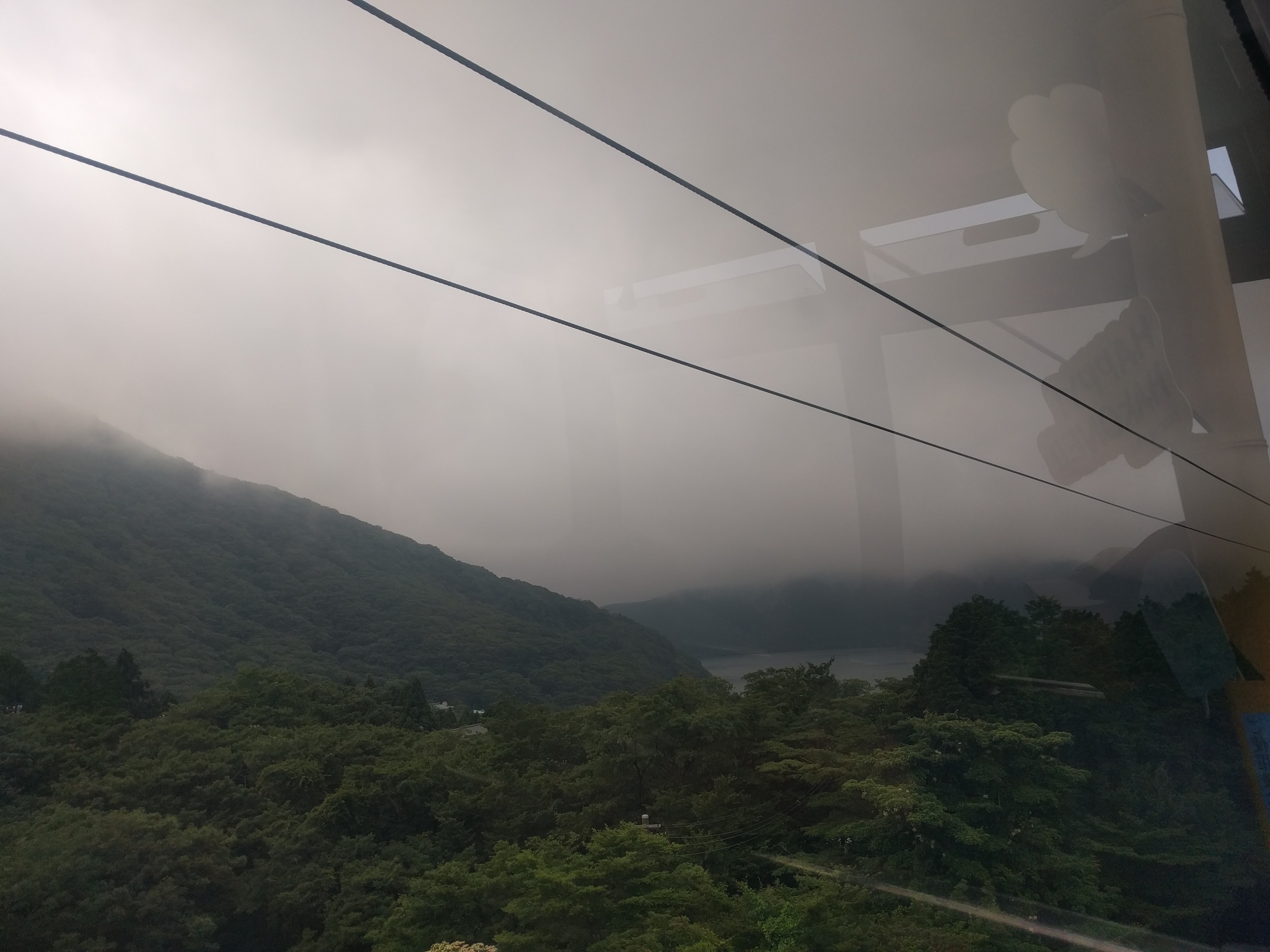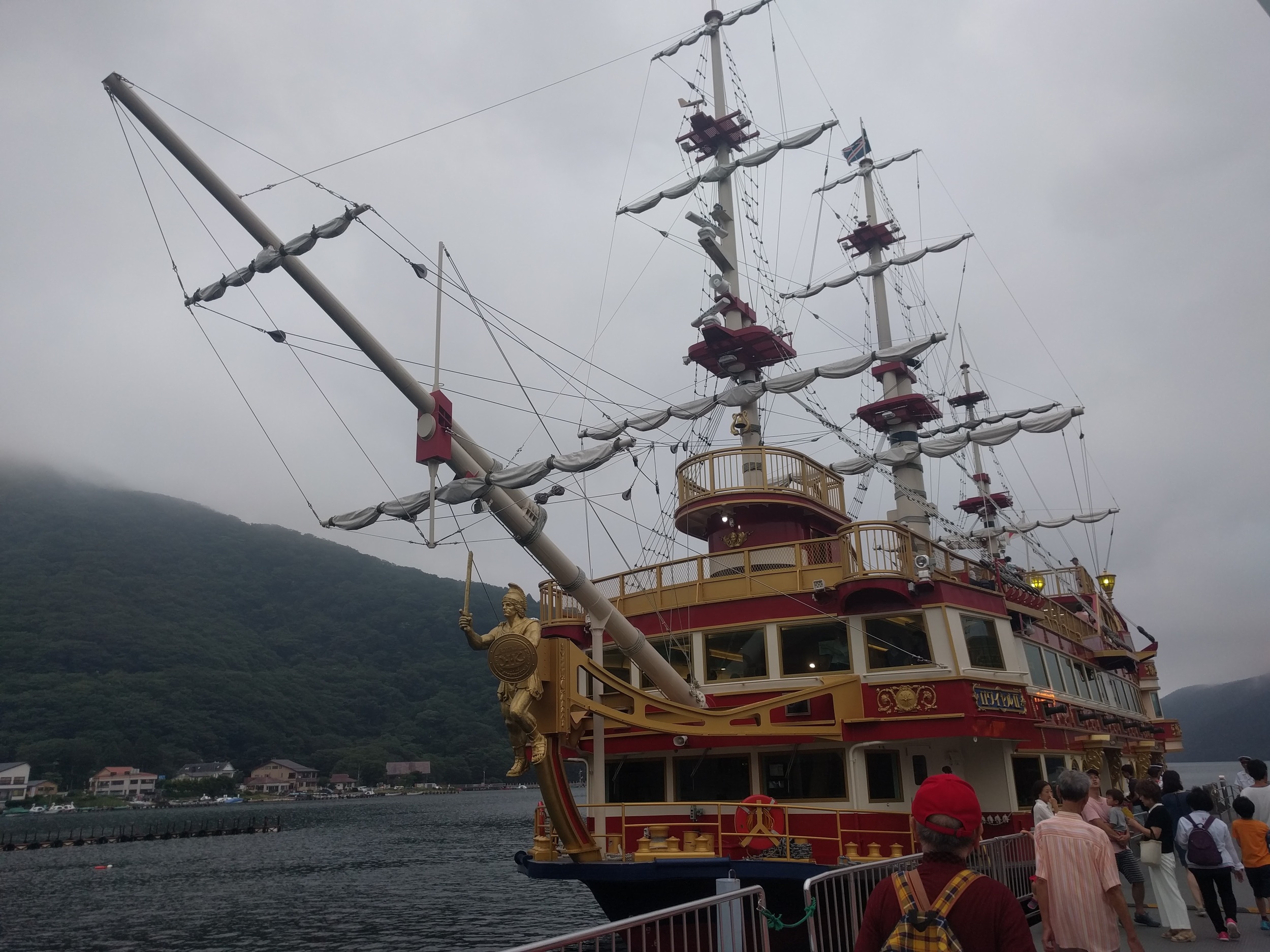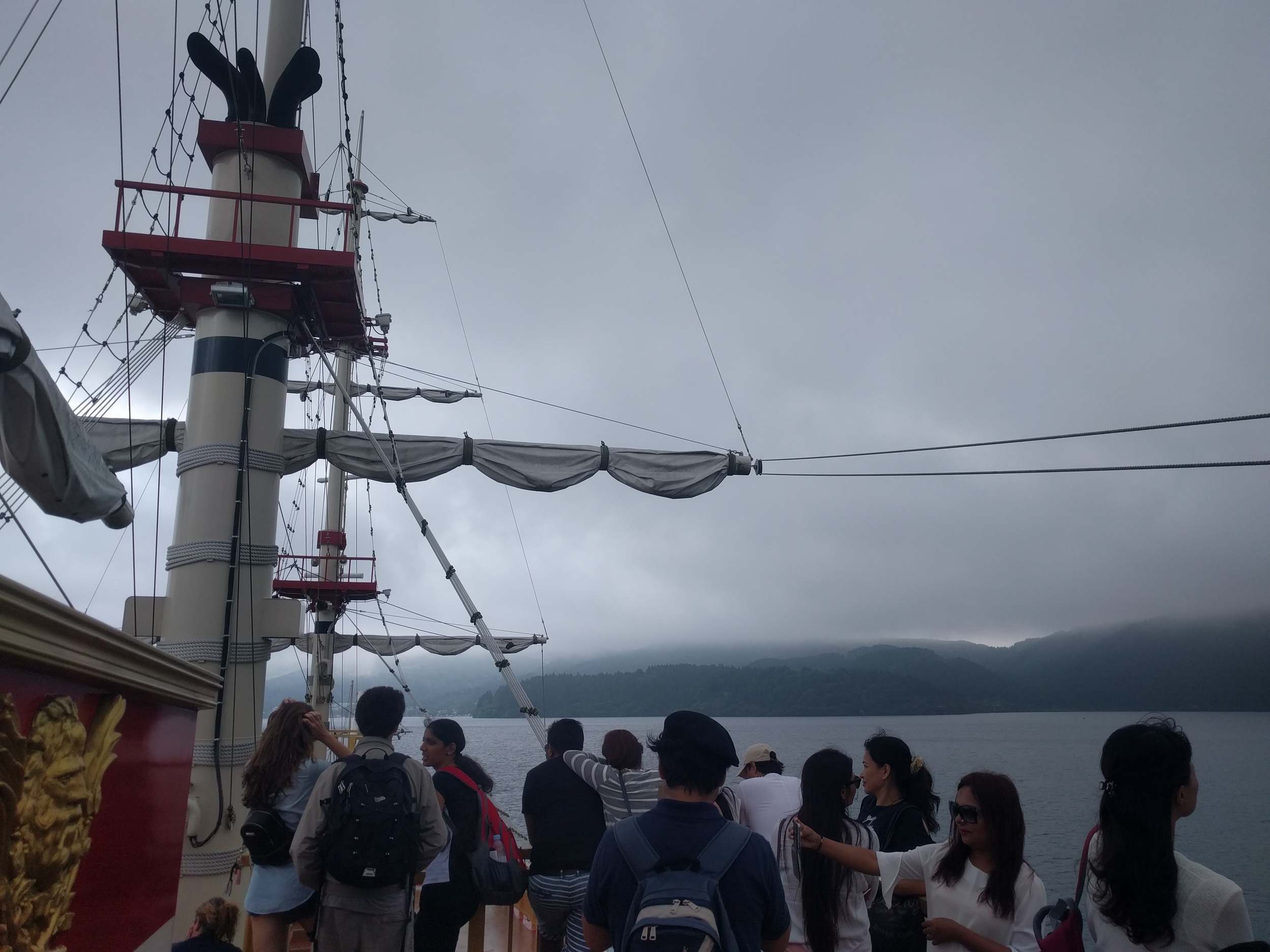 Day 5
One word - HOT. It was a steaming 95 degrees on Day 5 and while it was good day, it was certainly a difficult one to be out and about. Mom and Dad went on the Tsukiji Fish Market Food Tour, which took them through the inner and outer markets. For those of you who had him, Mom and Dad were also led by tour guide Nori! They enjoyed meeting other travelers and learning about Tsukiji's history and delicious foods.
Because Tim would be leaving for Singapore that night, we decided to have Mom's birthday dinner a day early, at Joel Robuchon's La Table. As expected, we had a fancy multi-course meal that was as elegant and tasty as a birthday dinner should be.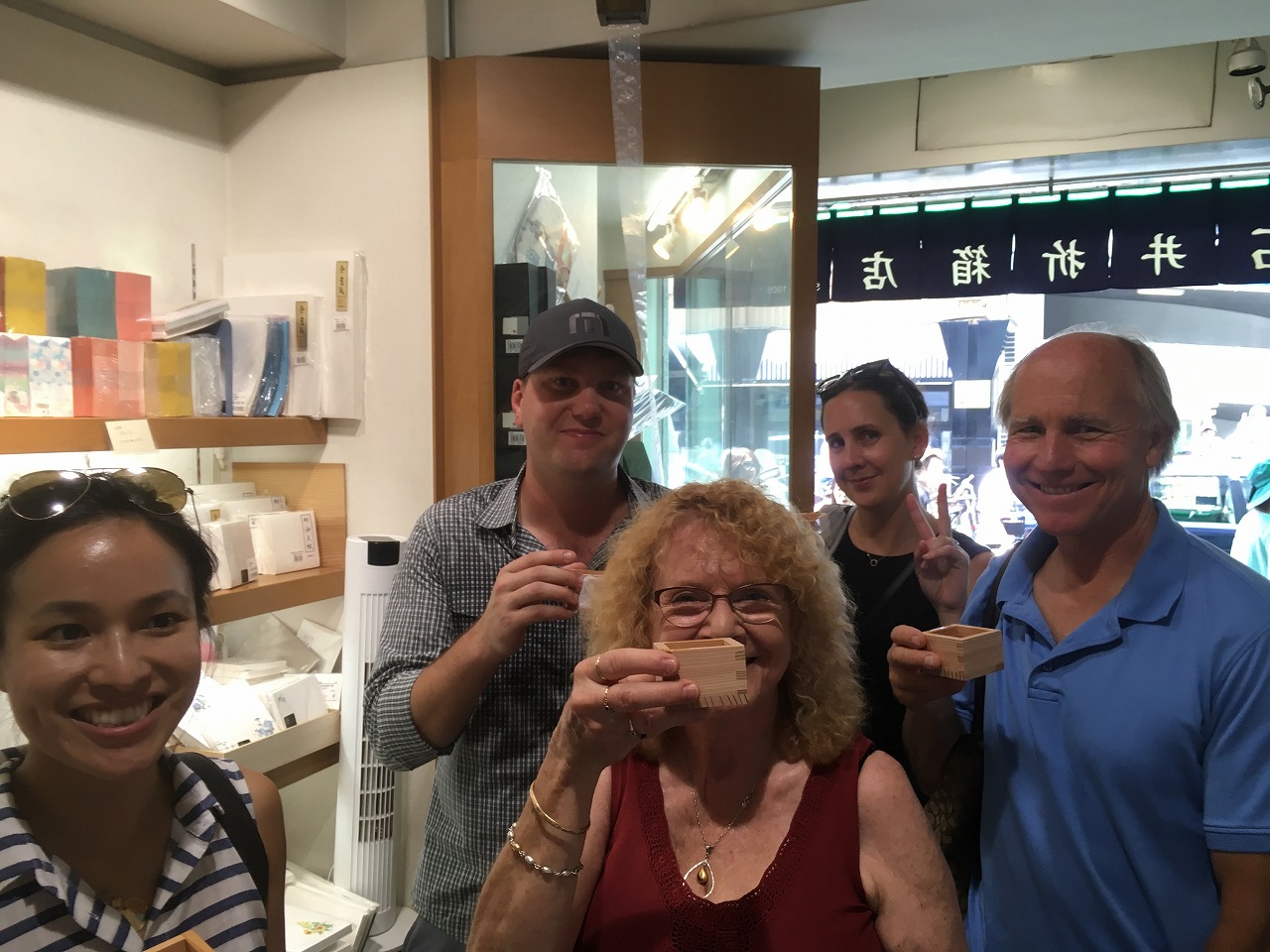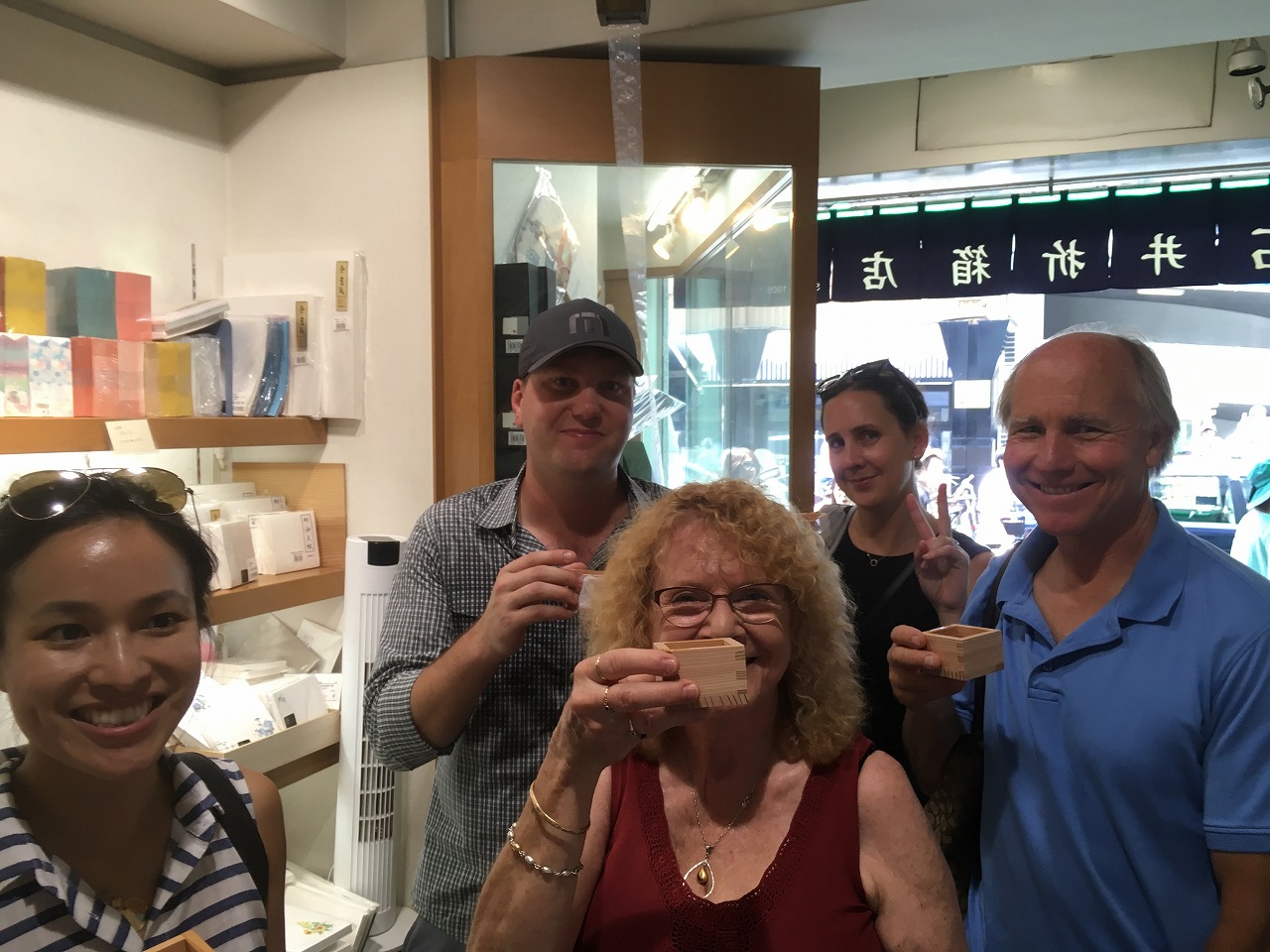 Day 6
July 5th - Mom's birthday! She decided that she would like a day of fun at Tokyo Disneyland and we were happy to oblige. Some differences that they noticed were the Swiss Family Robinson Treehouse, Cinderella's instead of Sleeping Beauty's Castle, an extra high tech Winnie the Pooh, and a longer Big Thunder Mountain train ride, among other things. They agreed that while it was different, it was just as fun!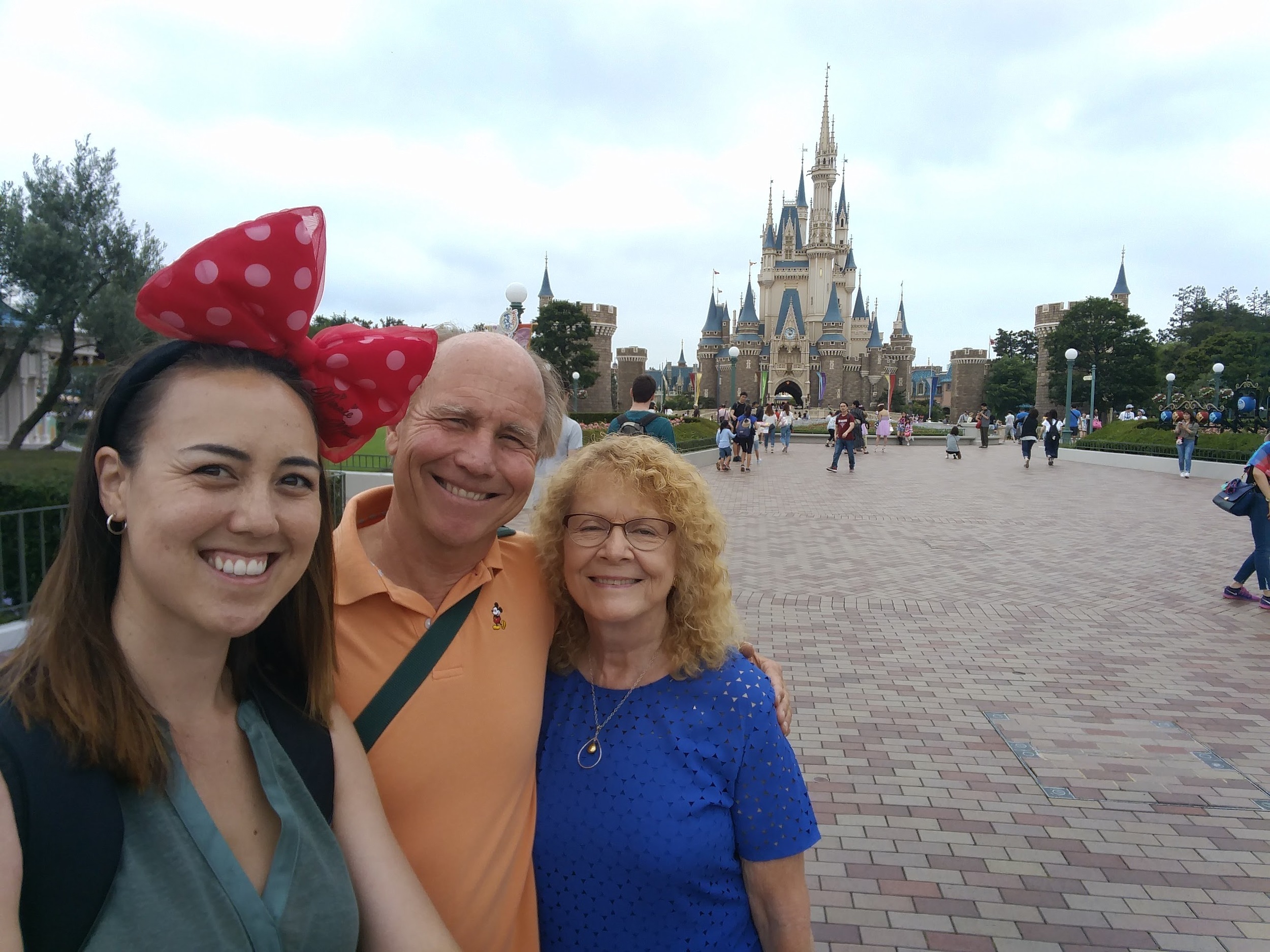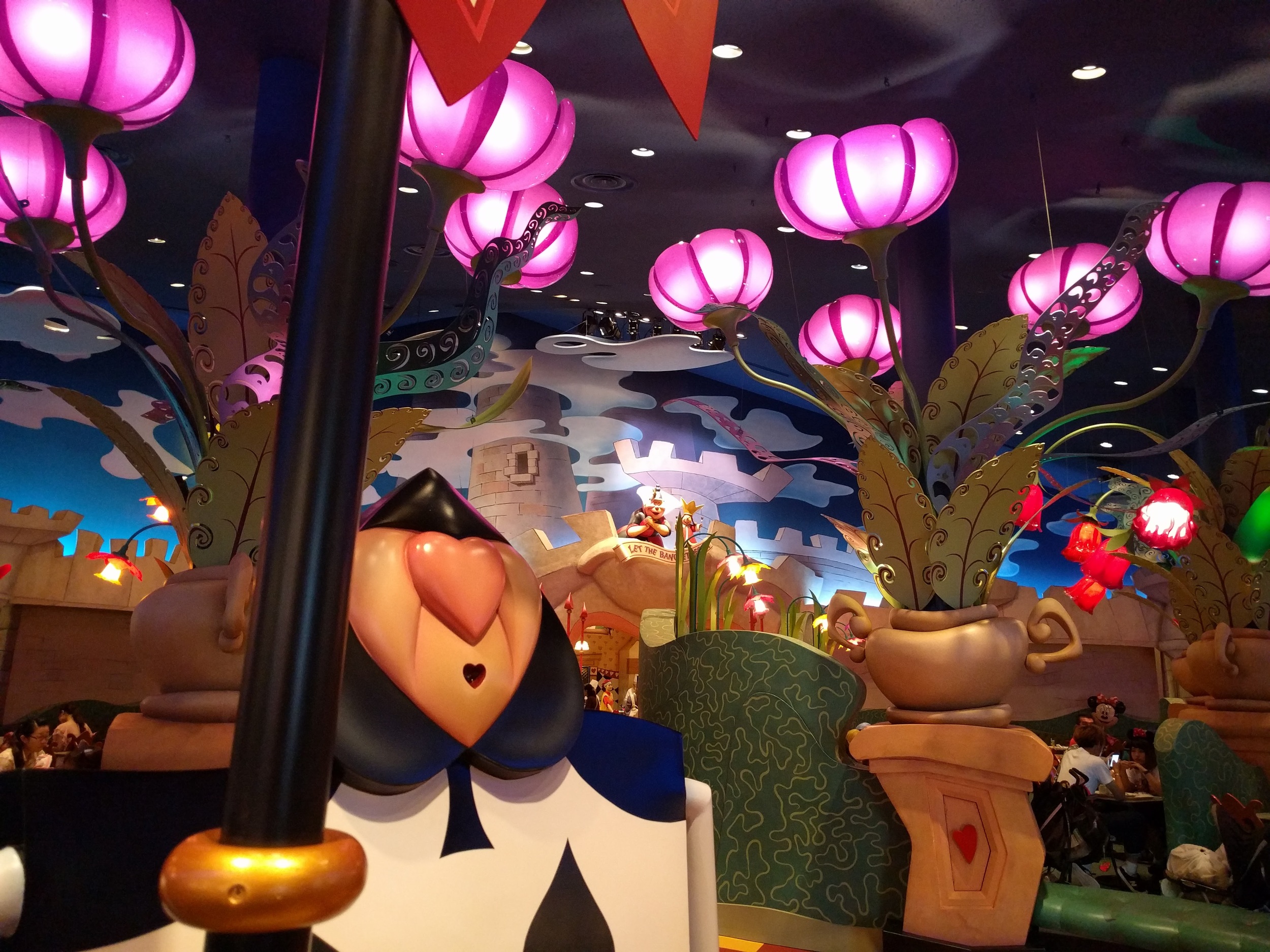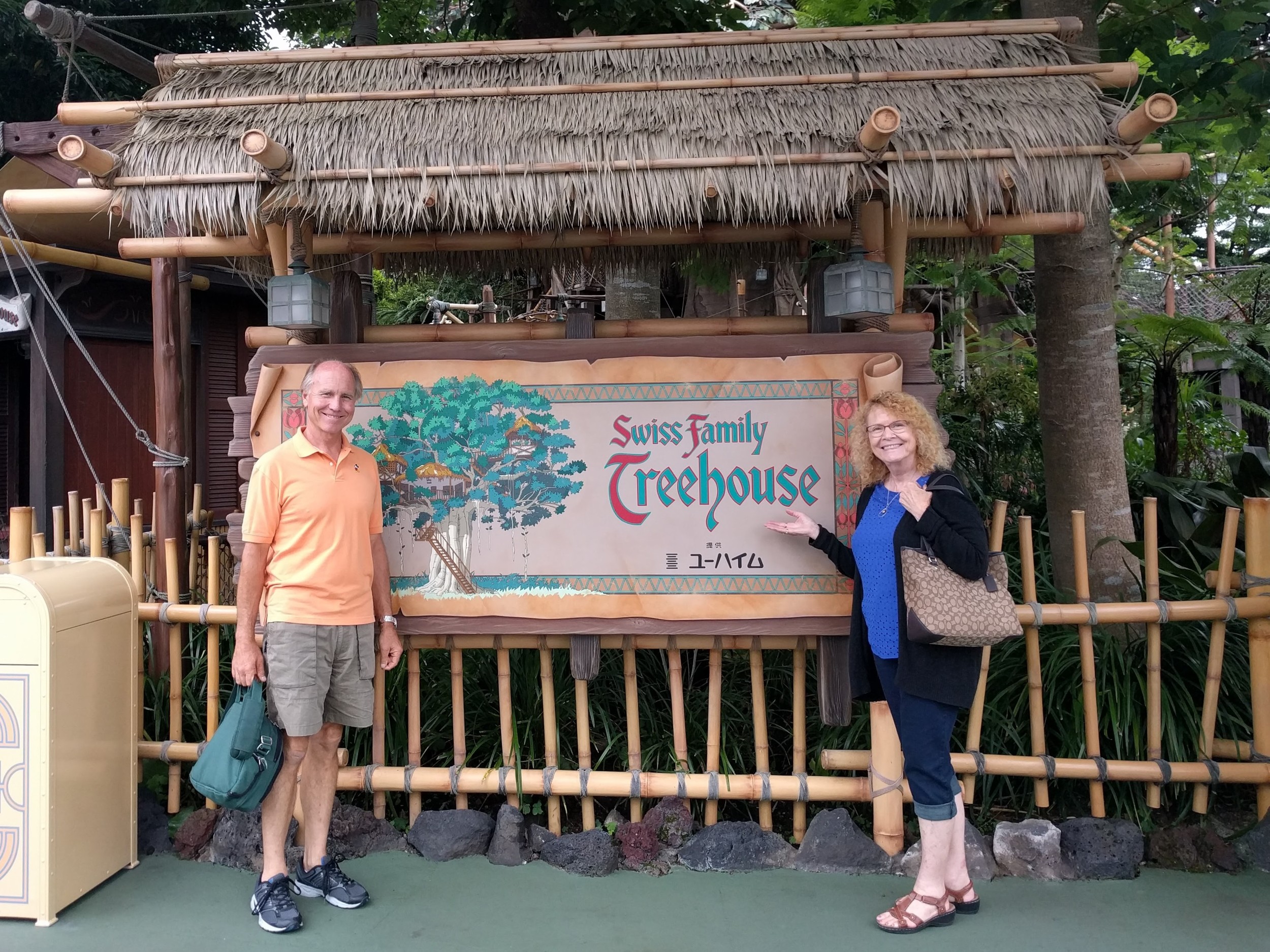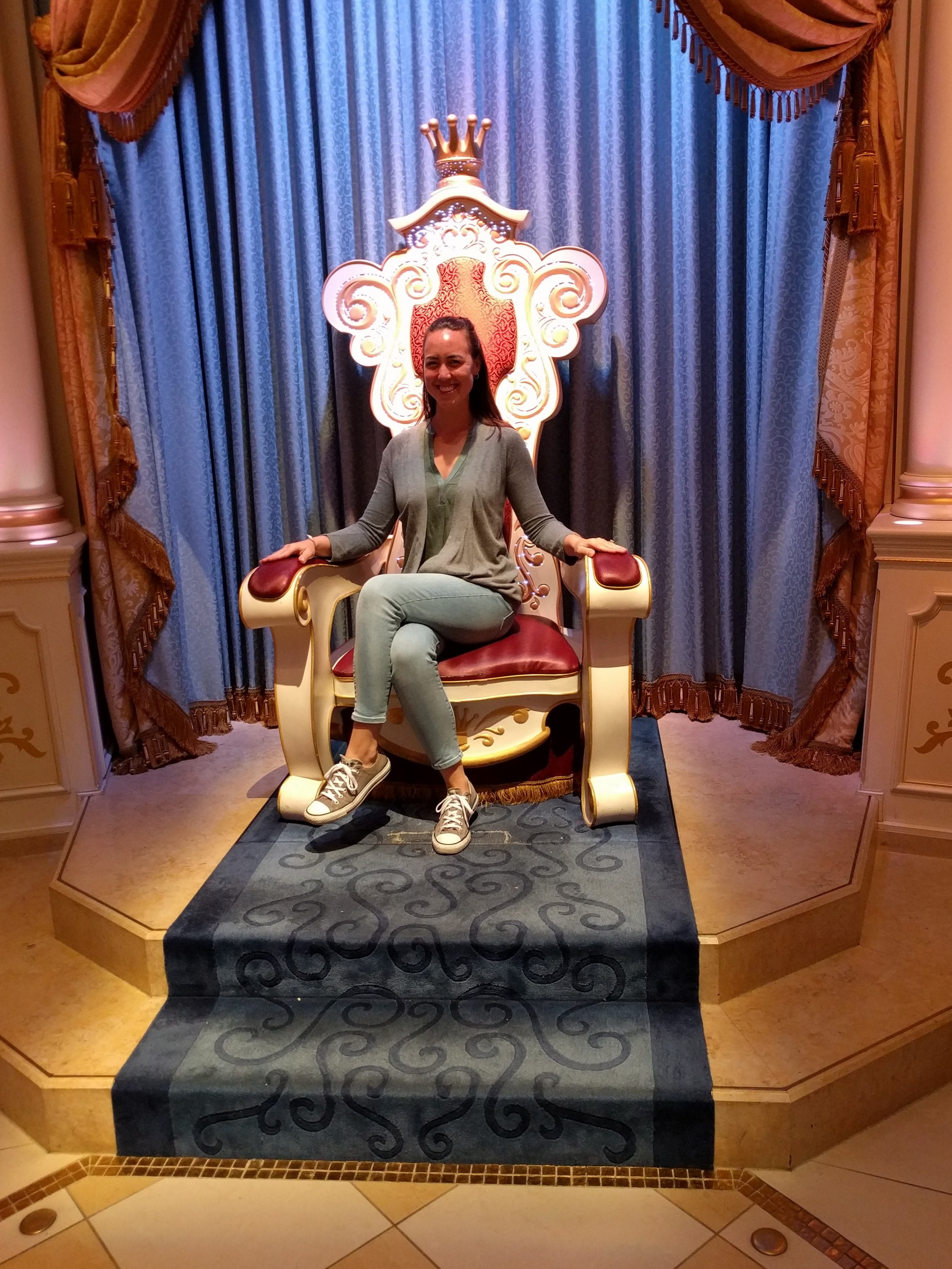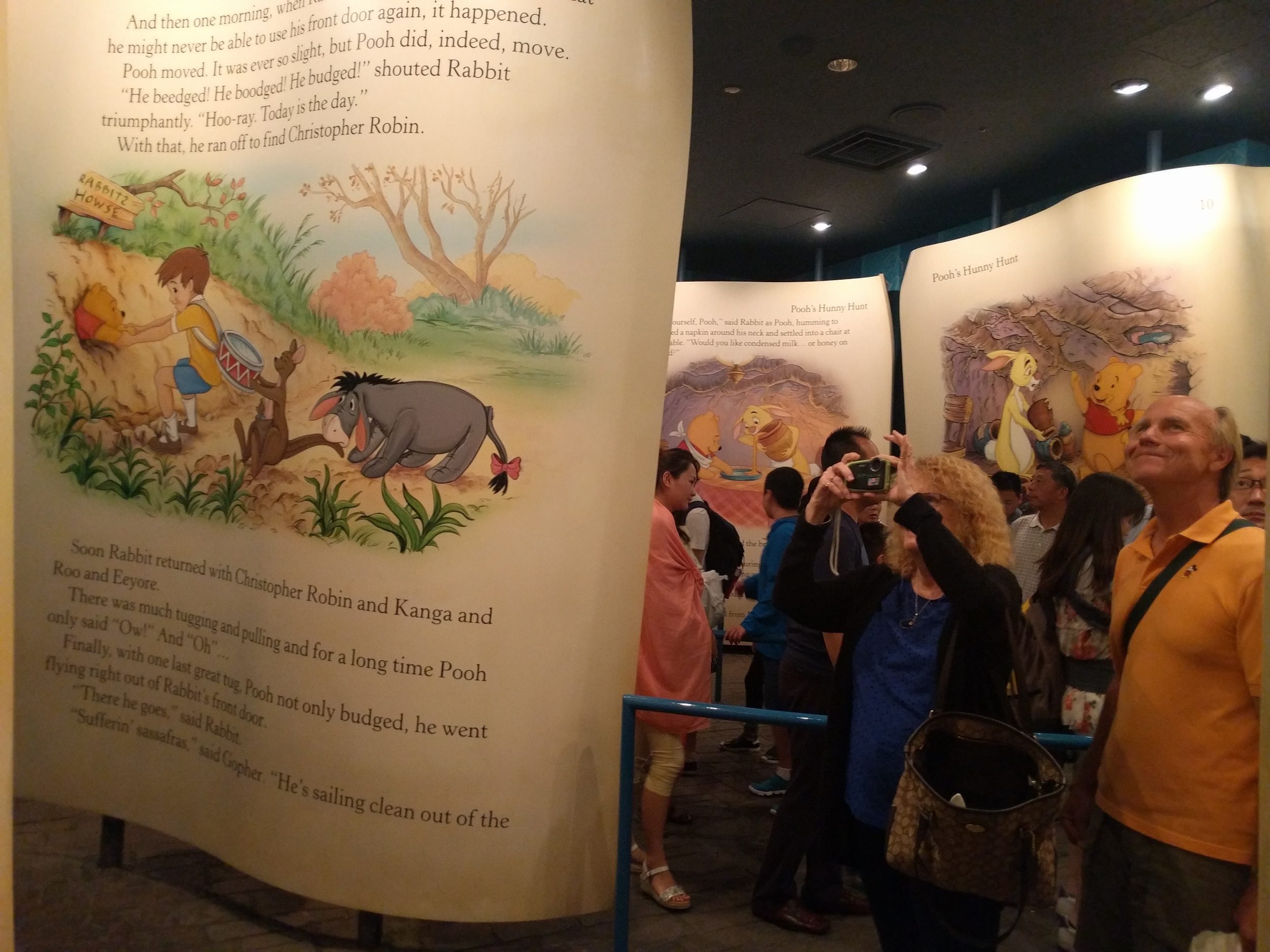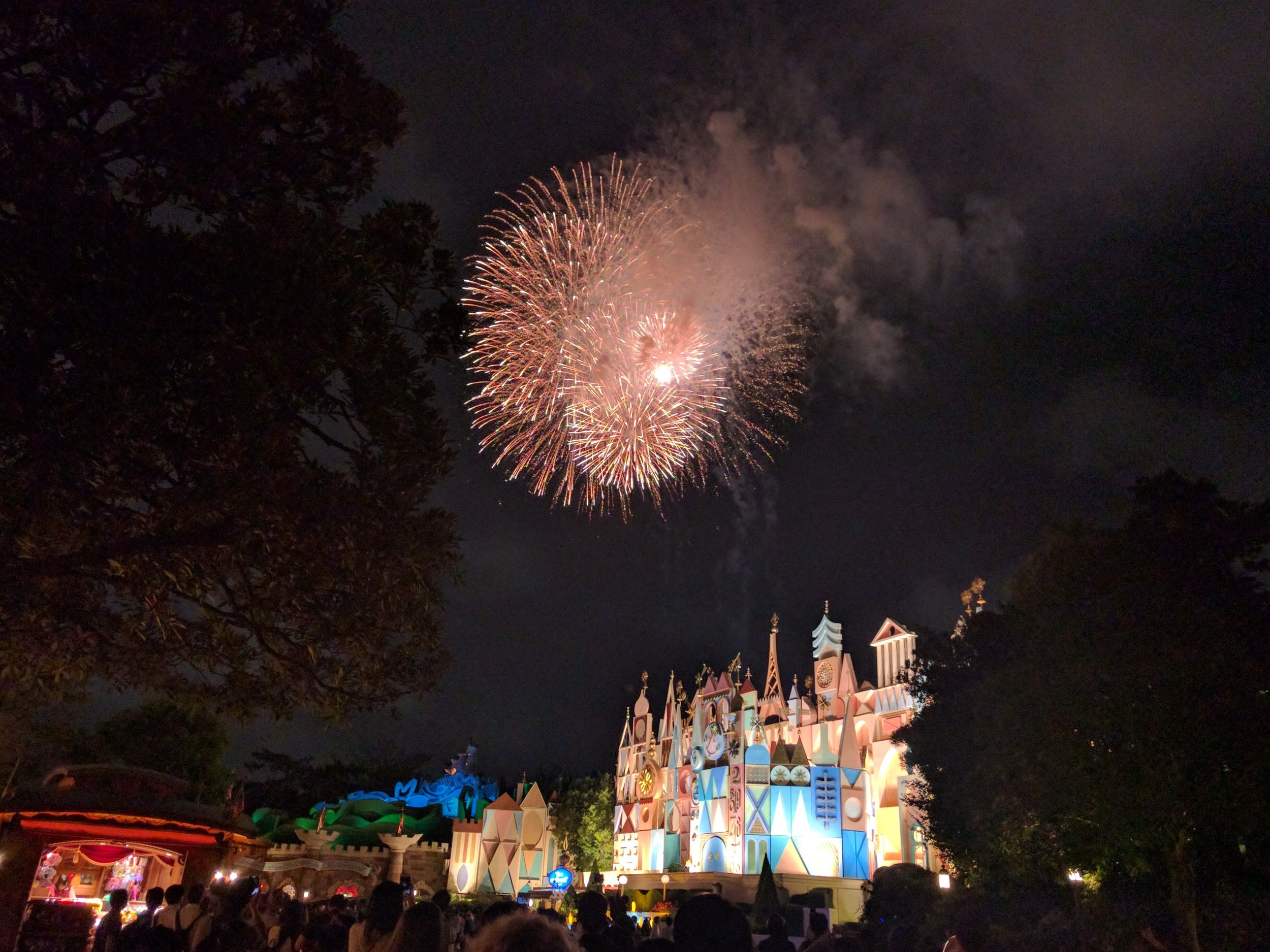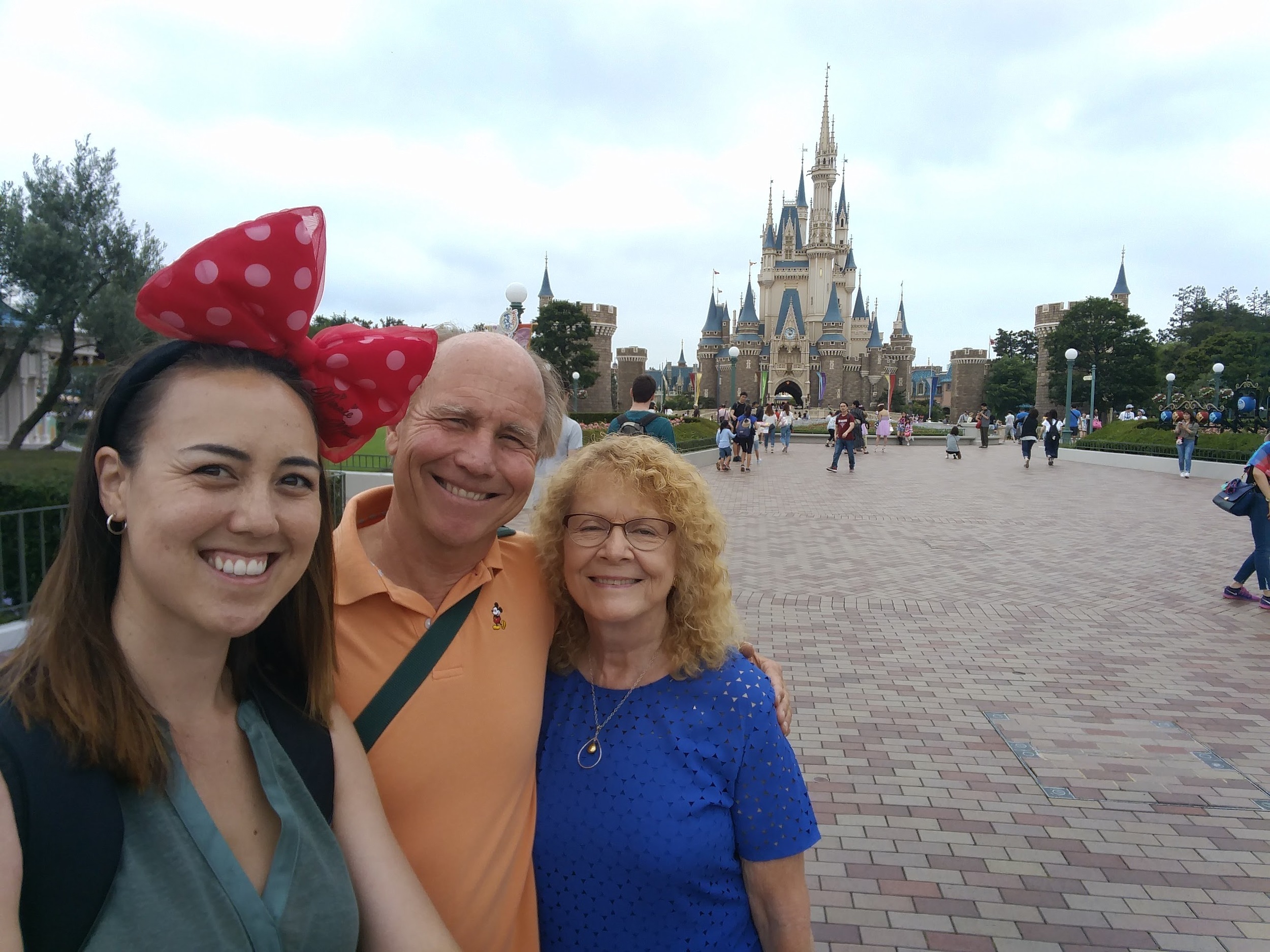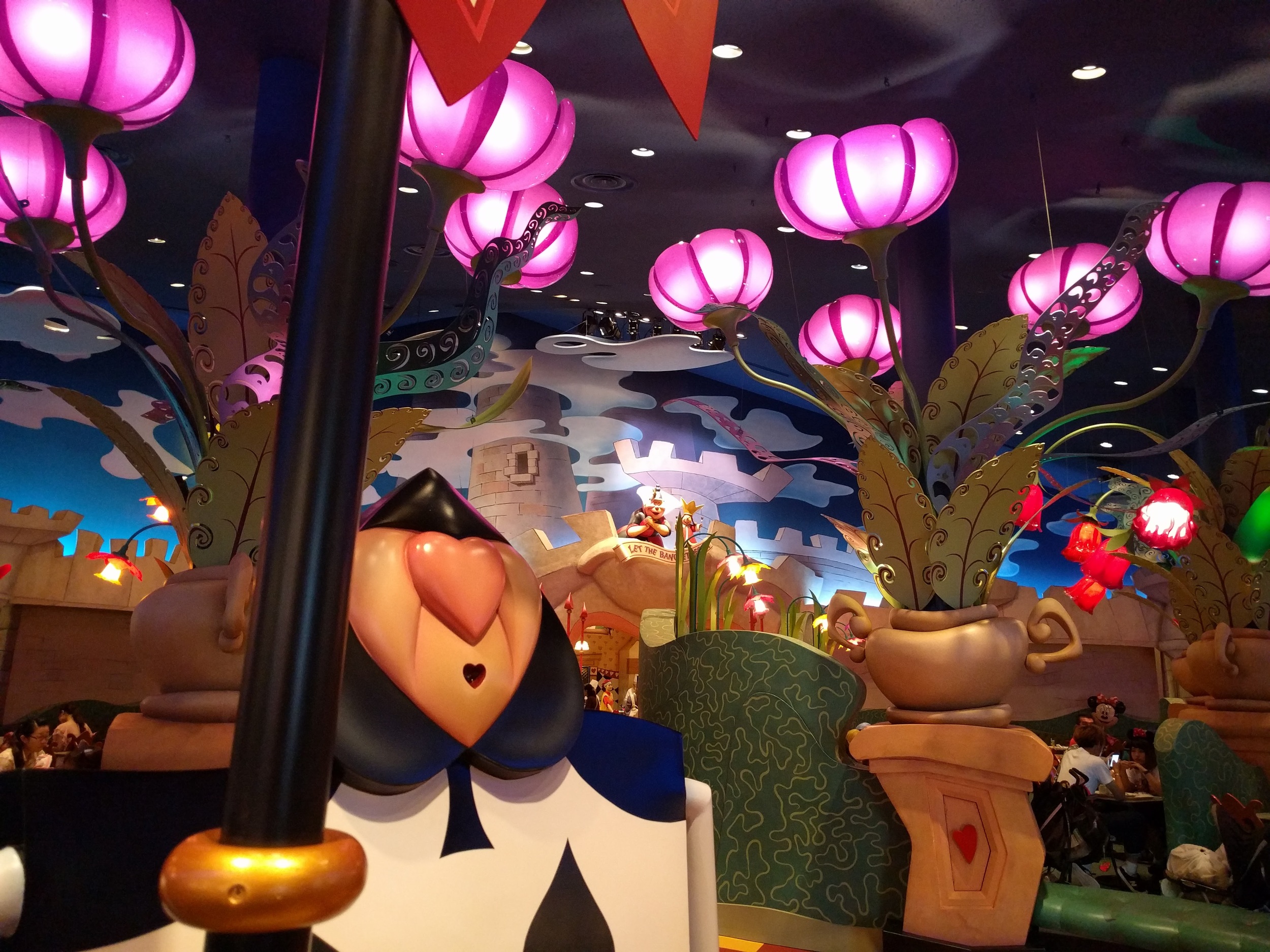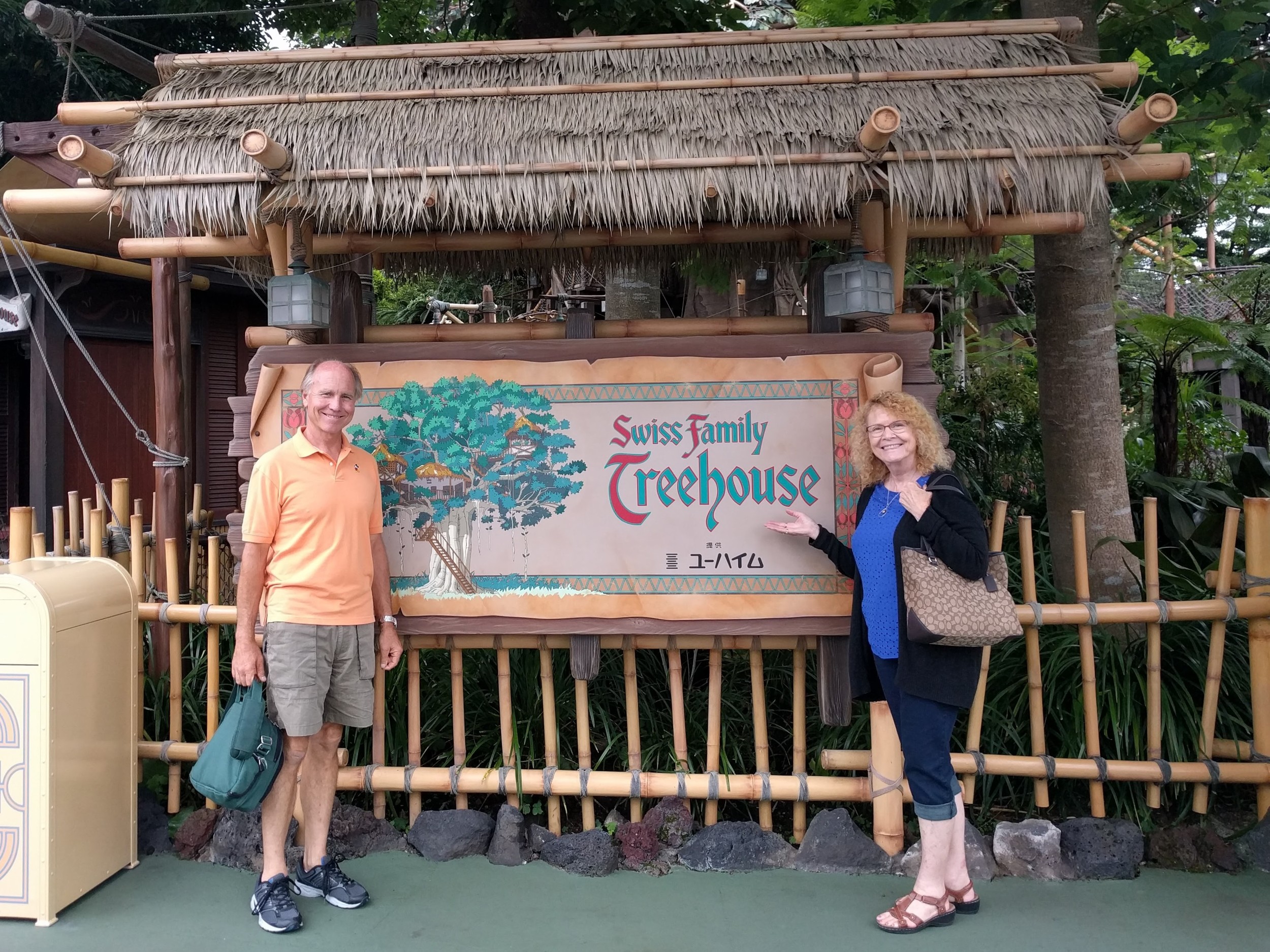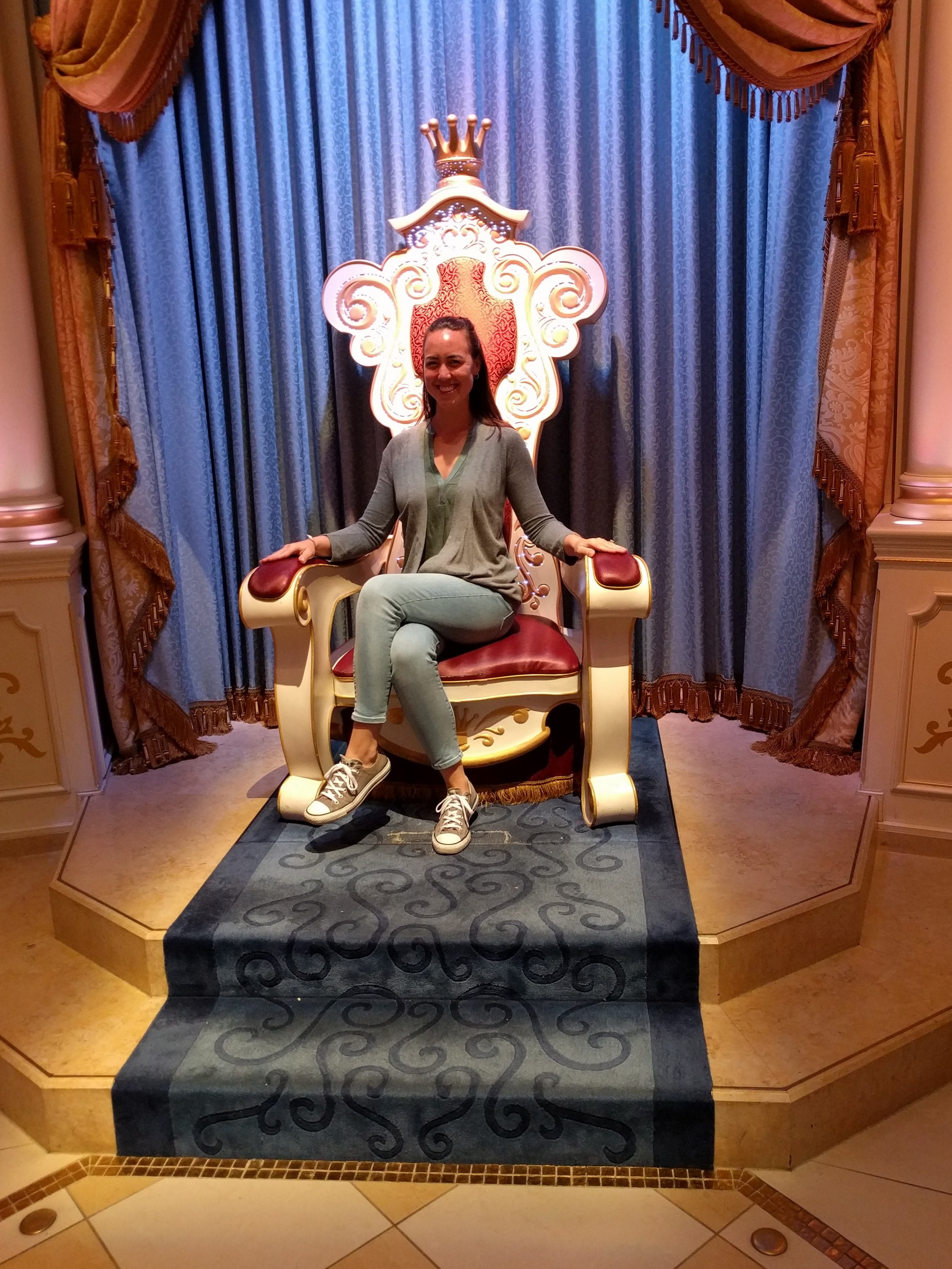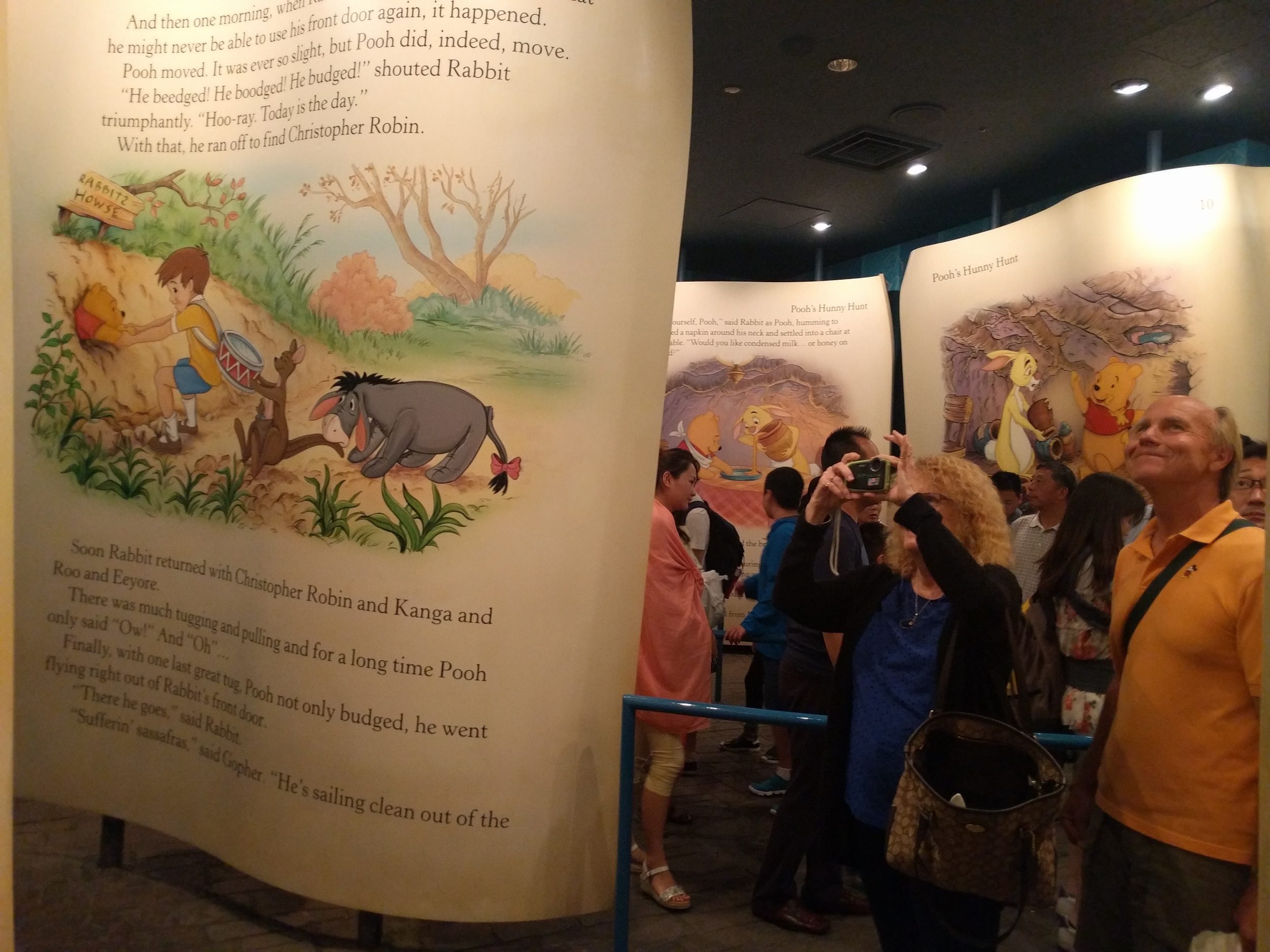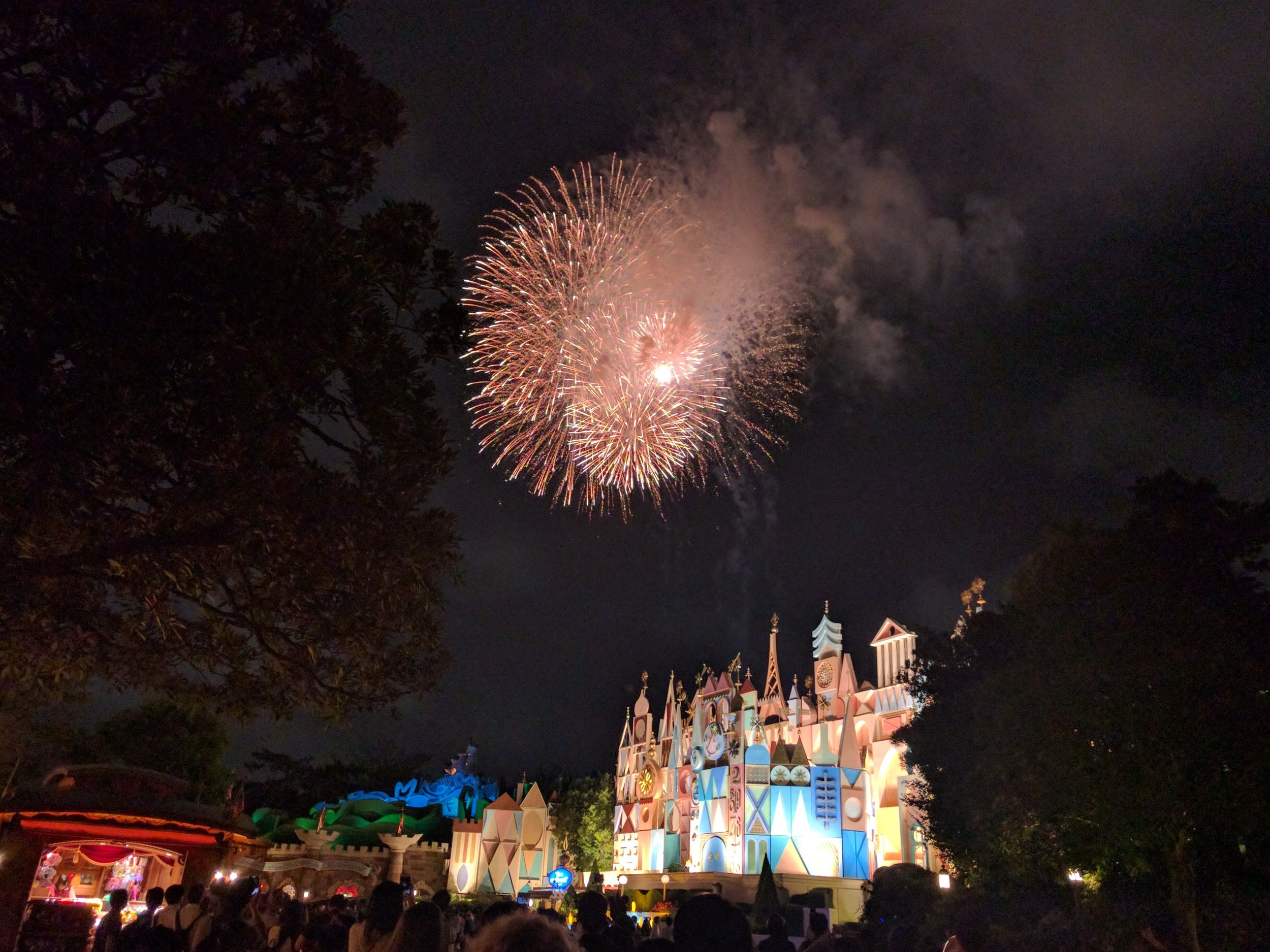 Day 7
Sadly, this was Mom and Dad's final day in Tokyo. Since their flight left at midnight they had until 9pm to tour the town. We started by returning to Tsukiji Market so that Mom could purchase some more gold flakes, a couple more sake cups, and pick up some lacquerware. We took advantage of our location to enjoy a delicious fish market meal at Sushi Zanmai.
From there we headed to Tokyo Tower, another spot that I had not visited before. Dad quite enjoyed the views and thought its location was much better than Skytree's because it was more central, sitting squarely in Tokyo's old downtown. With beautiful weather we had perfect views. Zozoji Temple was right across the street and we arrived just as the monks were performing a ceremony. We stayed to listen to their chanting and watch some of the rituals, as well as to admire the wishes written on slips of paper for the next day's Tanabata holiday.
The Imperial Palace's Stone Bridge was our final big stop. We arrived just as the sun was setting and the crowds were minimal - more excellent timing. We had wisely planned to leave the suitcases at Tokyo Station, which was the closest station to The Imperial Palace, so we headed over to pick up the bags and find dinner in the maze of hallways and restaurants under the station. Mom and Dad's final meal was an authentic one, sitting aside salary men getting their casual but yummy izakaya-style meal together (including lots of beer) before they headed home.
Soon it was time to head to Haneda Airport. We caught the express train and made it there in 30 minutes. Haneda is so quick and accessible!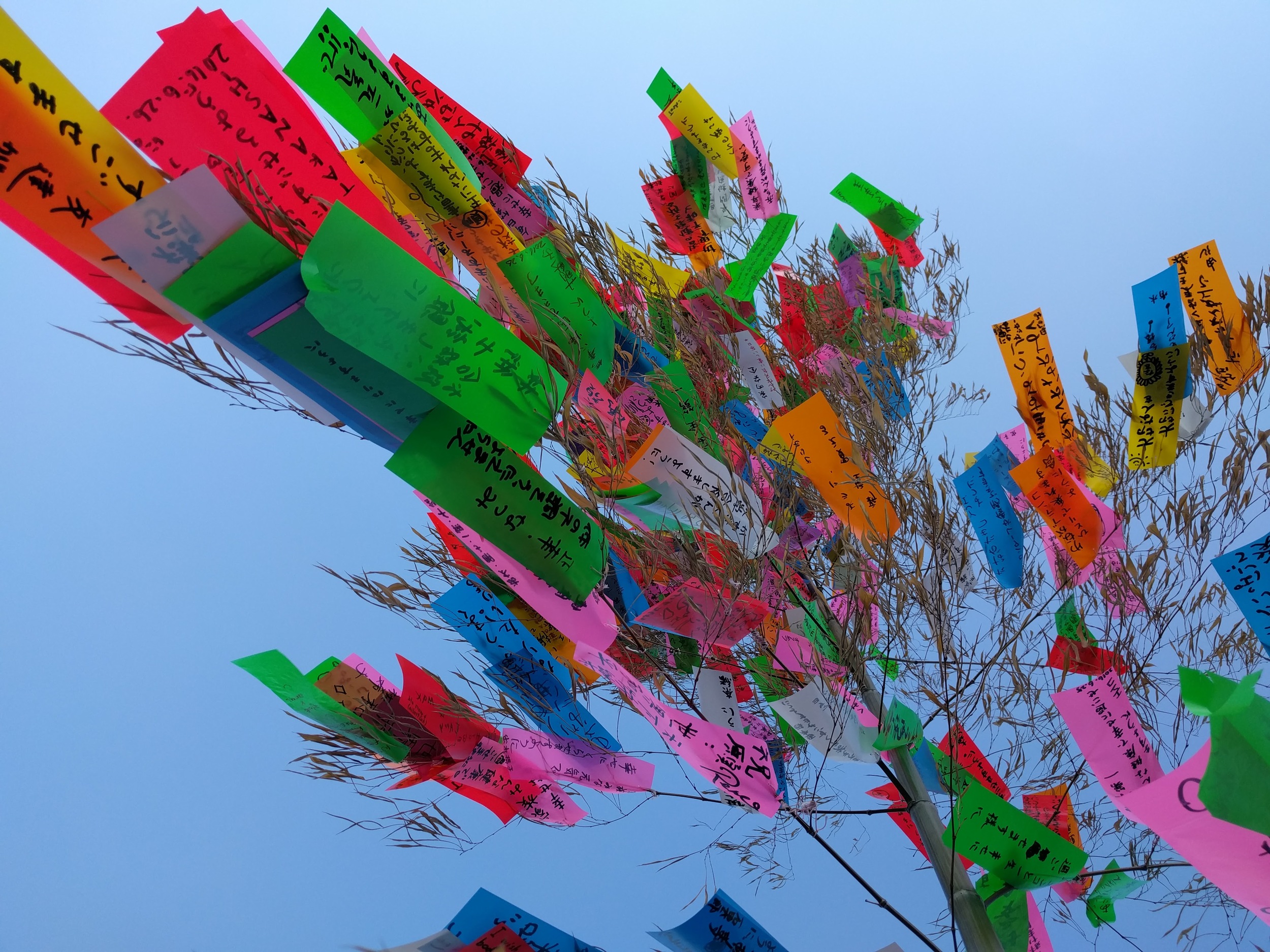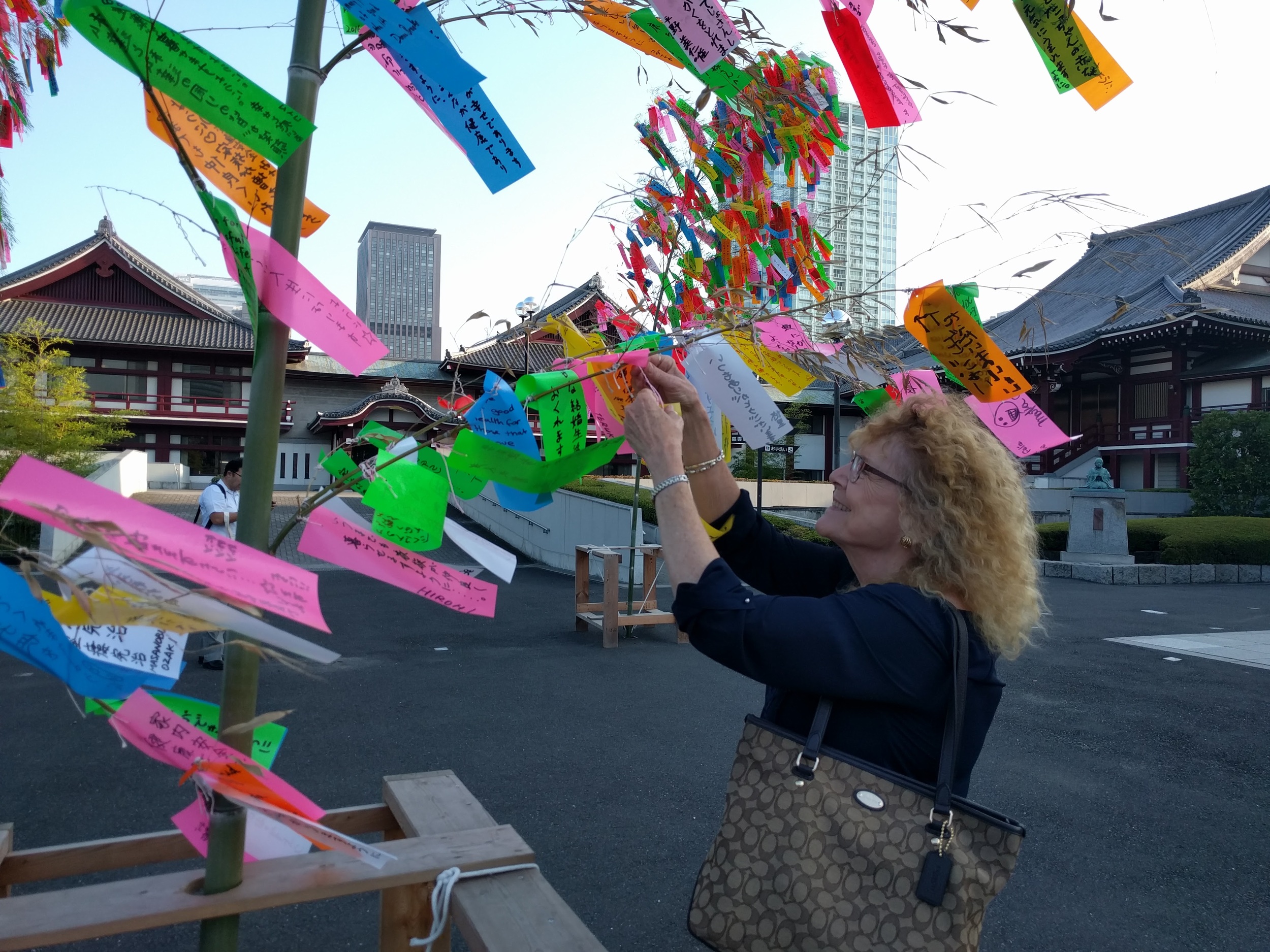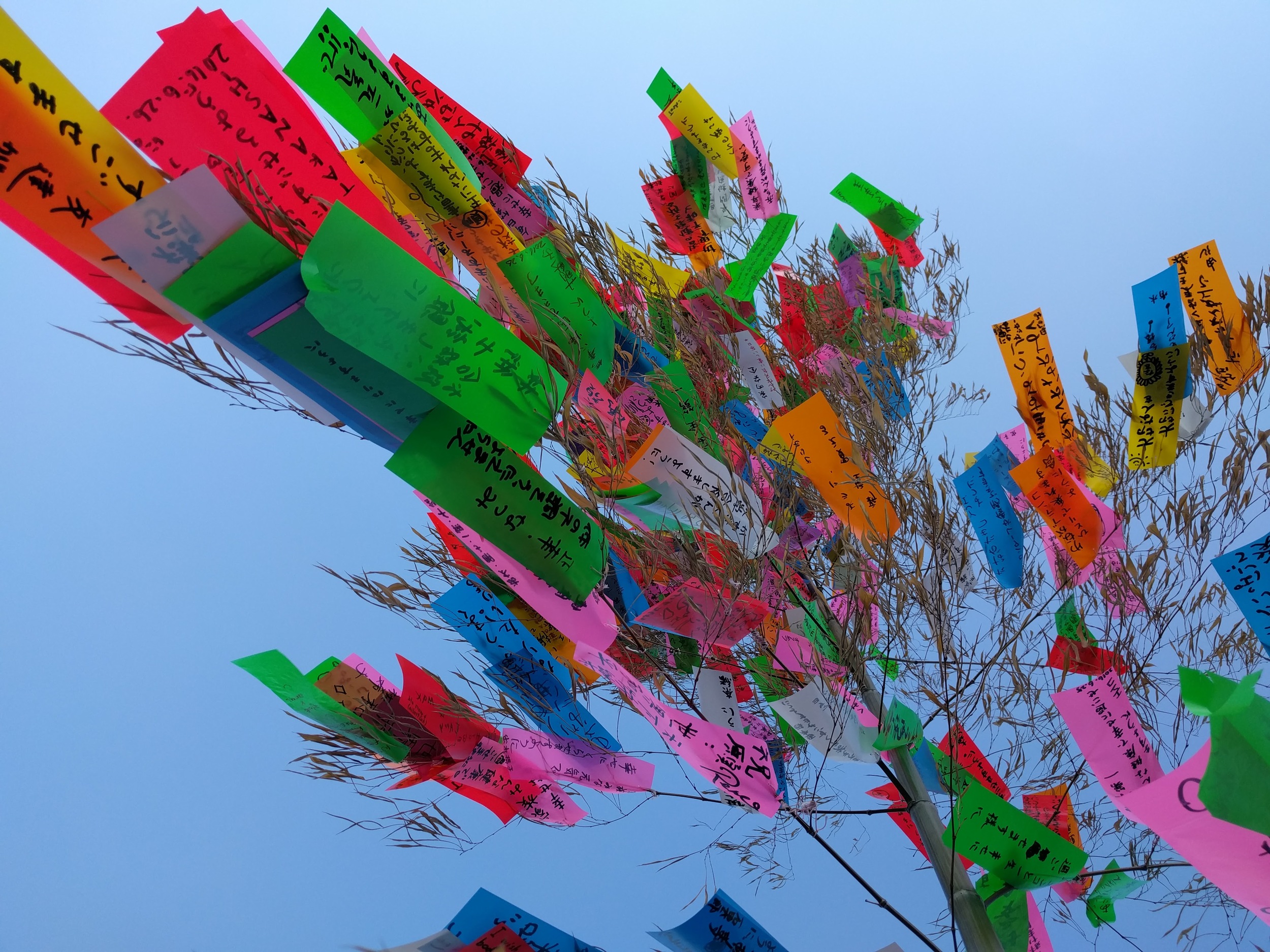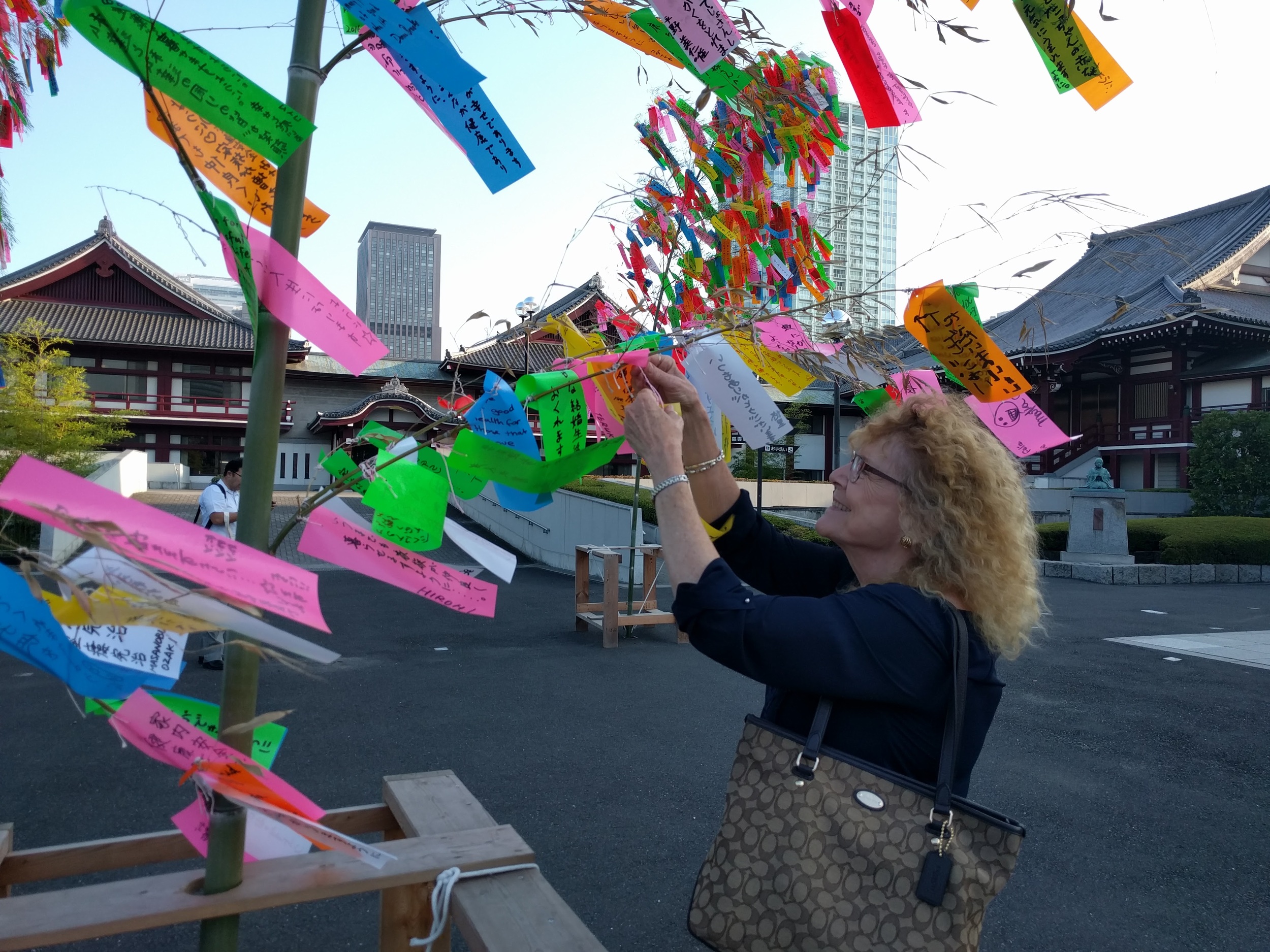 Touring Tokyo with Mom and Dad was an unforgettable experience that we will look back on fondly for years to come. Thank you both for coming! We will see you very soon, on your side of the Pacific! :)