With Tim working out of the Singapore office and me spending most of my time in Japan, we thought it might be nice to meet up for a weekend to break up the time apart. Tickets to Bangkok were affordable and it was only a 2-hour flight for Tim so we decided to go for it. I had two flights that lasted 7 hours total (and NO movies!) so it wasn't as fun for me but that's ok. It made me realize that I've gotten too used to pampered flights!
We arrived at Suvarnabhumi Airport at the same time and took a 45-minute taxi ride to Sheraton Grande Sukhumvit. This was a beautiful hotel in a very touristy area so it was easy to go out for a bite and wander around local shops. Tim's Sheraton status meant we also got free happy hour drinks and delicious complimentary breakfasts!
On Saturday we headed out to see Wat Pho with the immense reclining buddha. It's 46 meters long and covered in gold leaf. I had seen this before on my 2012 Thailand trip with Diana but was still shocked and amazed by its massive size. Let me take a moment here to mention that it was EXTREMELY HOT and HUMID. We are talking 100 degree weather and sweat-dripping bodies. There was no variation in temperature between day and night so there was really no escape.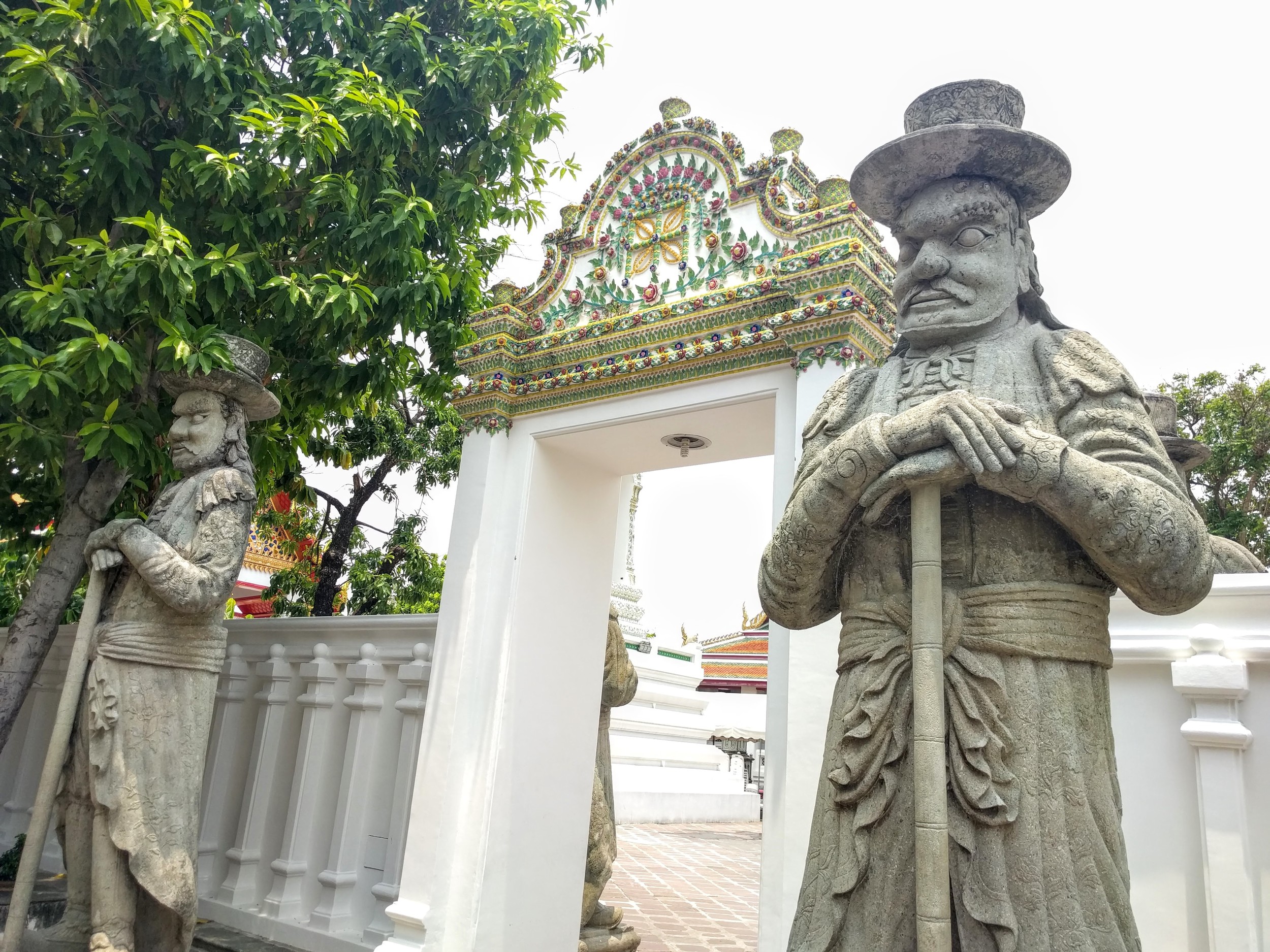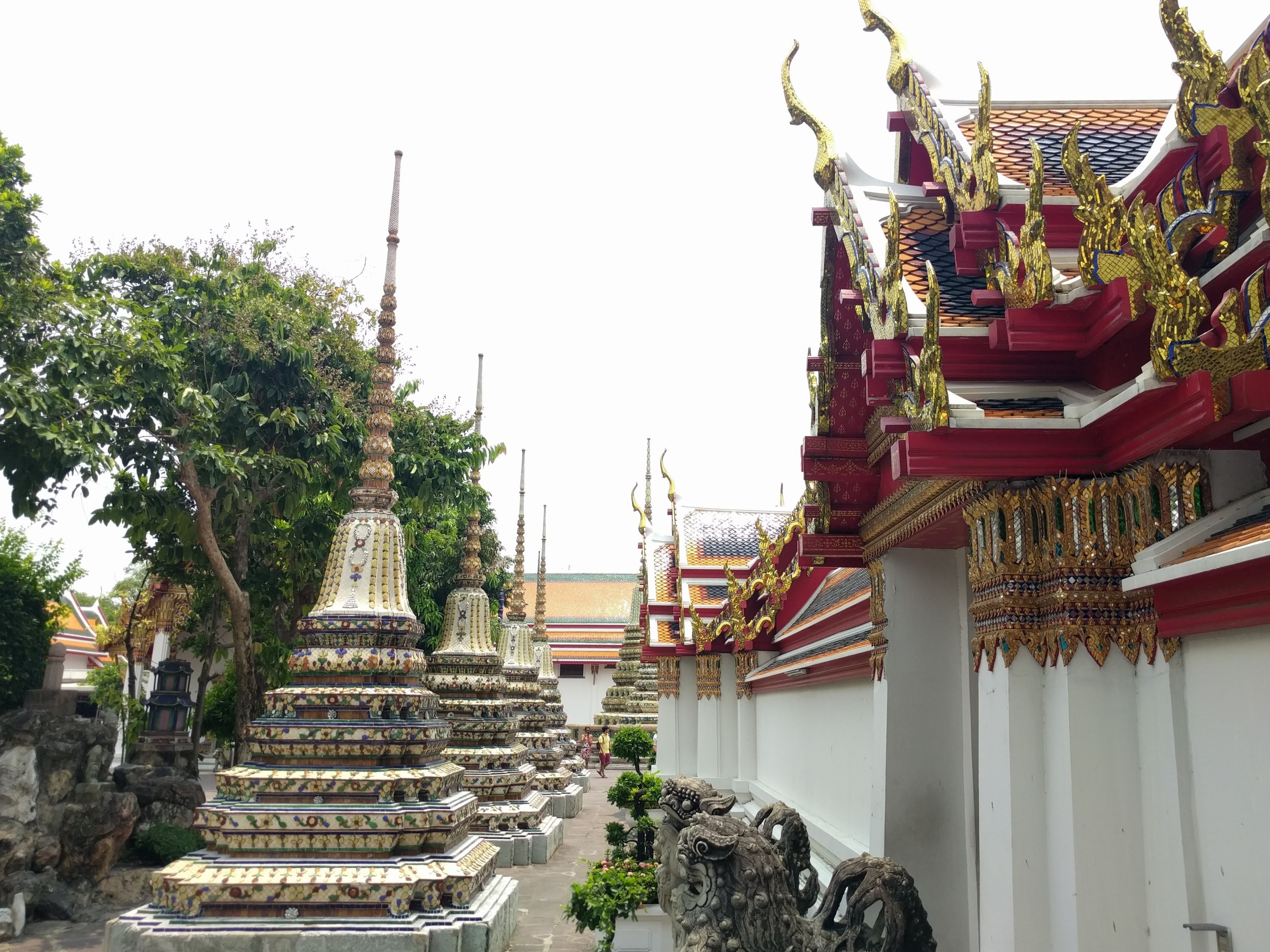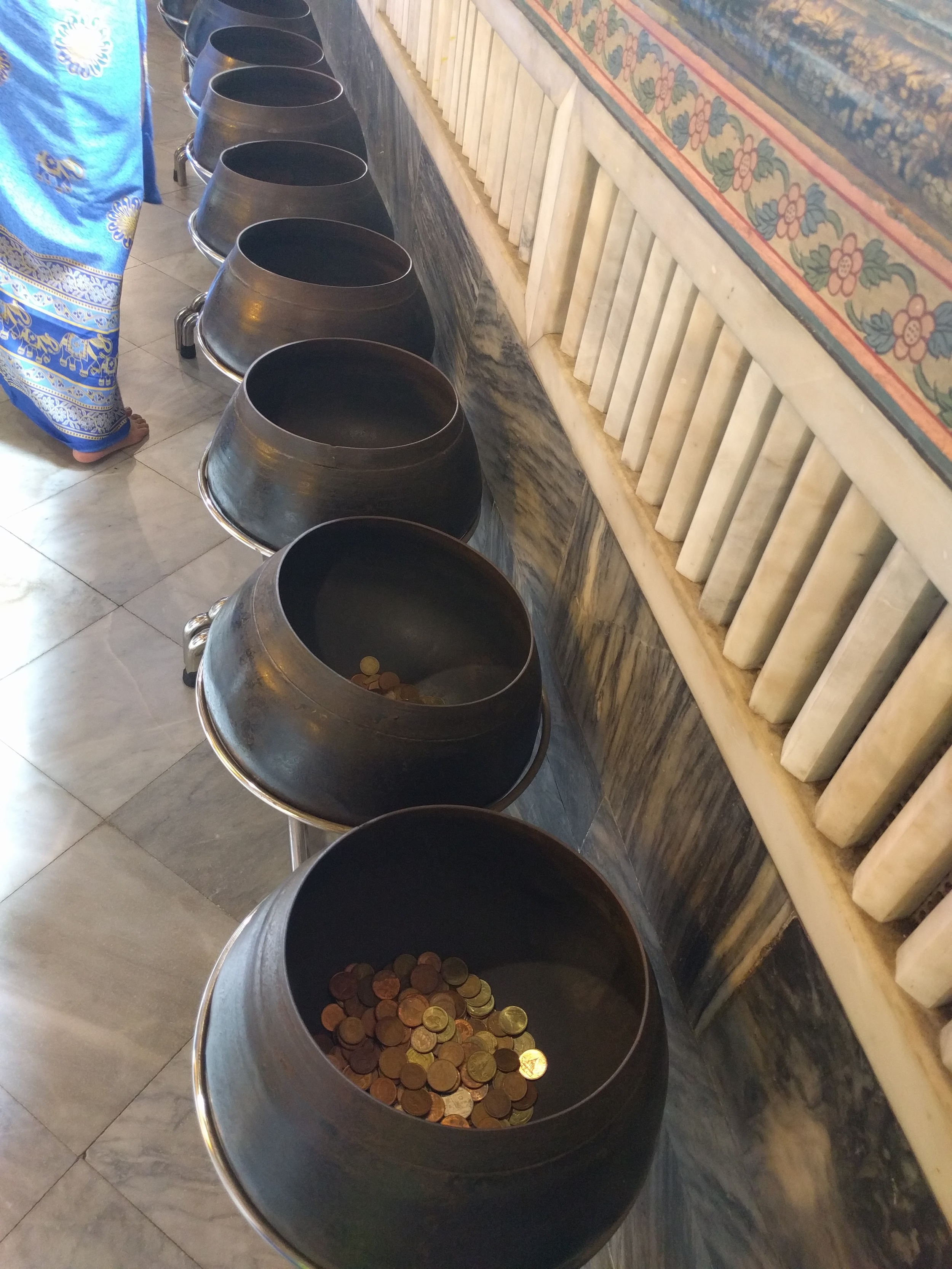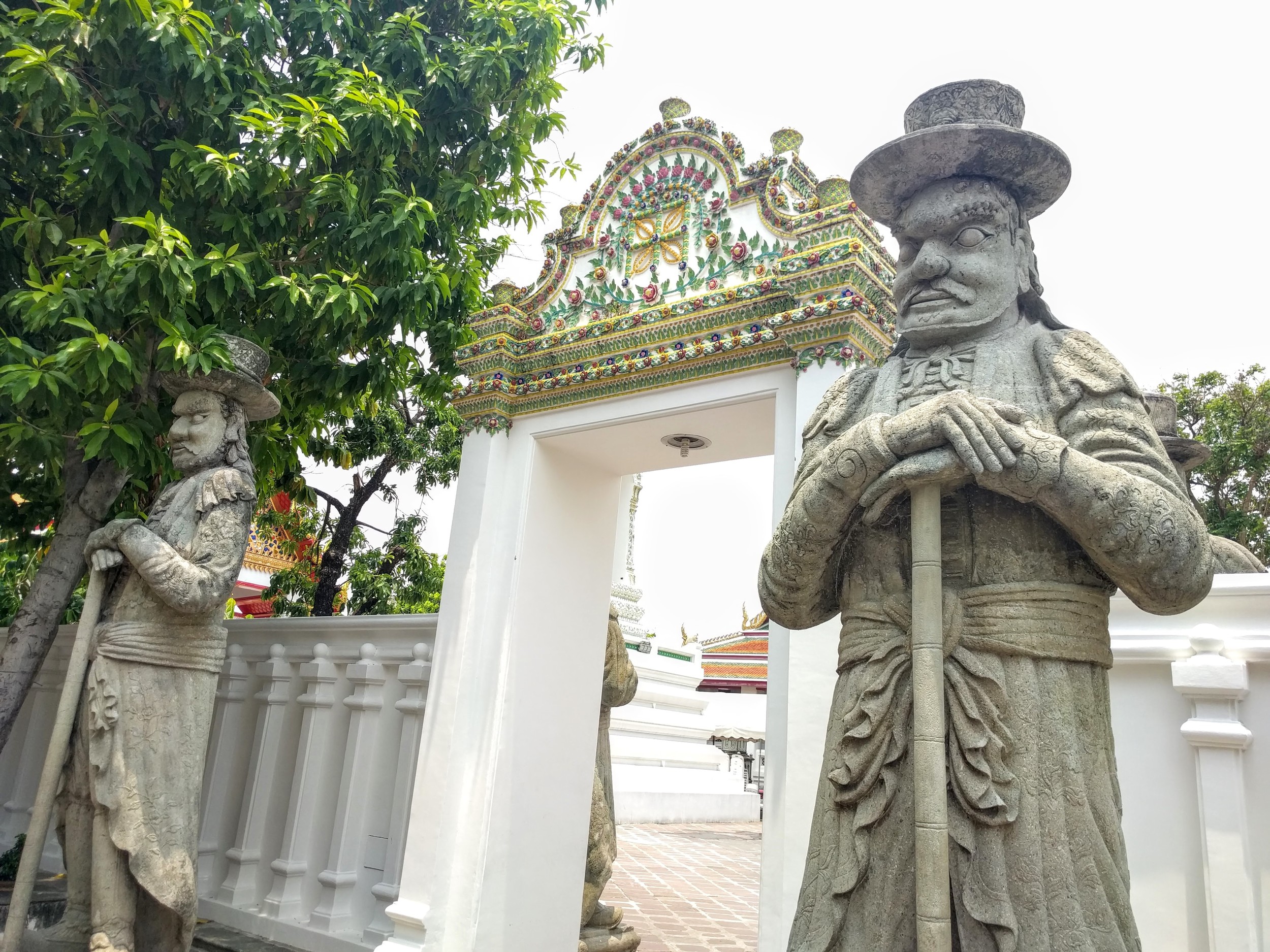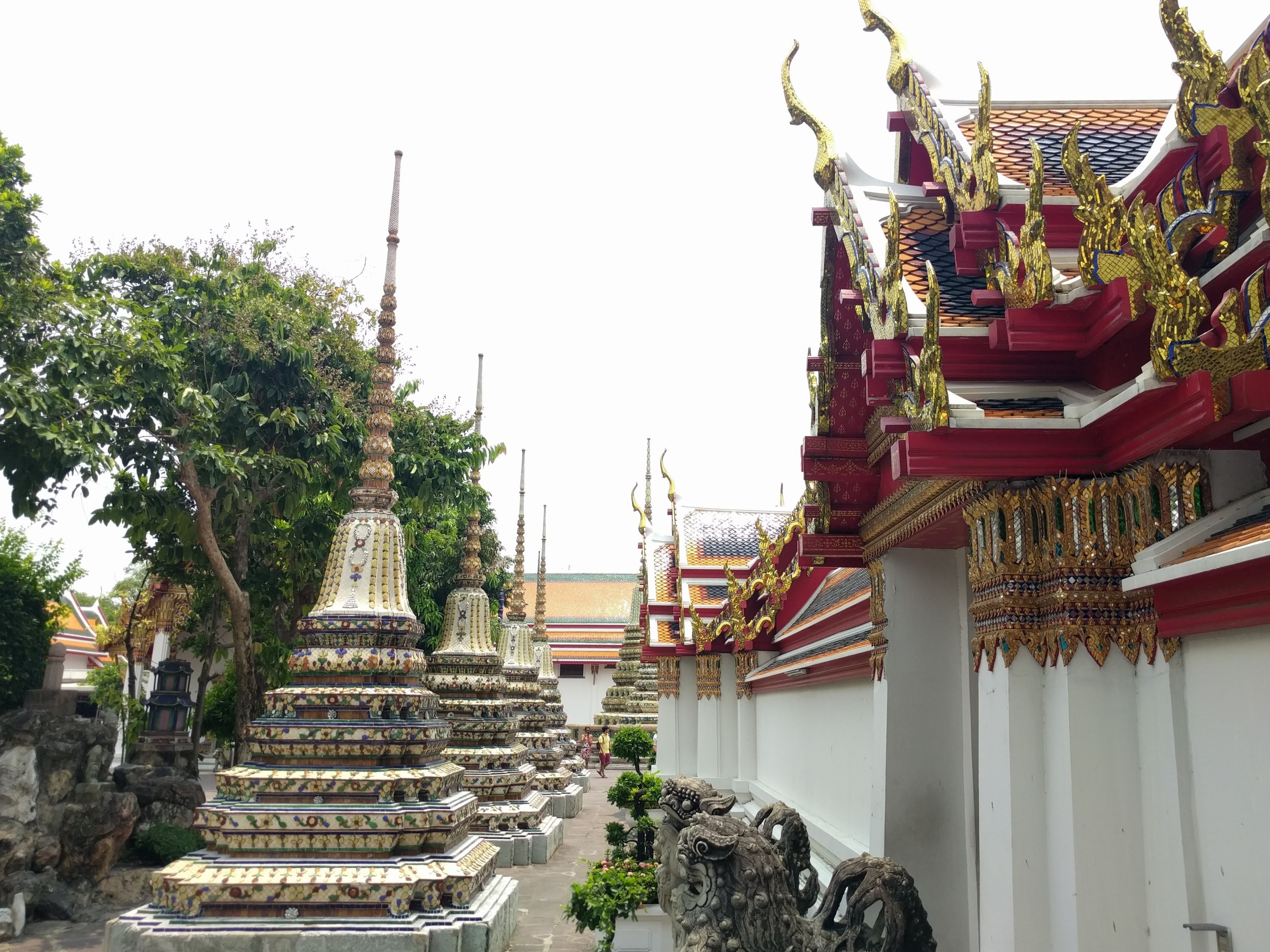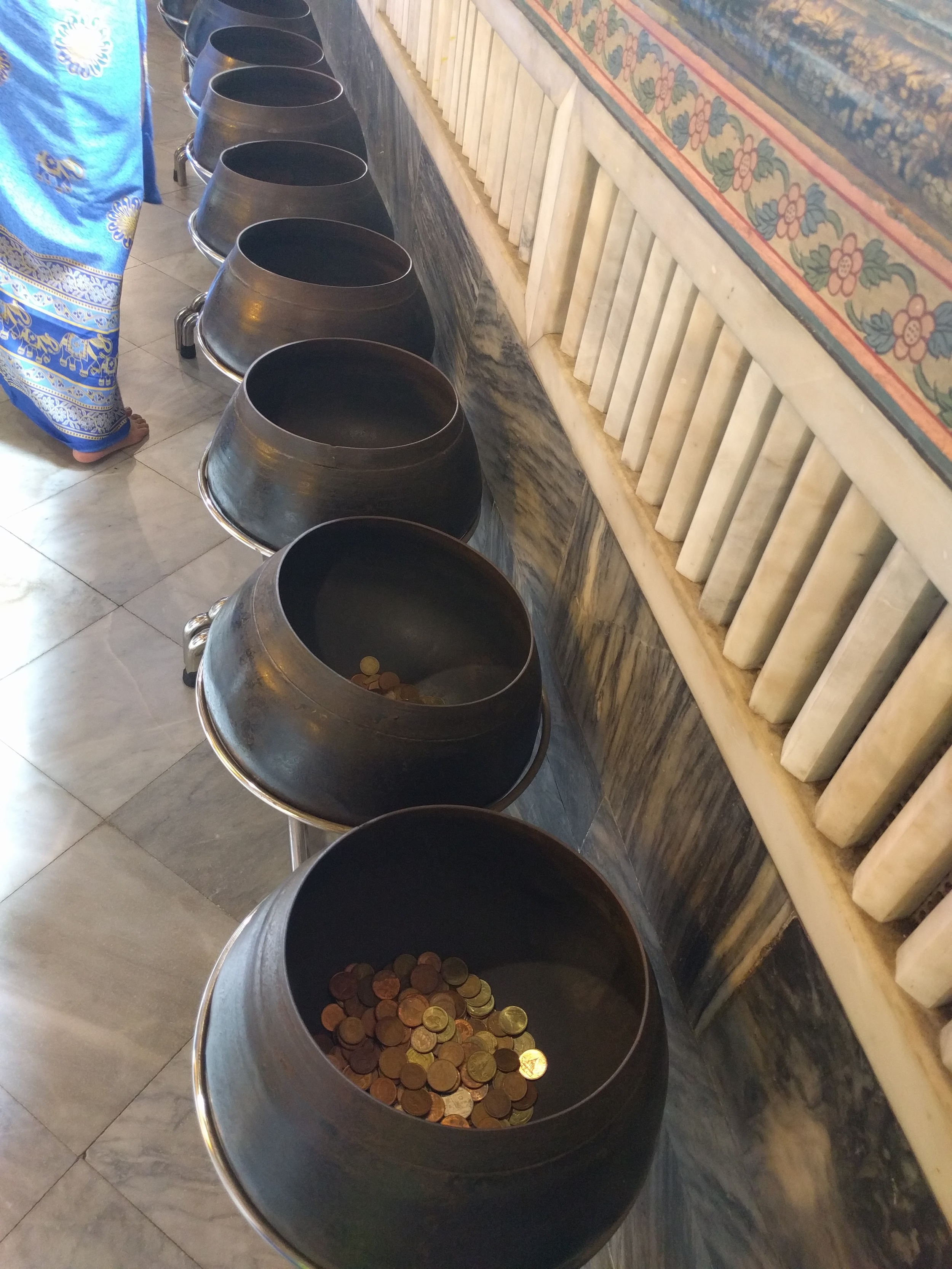 Bangkok has the wonderful Skytrain (BTS) and metro (MRT) which we used daily. Both are air conditioned, clean, and efficient. No complaints. However, there were reaches of the city that we could not get to purely using public transportation. This is where we ran into annoyances.
If you need to take a tuk tuk (three-wheeled motorized taxi) or a taxi, you will be taken on a ride (literally and figuratively). You pretty much won't be taken anywhere unless you agree to go on a side trip or two. The drivers get their gas paid for by filling up stamp tickets, each stamp representing a customer they brought to a particular store. On one ride we were taken to a suit shop (thankfully, Tim looked so young that I don't think anyone suspected he was ready to buy a suit) and on another ride we were sent to a huge jewelry shop. We good-naturedly walked around and pretended to be interested in the inventory for about 15 minutes and then returned to our transport. Annoying. Also, there was TONS of traffic so it always took FOREVER to get to our destinations using the city streets.
It's a fact of life that Bangkok is known for its red-light district. We strolled through and were accosted by men trying to lure us into the clubs and bars for to view the shows they're so well-known for.
Of course we made time to see a ladyboy show. For those who don't know, Thailand is known for their musical stage shows featuring men dressed as women. They've often had surgery and are living as women (versus just dressing the part). Their shows include dancing, lip syncing, and extravagant costumes. This time we saw Calypso, which ended up being in a beautiful, modern, new venue. This surprised me because when I went to a ladyboy show with Diana, the venue was in a random, run-down neighborhood and the theater was in a similar state. We thought Calypso was very entertaining and recommend it.
Calypso was located at a night market called Asiatique - again, very modern, clean, bright, and inviting. To get there we took a free water taxi from the BTS. As you can see from Tim's face, it was a very HOT & HUMID ride. :-D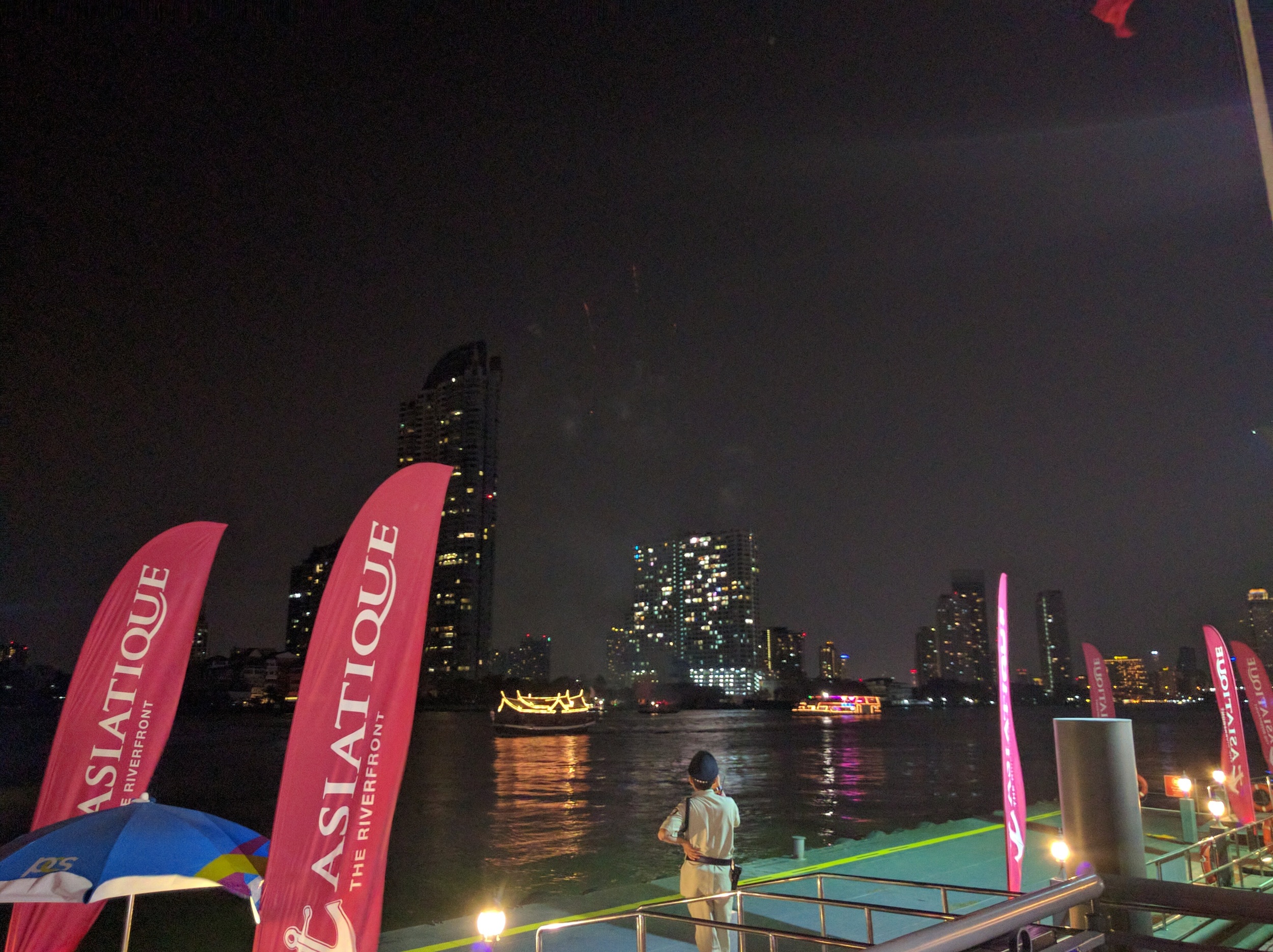 Aside from eating some yummy food, we spent a lot of Sunday lounging poolside. The Sheraton had a lovely pool that looked like a Thai grotto and we were smart enough to get our chairs early, before the crowds moved in.
Food-wise, I was extremely happy to get some papaya salad (super spicy and delicious), Tim was excited to get the papaya and sweet sticky rice, and of course we enjoyed the authentic Thai curry. Happening across a Swensen's ice cream parlor was also exciting - I had no idea this CA brand had gone international! As an aside, the mall next to our hotel was city-themed and we enjoyed pretending to be San Francisco tourists... in Bangkok.
Then it was Monday and time to head our separate ways. I had a short layover at Shanghai's Pudong International airport on my way back to Tokyo. It's always interesting to pass through a city without getting the chance to see it (China is still on our list).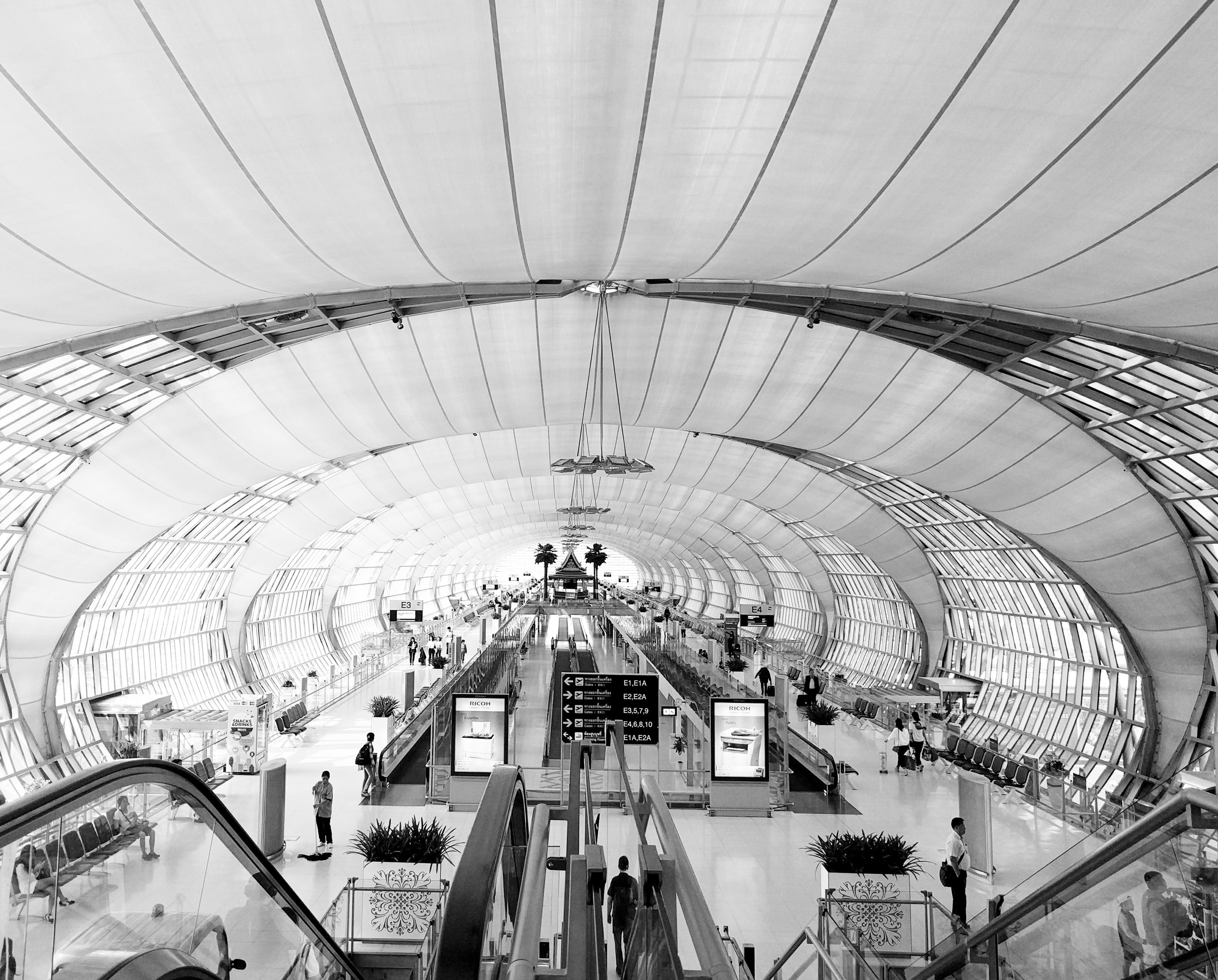 To end, it's very weird to be doing long distance. We realized that it's similar to how we were functioning a year ago, when Tim started working in Tokyo in March and I didn't join him until July. We are looking forward to a time in the not-so-distant future when we will be living in the same city again. :)