Arrival
After an exhausting trip (including a 3-hour delay in Honolulu) Mom, Rachel, and Hannah finally made it to Tokyo!
Day 1
After a good night's sleep everyone was raring to go. We hit Harajuku's Takeshidori Street and Yoyogi Park in addition to the great Meiji Shrine. Rachel even noticed a long queue for something that smelled yummy and we decided to jump in line. Supposedly we came across Tokyo's best cream puff - Croquant Chou Zakuzaku.
We then decided to get in on the Shibuya shopping action. Of course visiting Hachiko and tasting Ichiran Ramen were musts.
Over the course of this trip we did A LOT of walking. The numbers are impressive enough to be included on the blog so that we always remember that walking trip.
Day 1 Steps: 18,790
Day 2
Tokyo Disney Sea! Everyone wanted to see what "Sea" had to offer, since it is so different than the Disney parks back home. Turns out that this week must have been a break between the end of the school year and the start of the next (students end in March rather than June) so it was packed. We were thankful to get in the six rides that we did (boo, Indiana Jones was closed). It was also an especially chilly day but we powered through.
Day 2 Steps: 21,953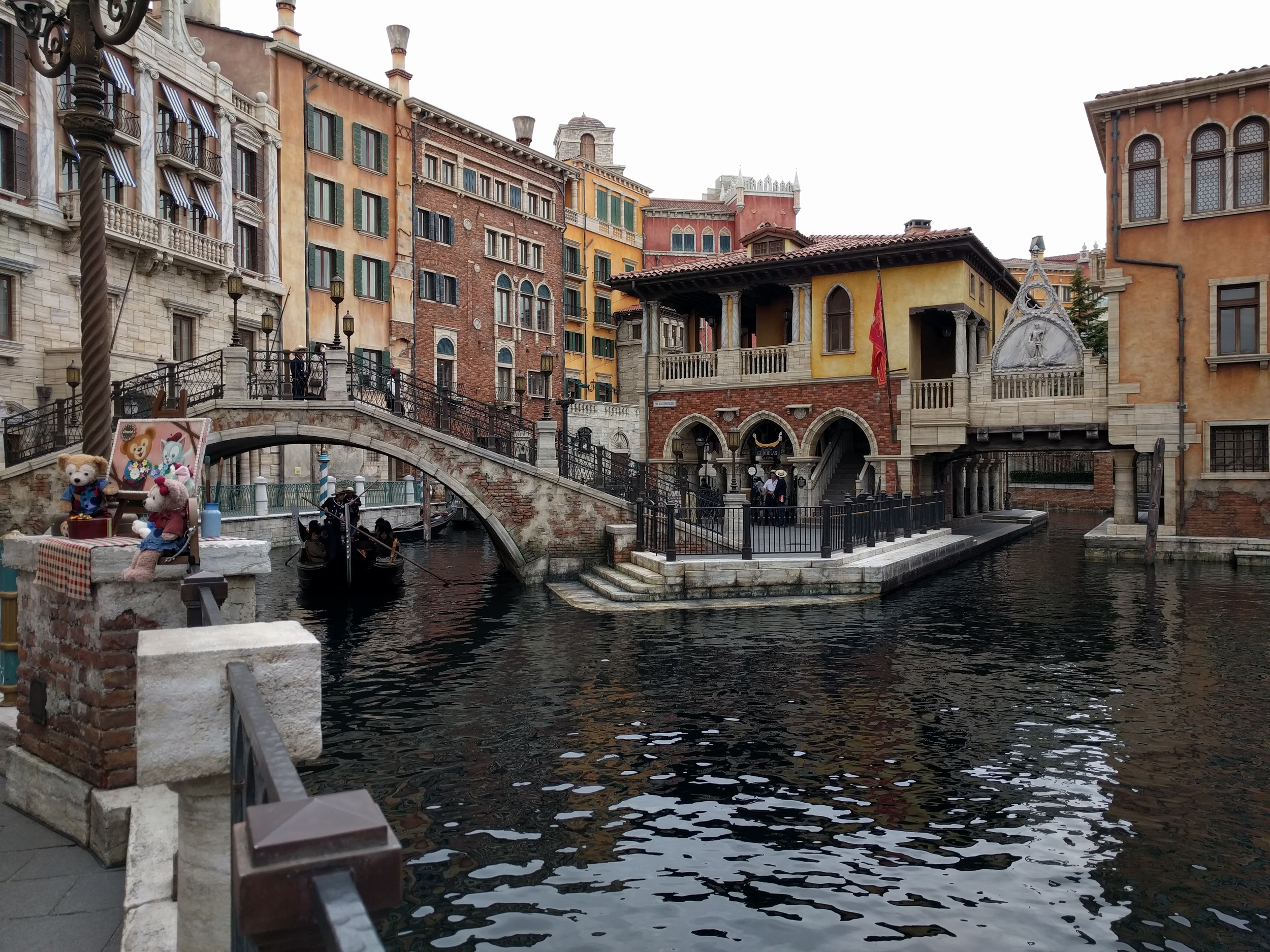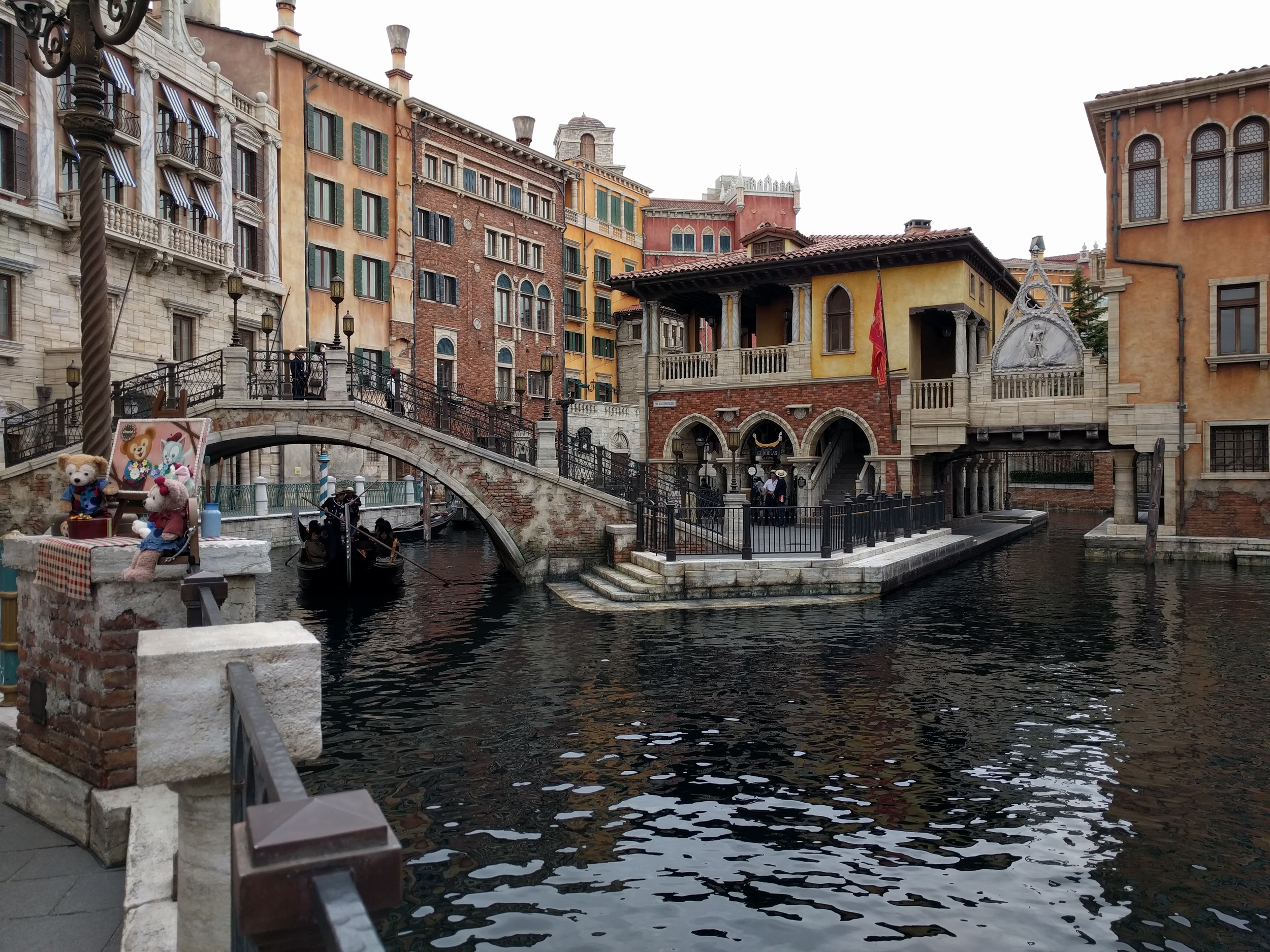 Day 3
Everyone was feeling pretty run down so we set off on Day 3 with the idea that we would go on our scheduled Imperial Palace Tour and then come home to rest. Turned out that we still had some energy after the hour-long tour so we headed over to Tokyo Station to try some ramen on the famous "Ramen Street". They all looked equally appealing so we just chose one - and weren't disappointed.
And then we figured that since we were all the way out there anyway, we might as well go a bit further and see Sensoji Shrine. This place was absolutely packed with tourists and we were a little put off at first. But with a little hydration and some FaceTime with Rachel's boys back home we felt refreshed enough to visit the vendors and pick up some omiyage.
Day 3 Steps: 21,178
Day 4 - 6
Kyoto! We hopped aboard the shinkansen and made our way three hours south, to Kyoto. This beautiful city is chock full of temples and we certainly saw our share. The impressive spots we visited included Kinkaku-ji (with Golden Pavilion), Fushimi-Inari Taisha Shrine (toriis everywhere!), and Kiyomizu-dera (huge UNESCO World Heritage Site). We stopped into many shops and treated ourselves to the delicious triangle mochi that Kyoto is known for. We were pretty chilly but we made sure to keep on the go to stay warm.
We also enjoyed our AirBnB accommodations, located a few bus stops away from Gion Street's shopping district. It was a traditional apartment with tatami mat floors and futons for sleeping.
When we returned to Tokyo we stopped at the Government Metropolitan Building for some gorgeous night views and tucked into Ebisu's Ouca Ice for some delicious Japanese ice cream, feeling content that Kyoto had been checked off our list.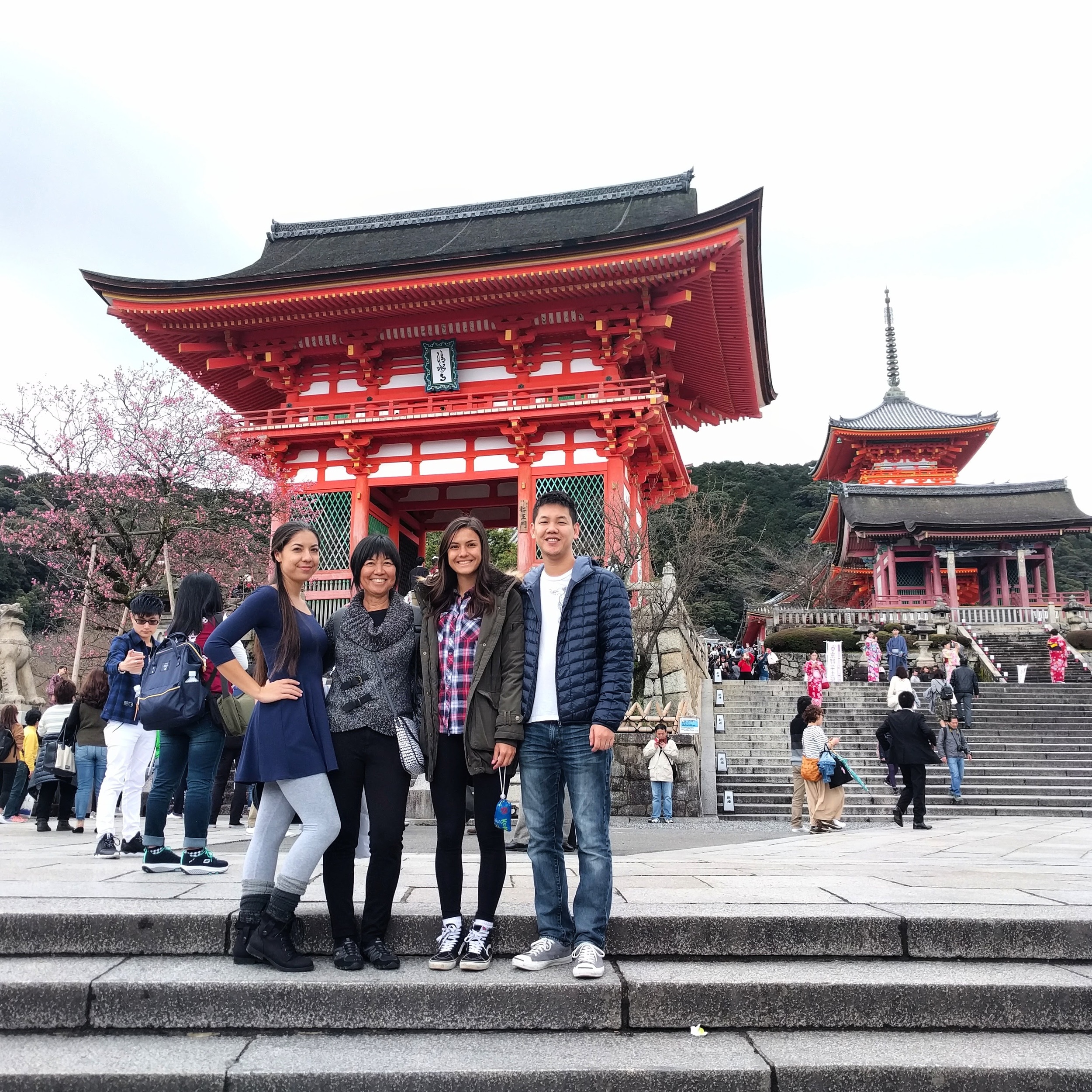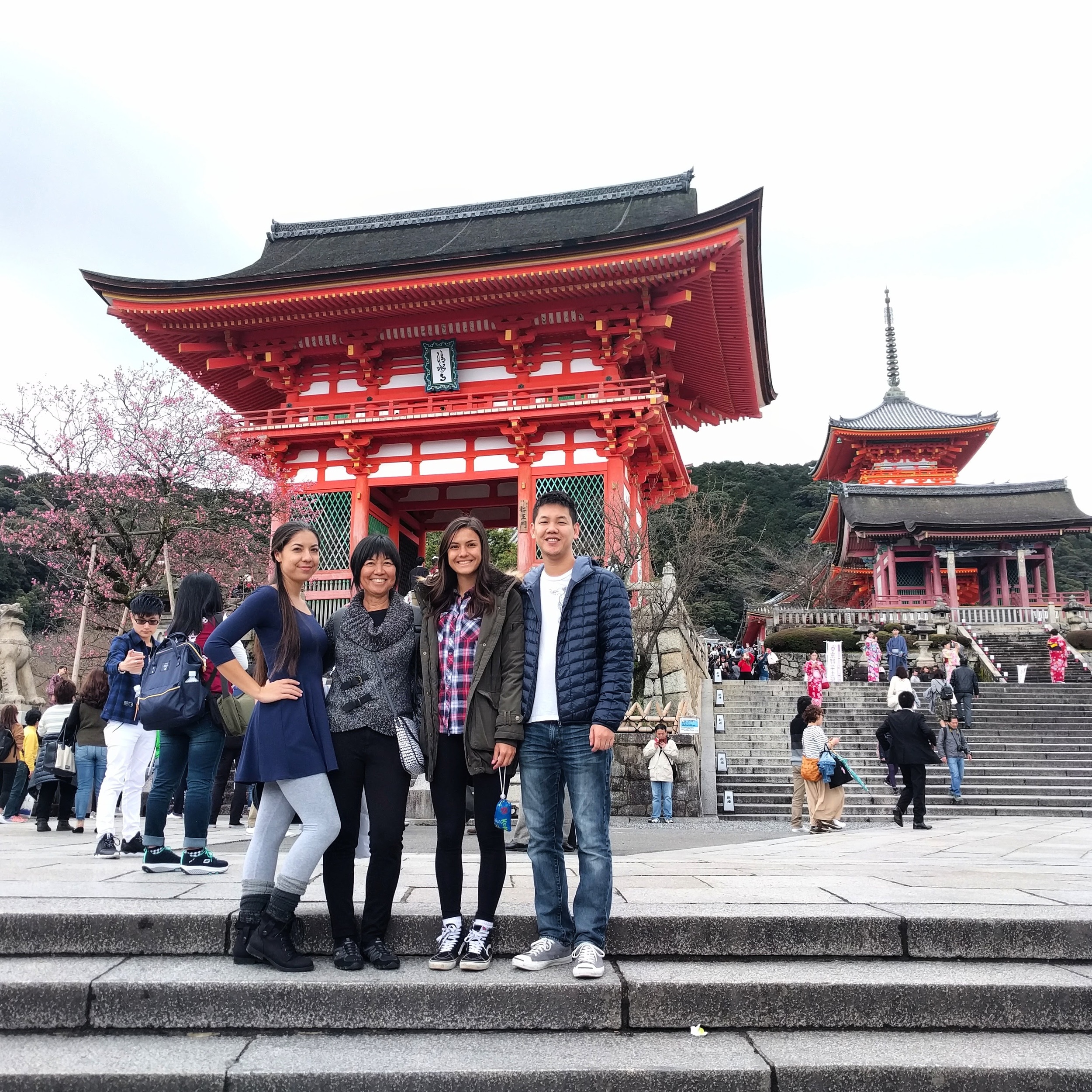 Day 4 Steps: 9,114 (shinkansen limited our steps)
Day 5 Steps: 22,868
Day 6 Steps: 11,345 (shinkansen again)
Day 7
A big day with two anticipated reservations... Akiba Fukurou Owl Cafe and Robot Restaurant! The owls were adorable, as we expected, and the robot show was as crazy as anticipated. Two thumbs up! We finished with giant bowls of udon and a walk through Shinjuku's yokocho (alleys full of tiny izakayas).
Oh, and two amazing photos were taken on this day... x-P
Day 7 Steps: 13,721
Day 8
Saving the best for last? Our Fooddrink Tour of Tsukiji Fish Market was certainly a highlight. We were led through the inner and outer markets, with the details of buying, selling, types of foods and wares for sale all thoroughly explained. The fact that the market will be moved this November made us treasure this trip even more.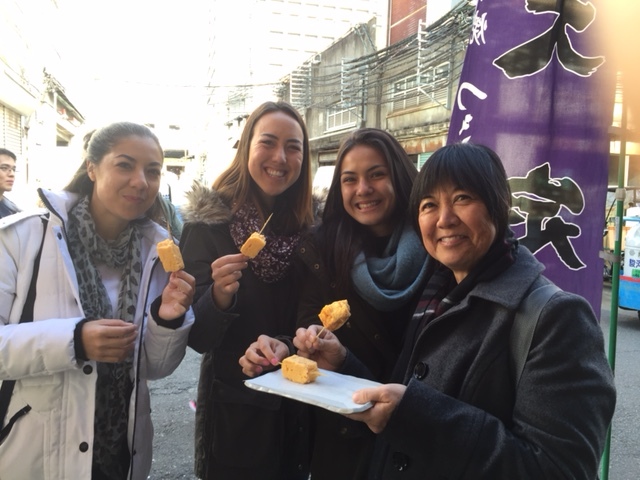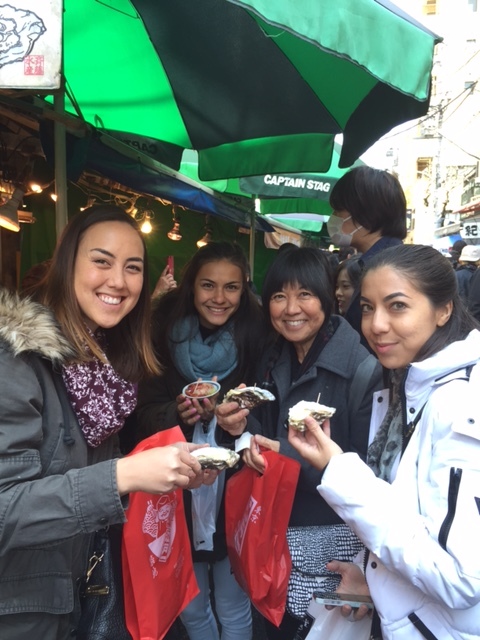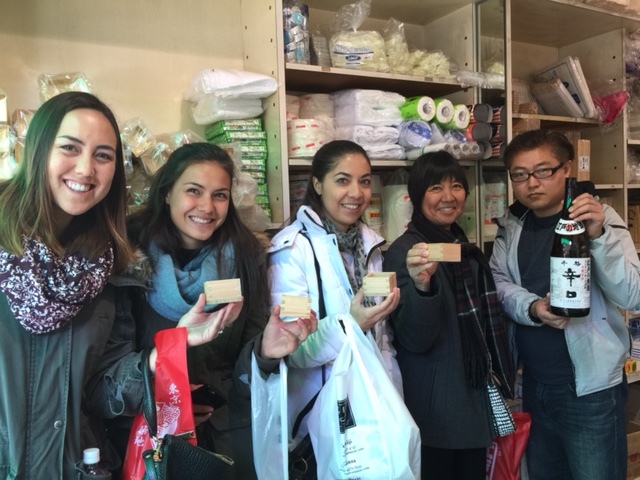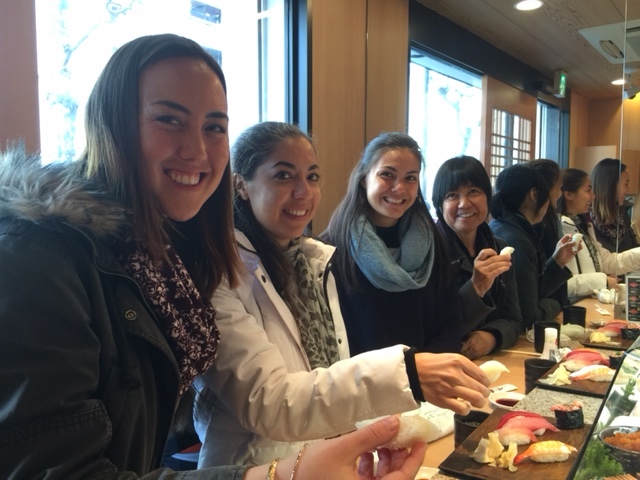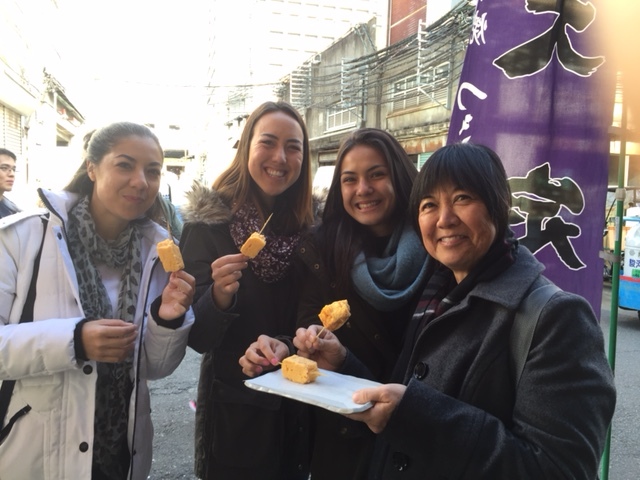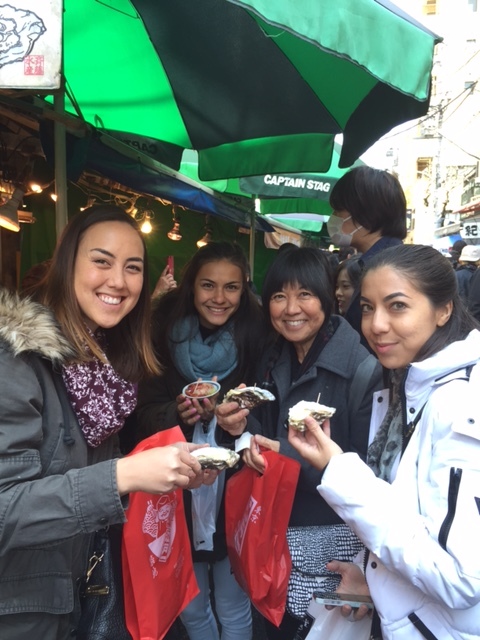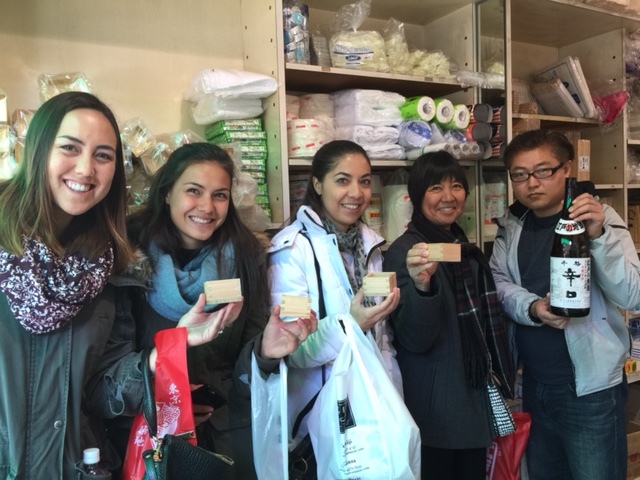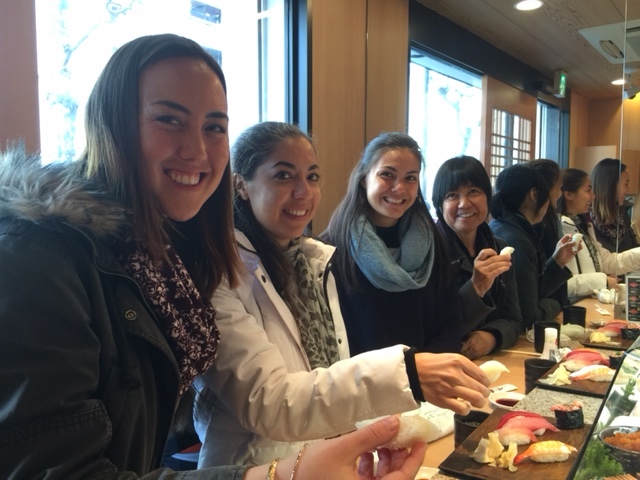 And just like that it was time for everyone to return home.
I feel so lucky to have had the chance to share Japan with Mom, Rachel, and Hannah before our year in this amazing country comes to an end. Definitely a once-in-a-lifetime experience!
Miss you guys already! xoxoxox
Day 8 Steps: 18,348
TOTAL STEPS OVER 8 DAYS: 137,317 (65 miles!!!!)