Our friends Mackenzie (Liz), Phil, Vickie, and Jimmy flew over together for a fun week in Japan. Given that Mack and Vickie were almost ready to open their brand new psychiatry practice(!!!), it was pretty amazing that they found time to get away! Of course we couldn't wait to welcome them to our city.
Day 1
Vickie and Jimmy had watched a PBS documentary about Japan's snow monkeys and were itching to see them in person. Phil booked a day tour up to Nagano and we saw them in their full monkey glory at Jigokudani Monkey Park. The tour also included a visit to a local shrine and a delicious traditional Japanese lunch.
As you can see, these playful macaques were not at all concerned with our presence, and one eventually came over and grabbed my leg (friendly, not aggressive). Mackenzie didn't see it that way - she was out of there as soon as she saw that they were getting frisky.
Day 2
This happened to be Mackenzie's birthday! We were so lucky to get the chance to celebrate in Tokyo with her. Good thing she enjoys food tours - it was Tsukiji Fish Market Day. After a delicious and informative 3.5 hours, it was time for a cruise through Harajuku's colorful Takeshidori Street, a visit to majestic Meiji Shrine, nearby Yoyogi Park, and a couple Shibuya crossings (plus a visit to Hachiko). We made sure include a yummy meal at izakaya Shirube and birthday cake.
Day 3
A big day - Mount Fuji tour. Thank you for booking, Phil! It had snowed just the day before so we were only able to go up to Level 1 (of 4) which took us to 1,291 meters - not unusual for this time of year. Some added bonuses - we saw some unexpected Picassos and sat on a giant fried egg at the Hakone Open-Air Museum and (a highlight) rode on a pirate ship through Hakone!
Our tour guide cracked us up all day long. She was unintentionally hilarious with the number of times she repeated directions and her overly obvious side-notes. "Hakone Open-Air Museum is OPEN AIR." She'd clearly been through a group of tourists or two and knew how oblivious we could be.
Back in Tokyo we got tsukemen at Tokyo Station Ramen Street's Rokurinsha. It didn't turn out to be the group's favorite... but at least it was an education in popular Japanese ramen (this one is quite famous and always has a long line).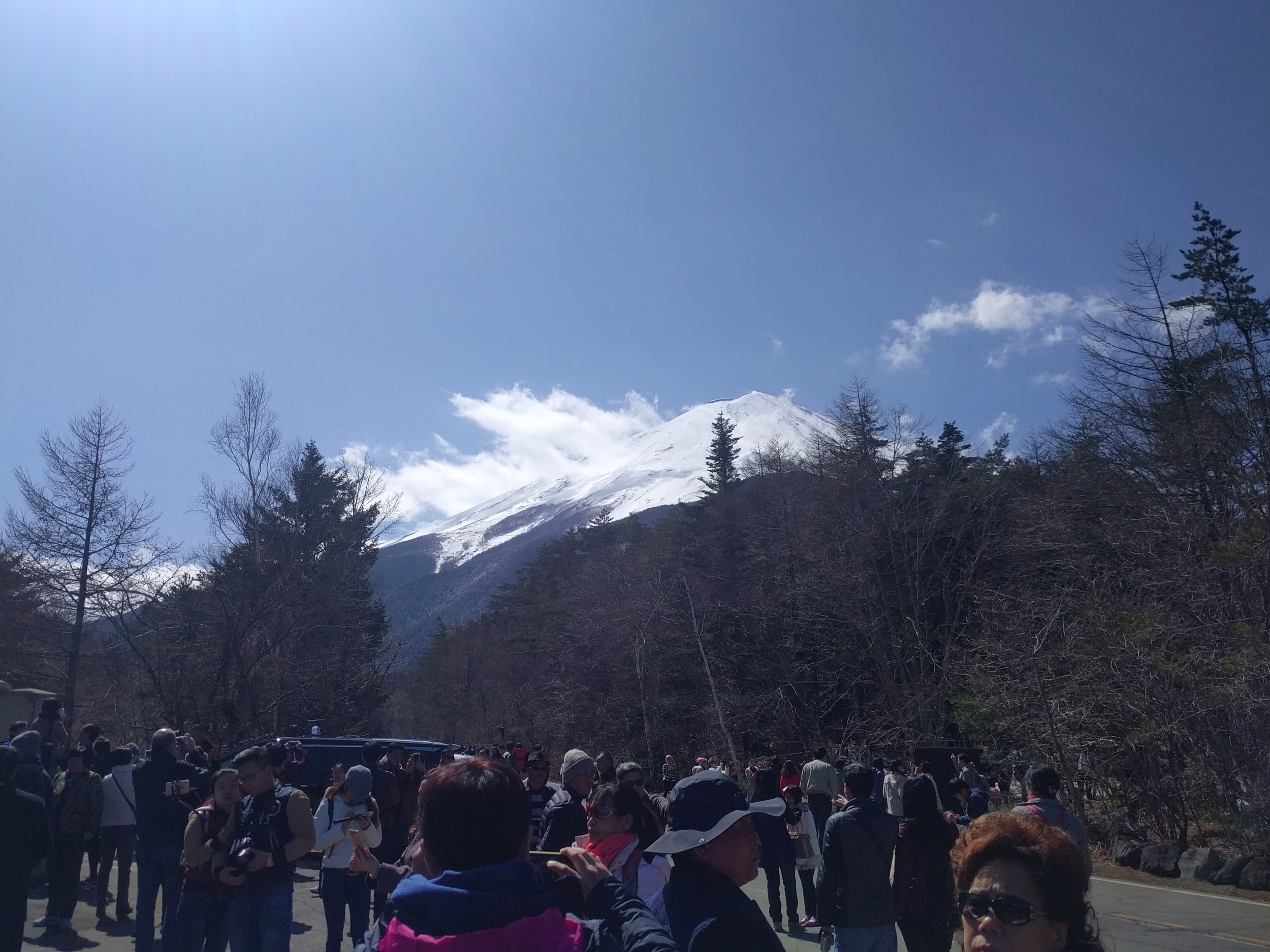 Day 4
Sensoji Shrine was packed but we managed to score some yummy treates and omiyage, took a stroll through just-blooming Sumida Park, and even bumped into Jennie and Herman. We took that as a sign that we should bring them with us to Akihabara, where Tour Guide Tim gave a detailed tour of the arcades, manga shops, and even took us to MaidDreaminMaid cafe. The 1200 yen live performance was so worth it. Moe moe kyun!!!
Day 5 - 7
The group went down to Kyoto for a couple of days to enjoy temples, shrines, and more shrines and temples. Tight quarters but lots of fun around the city. They even got to see some Nara deer!
Day 7
Upon their return from Tokyo we made sure to hit the Government Metropolitan Building for views from the 45th floor, and visited the highly anticipated ROBOT RESTAURANT! I enjoyed watching our guests' reactions just as much as the show itself. We ended the night with Tour Guide Tim showing us around Shinjuku's yokochos (tiny alleys full of tiny bars).
Day 8
Sadly, Vickie wasn't feeling so well on the last day but we were glad she had some time to recuperate at the hotel before her flight. We carried on to Sarutahiko Coffee, Ouca Japanese Ice, and then to Akiba Fukurou owl cafe. Jimmy managed to choose the most rambunctious, poopy owl in the place. But what a good sport - he said the poop enhanced his experience. :-P
And then their time was up. Why does the time always fly?? We had so much fun with Mackenzie, Phil, Vickie, and Jimmy and loved experiencing Tokyo again through their eyes.
Thank you so much for coming, you guys! Can't wait to see you again state-side!