The cherry blossoms bring everyone to Japan - including Jennie and Herman! They arrived in the middle of Mackenzie's trip and left during Christina and Mark's stay. We had scheduled a dinner together but fate wanted us to meet a few more times.
We ran into them in the craziness that is Sensoji-Shrine. What are the odds?? In a place bustling with tourists, it's pretty amazing that we happened to be in the same spot at the same time.
We were headed to Akihabara so we brought them along. Tim walked us through several of the biggest manga shops and figurine stores in the place. He also took us to several arcades and explained the variety of games played on each floor (where Jennie promptly won a Gudetama keychain at a crane game - skills!).
But the highlight was definitely our visit to Maidreamin Maid Cafe. At first we weren't too impressed. The inside of the cafe looked like any generic Japanese cafe save for some extra pink flourishes. But the longer we stayed, the more we realized that we were in for a treat. The girls were especially enthusiastic to be as cute as possible, and we got two pretty spectacular live shows. These shows consisted of energetic singing and dancing and audience participation was pretty much mandatory. We threw up our hands, made hearts, clapped along, and learned that "Moe, moe, kyun" means extra super adorable (something we had to repeat many times over the course of our visit). :)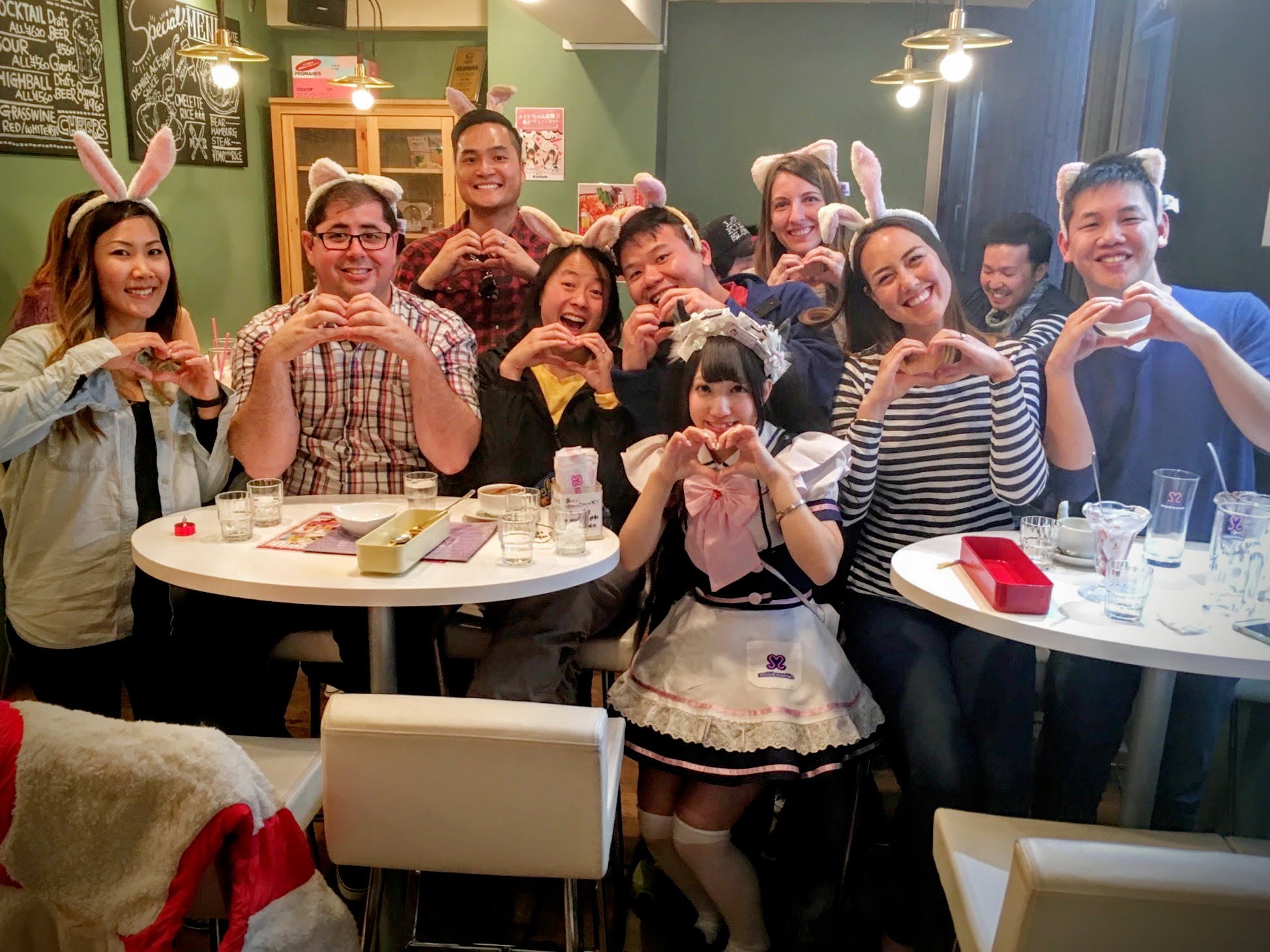 We had dinner together at Yakiniku Jumbo Shirogane - and enjoyed our delicious grilled beef, especially the specialty - a practically raw, thinly sliced cut of beef dipped in raw egg yolk. YUM.
Afterwards, we headed back to our apartment to give them a feel for (tight) Japanese living and to enjoy the yummy Pablo cheese tart that they'd brought for us (I'd wanted to try it for a long time but kept passing it up). It turned out to be creamy and yummy but also very light.
Next, off for a taste of Ouca Japanese Ice, a Japanese version of ice cream in several uniquely Japanese flavors like roasted green tea, brown sugar soy bean, and sakura. They provide some salty seaweed that we think is supposed to enhance the flavors if you nibble on it between scoops.
And before we could let them go we had to get a group puripuri shot at our local arcade. :D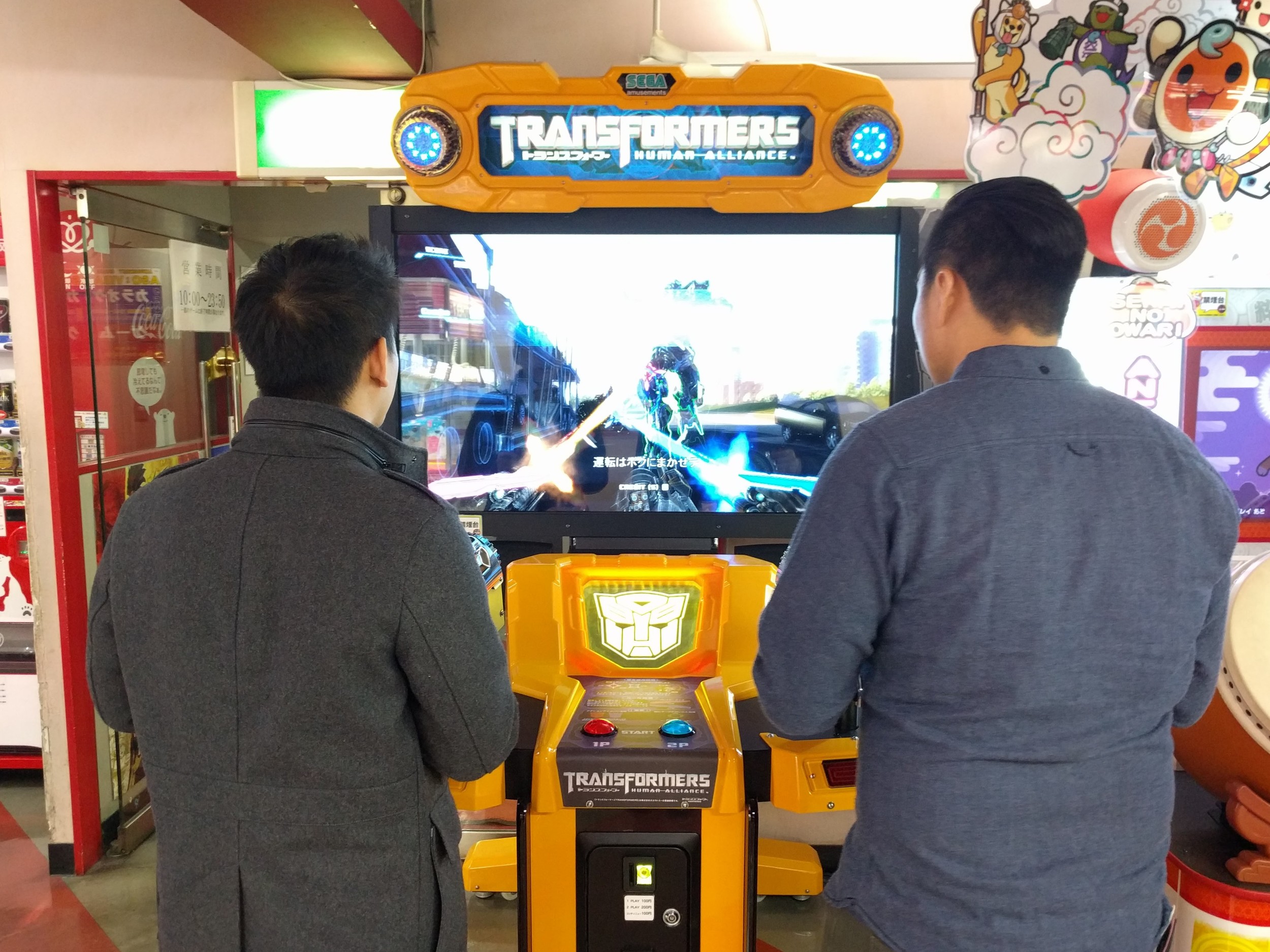 We thought that would be the last time we saw these two in Japan but we bumped into them AGAIN the next day as we enjoyed hanami in Yoyogi Park. I spotted a giant Rilakkuma posing for photos not far from our picnic spot and Tim alerted Jennie, who immediately came running over from nearby Meiji-Jingu Shrine. Too funny! She loves this guy.
It's always so much fun to meet up with friends from home. We loved knowing that these two enjoyed Japan so much and I'm sure they'll spread the word about how amazing this country is. Safe travels home!