The very day after Mackenzie, Phil, Vickie, & Jimmy flew off, these two landed at Narita. More visitors! :D
Day 1
When they arrived in Tokyo Christina & Mark were wide awake and ready to see some of our great city so we headed off to Harajuku. Where else but Takeshidori can you witness the craziness that is Tokyo on one tiny street? We were even lucky enough to get some time with SoftBank's Pepper, a humanoid robot who is meant to be a friend and companion.
And Christina had mentioned wanting to try a new ramen place every single day of the trip. SO, of course their first dinner was at the famous Ippudo, just a few blocks from our apartment. Great way to kick off the ramen fest!
Day 2
This was a crazy full day! We got through so many sights that I was afraid we'd run out of things to do by Day 3! No really!
First up - cherry blossoms at the urban Naka-Meguro canals with Tim (who then had to run off to work) and then on to more blossom viewing at Kitanomaru Park. This spot, with a lovely moat filled with rowboaters, was absolutely gorgeous.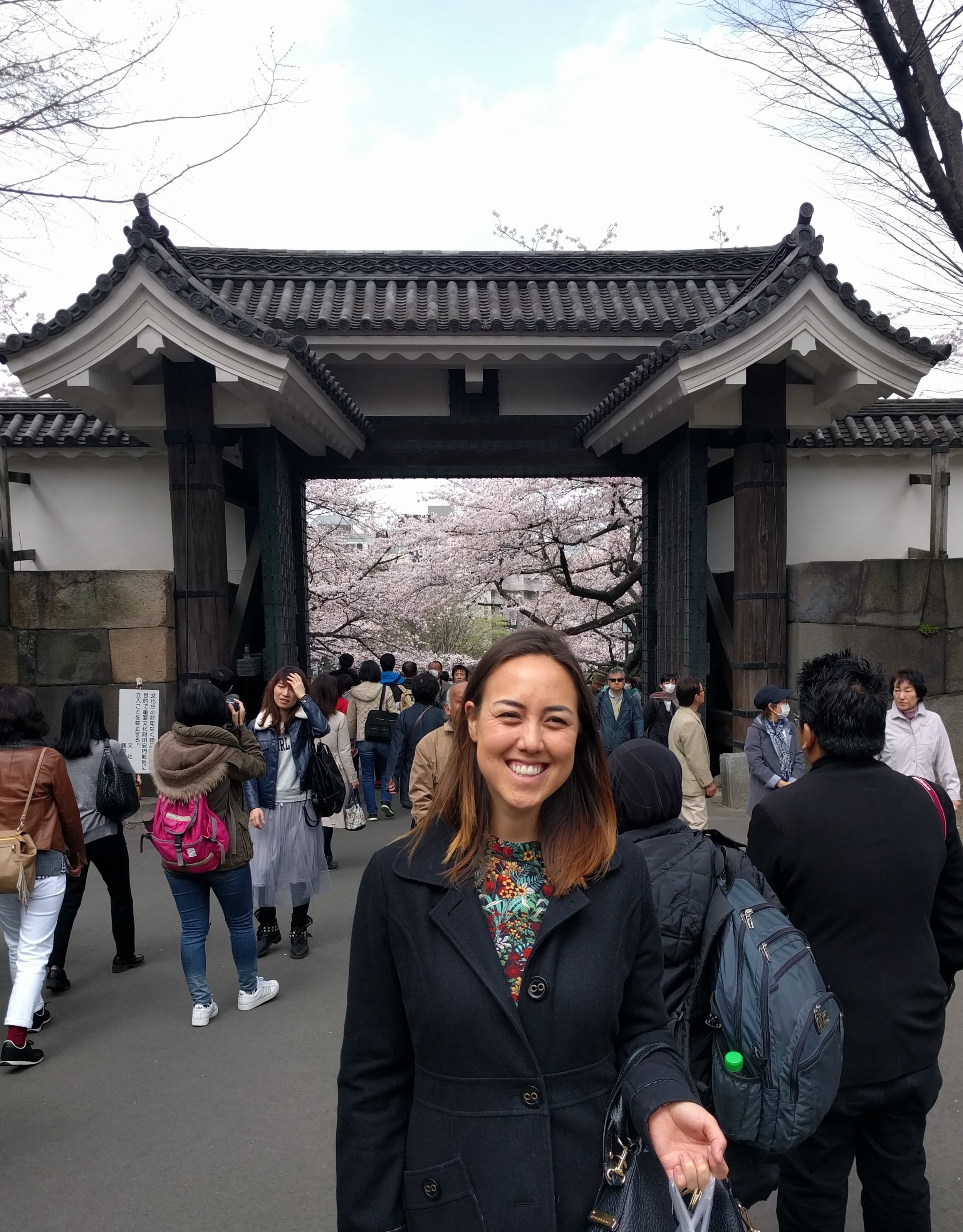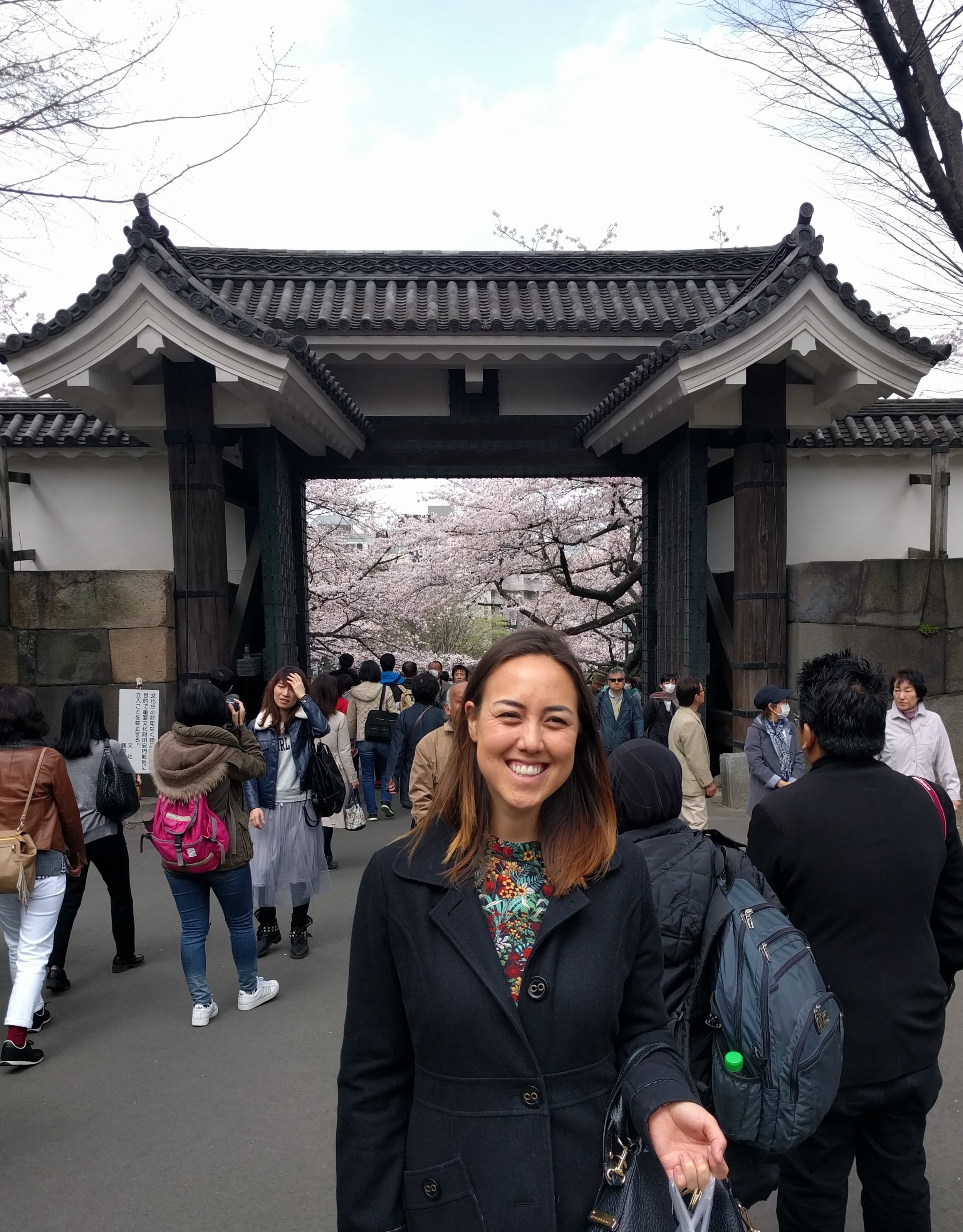 We took off for Christina and Mark's owl appointment at my favorite owl cafe, Akiba Owls. I think the staff knows me so well now that they remembered my email address. They sent me Christina and Mark's owl photo without even asking them to identify the reservation name. HA!
Then off to crowded Sensoji, ramen at my fave, Ichiran, and on to check out Shibuya Crossing and Hachiko (I told you this day was PACKED!). Amazingly, someone had placed an adorable, sleepy kitty between Hachiko's paws. I had never seen this before and was amazed that C & M were lucky enough to see it. They were also lucky enough to get seats almost window-side at the Starbucks overlooking Shibuya Crossing!
Dinner was the amusing Genki Sushi with completely automated sushi.
Day 3
THE BIG DAY. So, Mark had texted Tim and I the day before, letting us know that he wanted to propose to Christina on Day 3 at the gorgeous Kitanomaru Park... In a rowboat... underneath the cherry blossoms. HOW PERFECT!!!
We headed over to the park, nonchalantly walked around, and then got in line for the boats. At first they told us the line would take 2.5 hours (what??) but we didn't want to give up on Mark's plan so we decided to wait. Thankfully, it was a quick 30 minutes and we were in our boats. Tim was in charge of documenting this big event and I was in charge of manning the boat. I think we may have been a little obvious, what with me continually trying to row right up next to C & M's boat, and Tim training his camera on them a little too much... but he was able to capture the moment and it was just perfect.
CONGRATULATIONS to the future Mr. and Mrs. Navasca!!! <3
(I am not posting those photos here, as C & M get to decide when the public sees them. ;-) Stay tuned to Facebook)
Day 4
We'd planned for hanami at Yoyogi Koen with our friends and brought Christina and Mark along with us (see "Hanami" post). After that we headed off to Akihabara in hopes of catching an amazing show at Maidreamin' Maid Cafe. Let's just way we weren't disappointed. We chose a different location than the last time; one right next to the station. It had more girly decor, more clientele (mostly tourists), and just as many crazy things going on.
After a yummy tonkatsu dinner, we took them to Roppongi's Toho Cinemas so that they could experience the cool rotating popcorn buckets for themselves. Oh, and take in "Batman v Superman" while they were at it.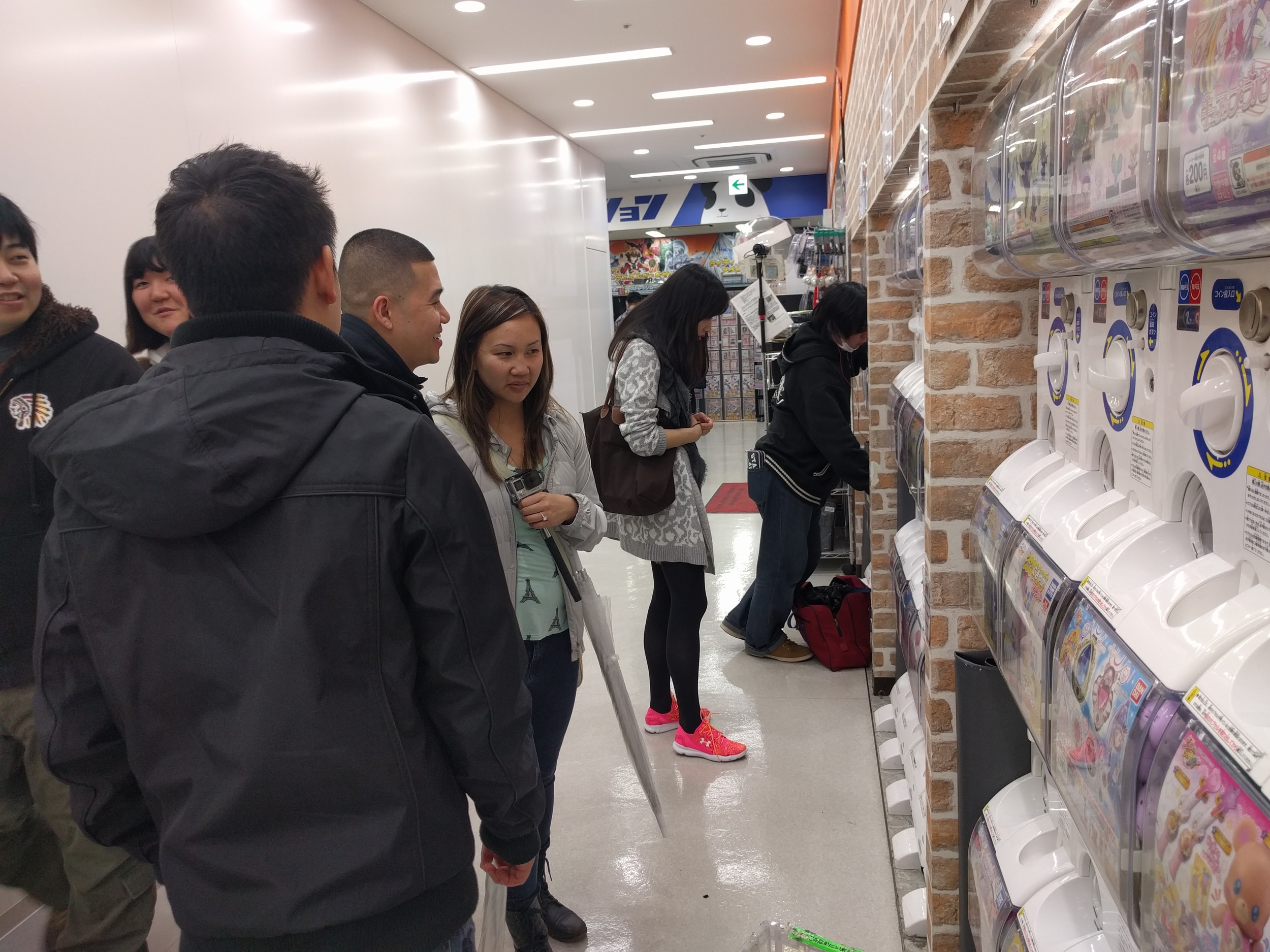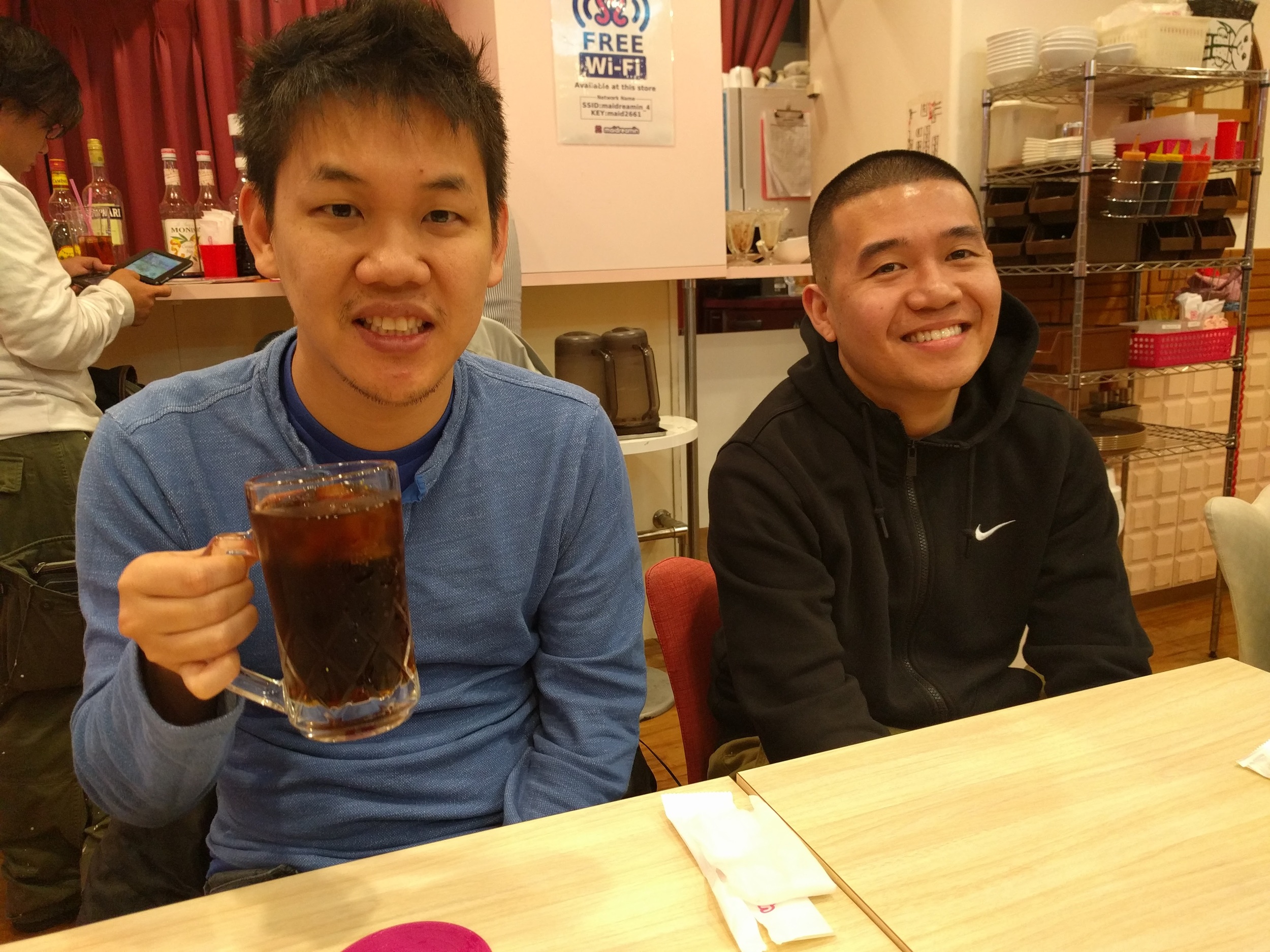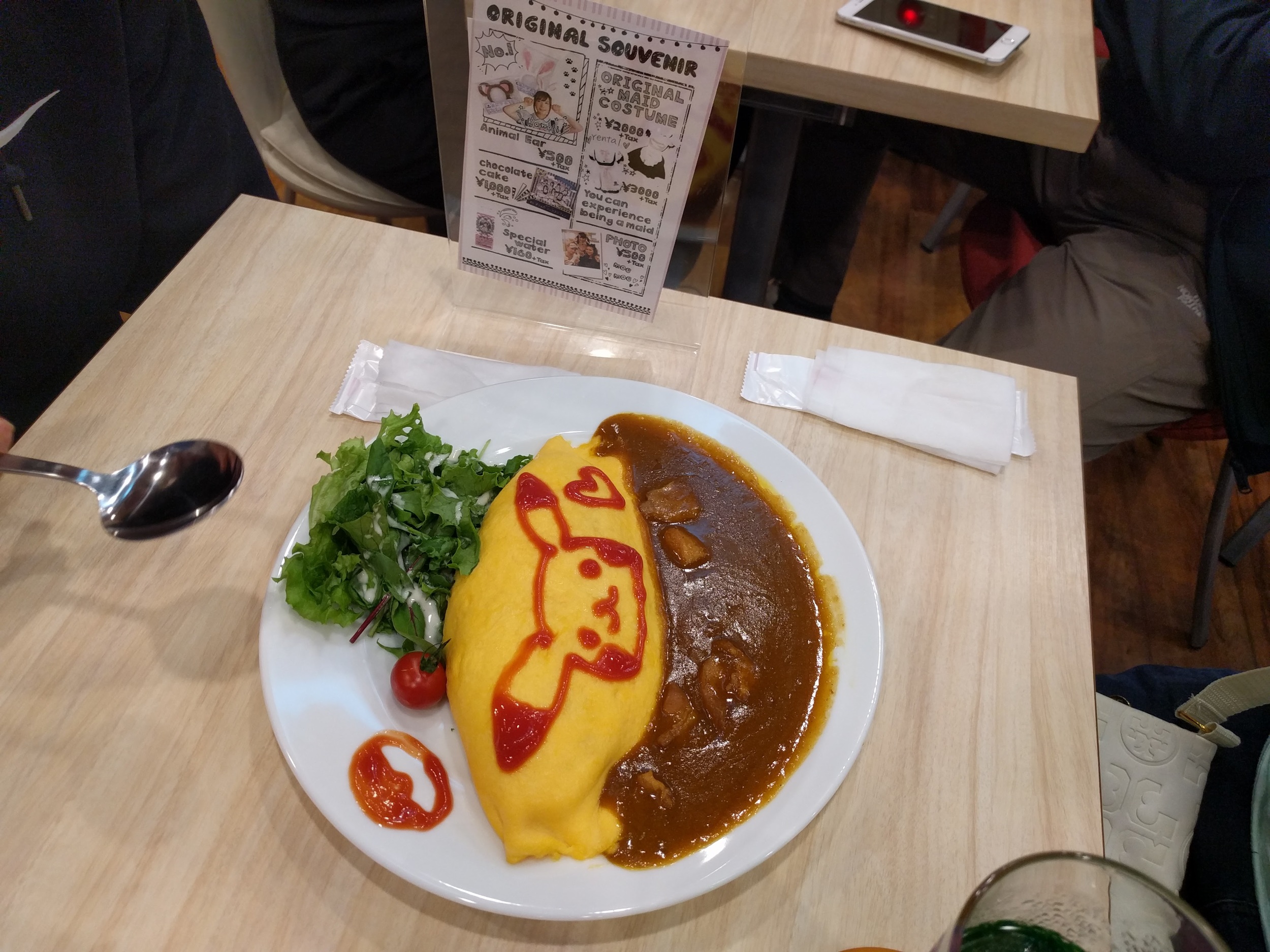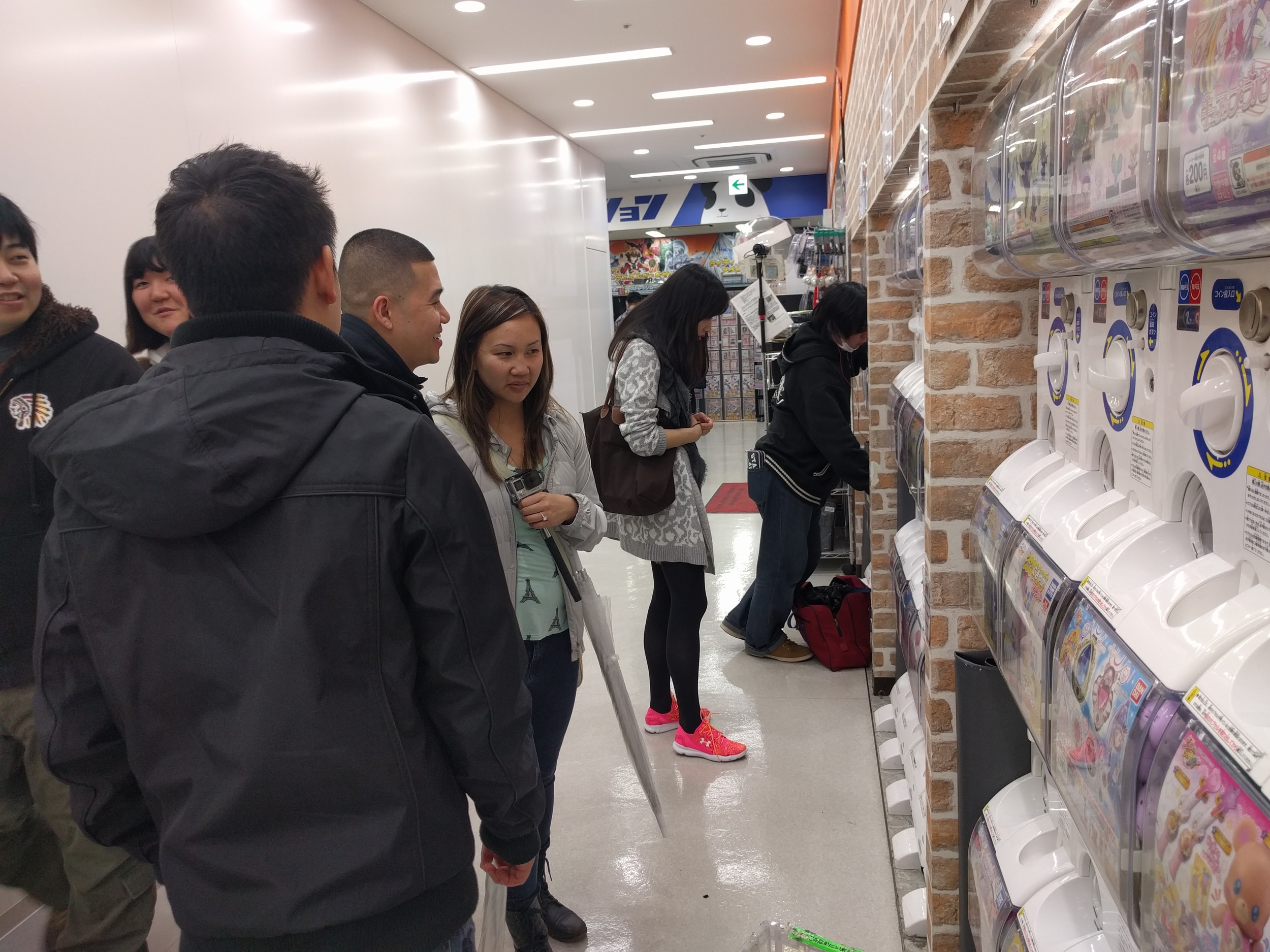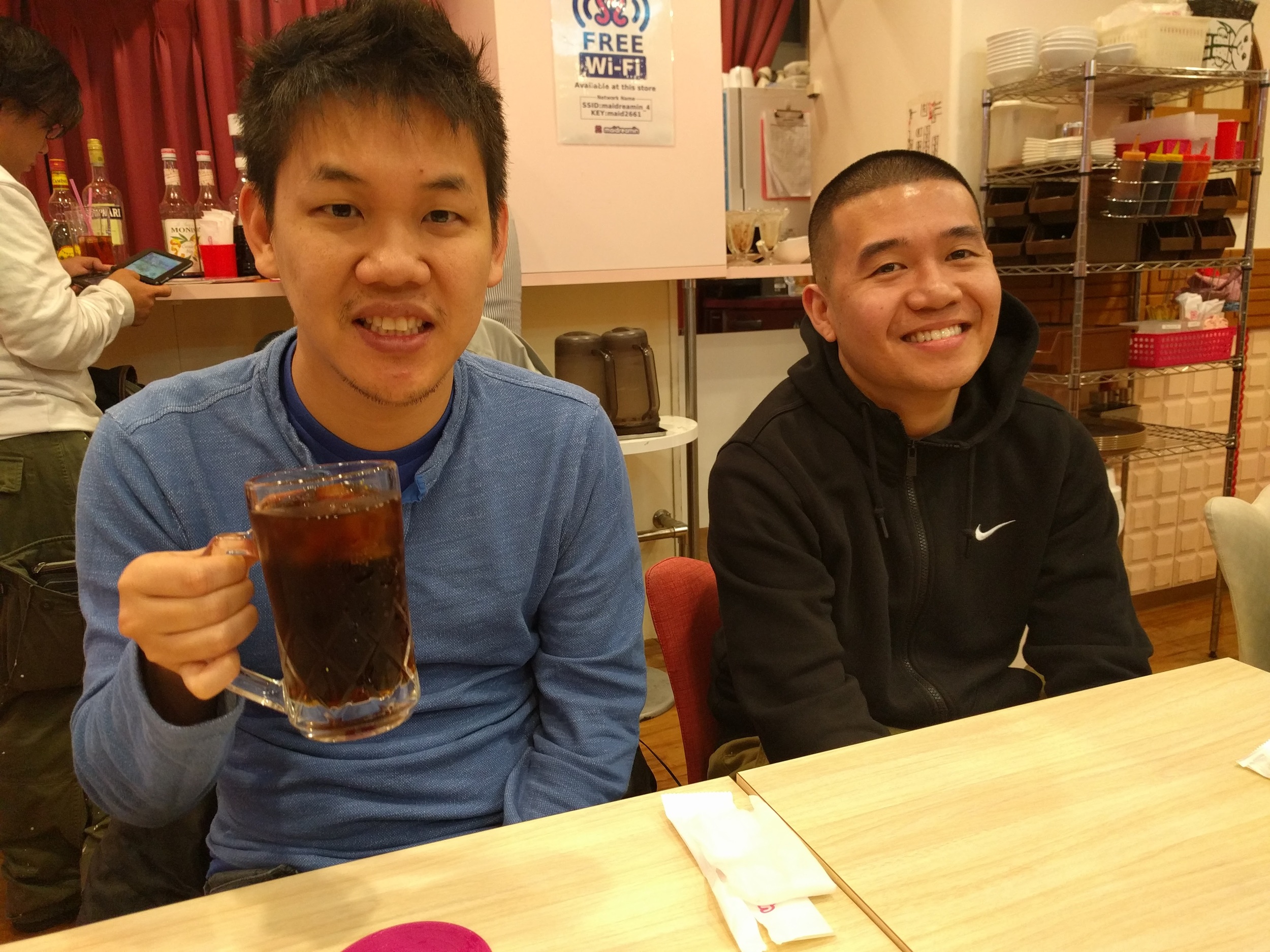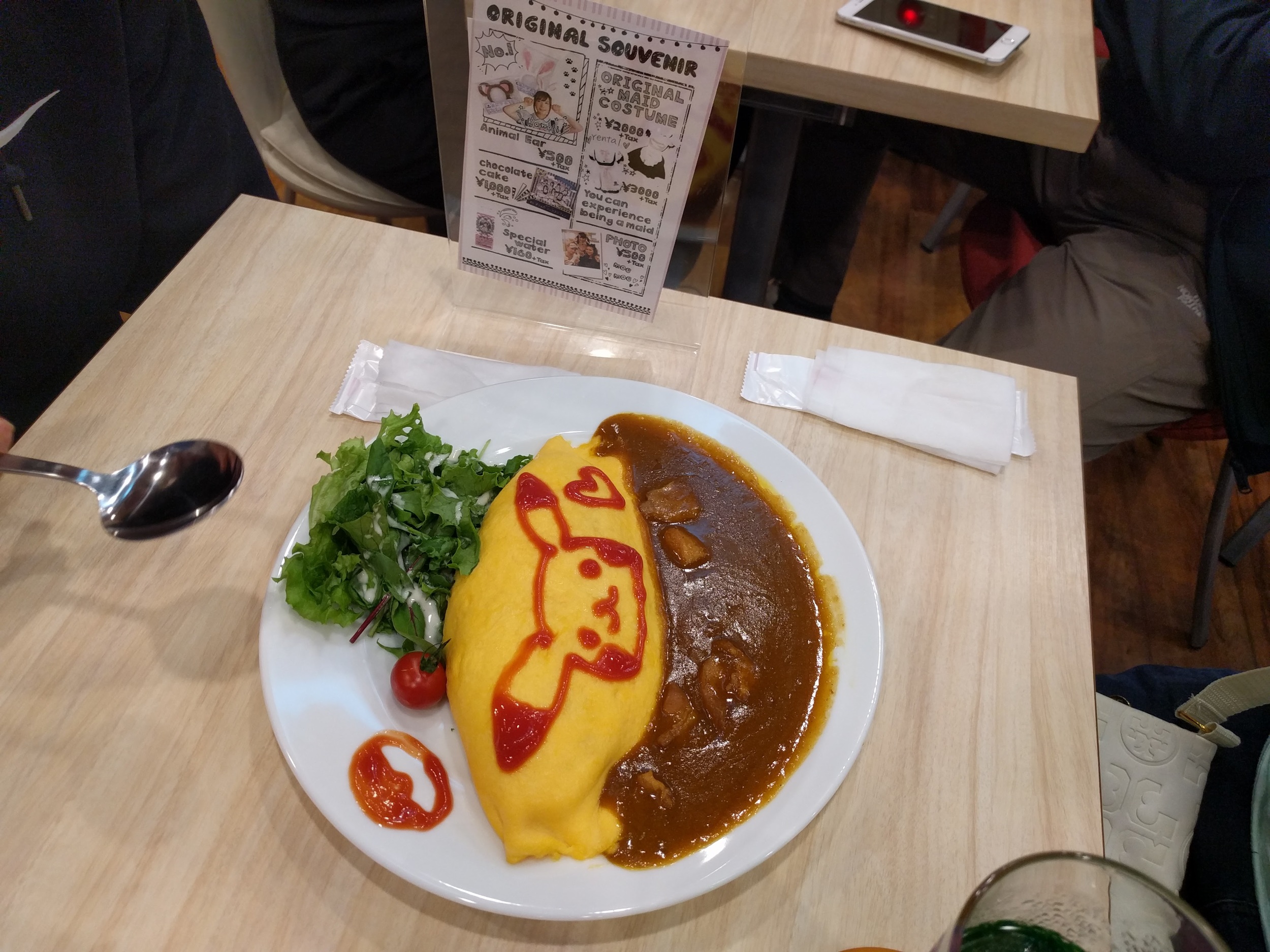 Day 5
C & M wanted to check out the temple where the 47 Ronin were buried (the famous samurai) so we took a trip over to Sengakuji Temple. Several other tourists were paying their respects, as well. Once lunch hit, we knew we had to find more ramen, so we tried a cute little ramen shop in Tokyo Station's Ramen Street. So good!
Robot Restaurant happened. They loved it. Of course. And we ended the day with "stand up steak" (yes, that's a thing) and the necessary PuriPuri group shots. :)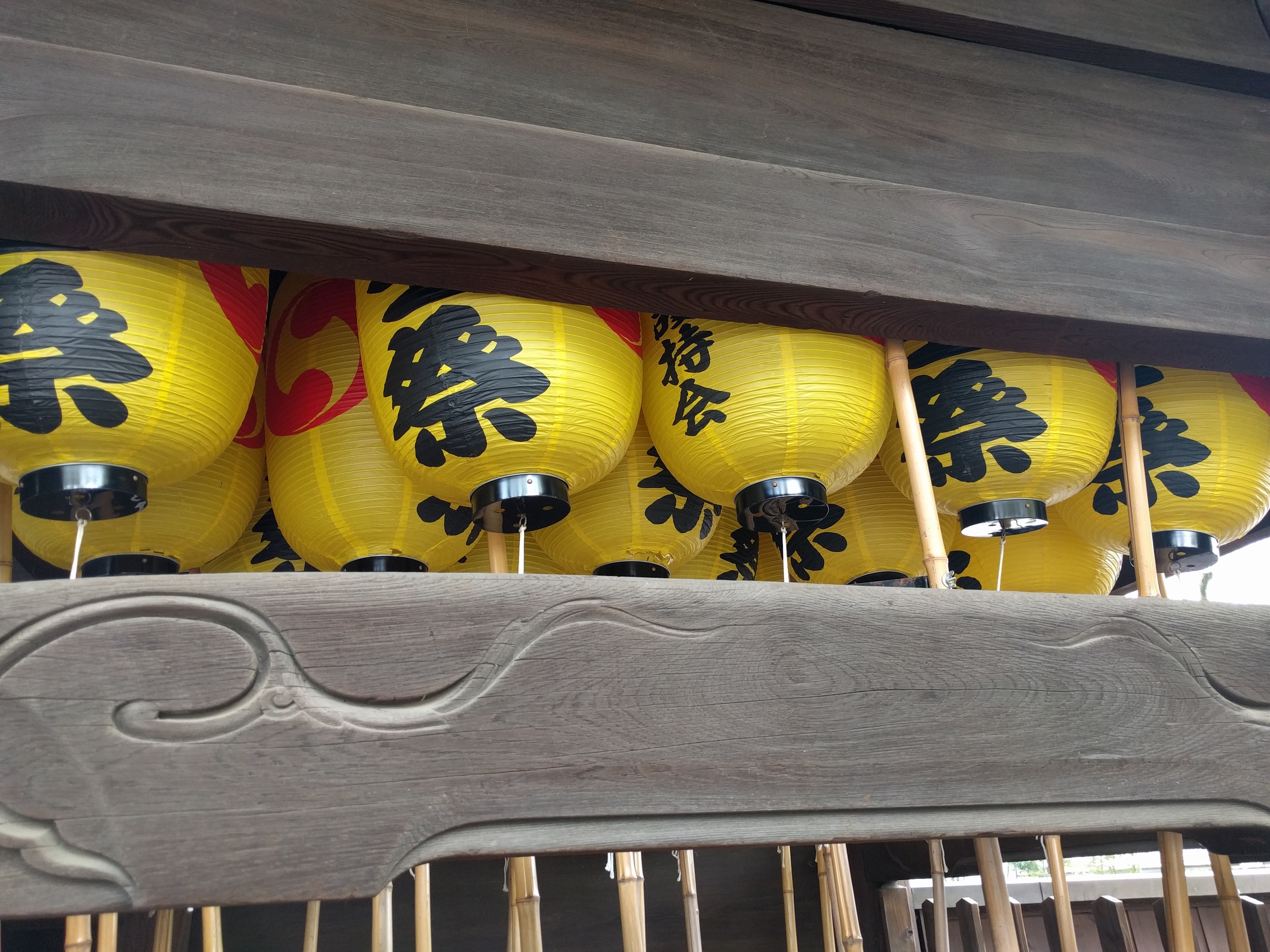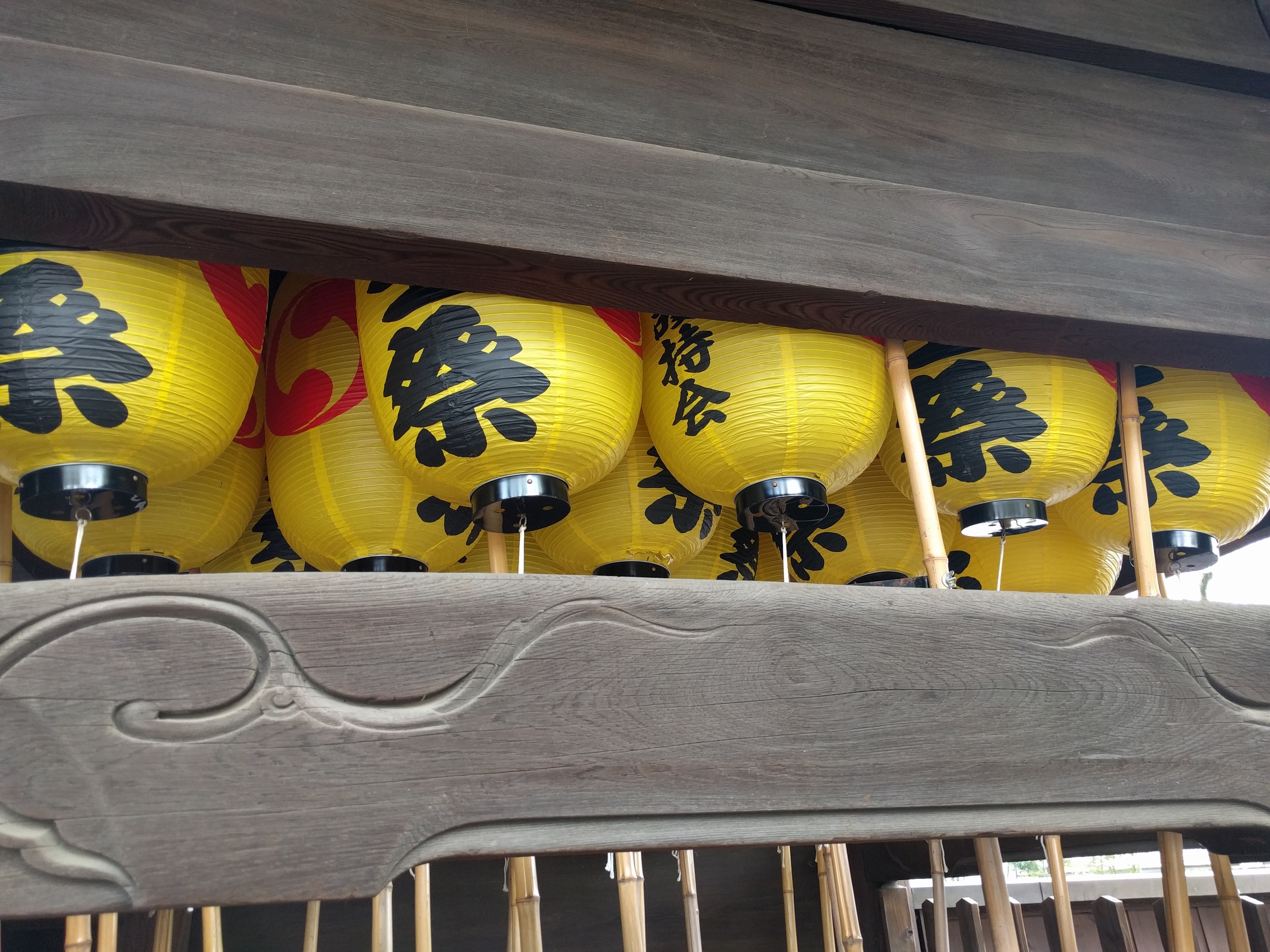 Day 6
The day started early since C & M had reservations for the Tsukiji Fish Market Tour. They met some new people and learned a lot about the market. I'm so glad that they were able to see it before it moves and forever loses its' historical locale.
And the food didn't stop there. We met up at Harajuku's The Great Burger, one of my fave burger spots in the city. We weren't sure if we got lucky again, or if it's because the theme here was Americana and we were super American, but we were seated on the one super cool, super comfy couch in the place.
After that I had to stop into Magnolia Bakery, since it was just around the corner. And they had SAKURA CUPCAKES. Ahhhh! Then, Christina had a craving for crepes so we went to the best place for them - back to Takeshidori Street (Harajuku Girls love crepes). And then, because we were doing a lot of eating and not much exercising, we took a stroll through Meiji Shrine.
Finally - more food - we ended the day with the well-loved Afuri ramen.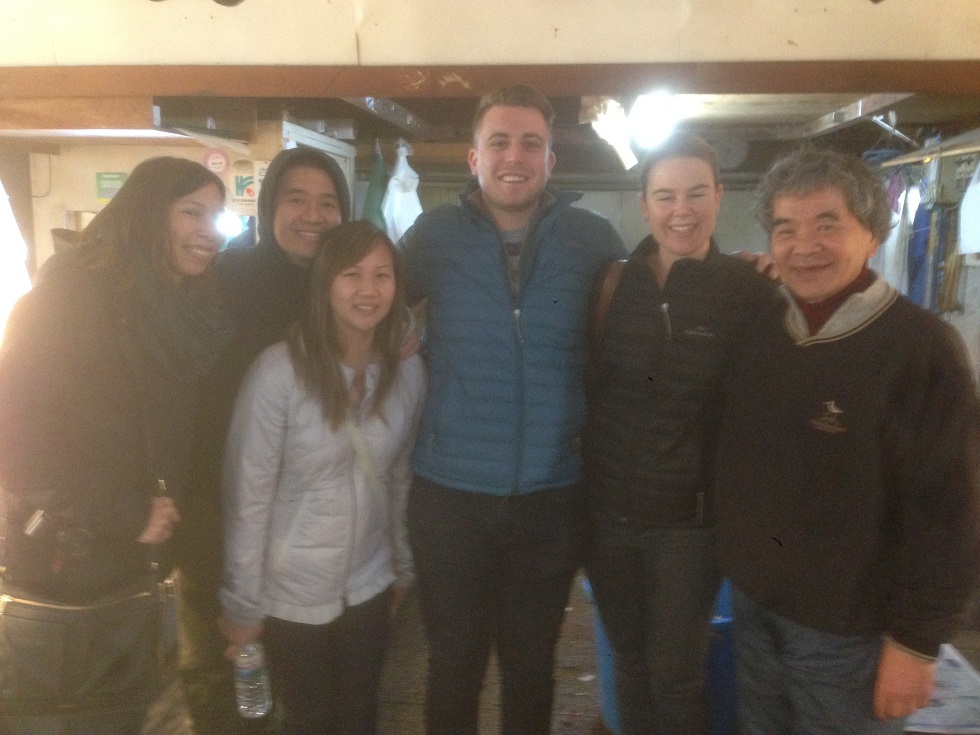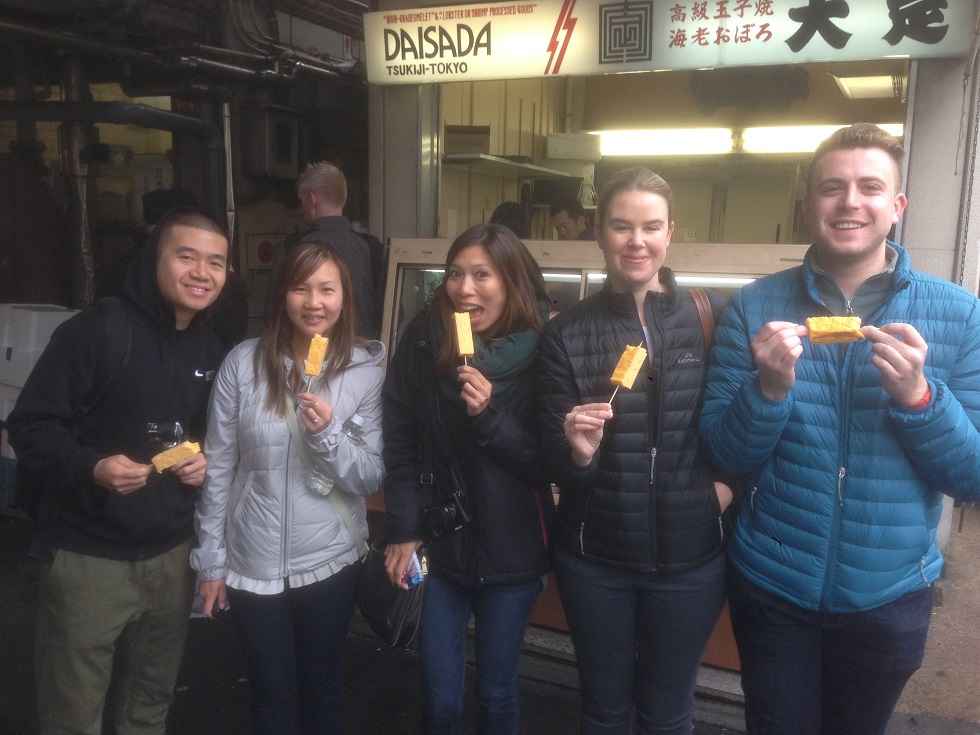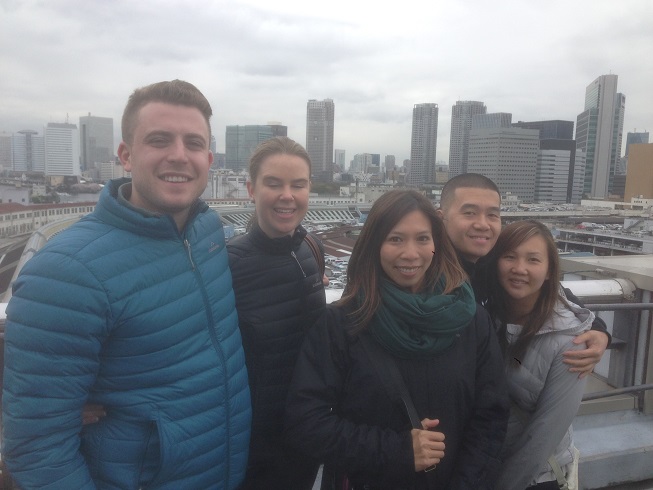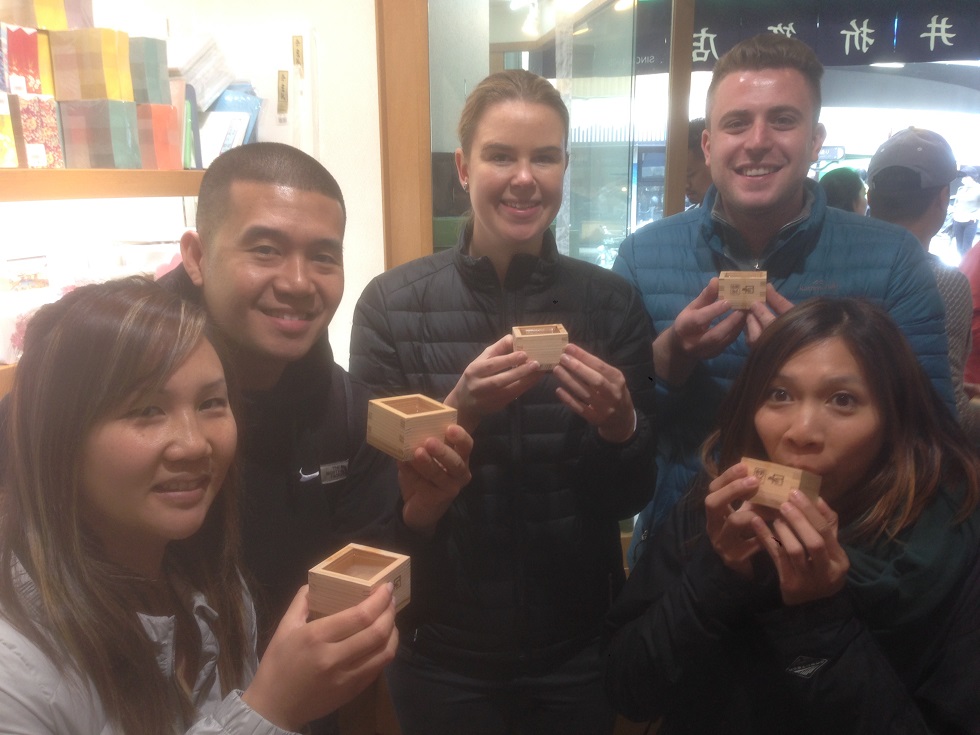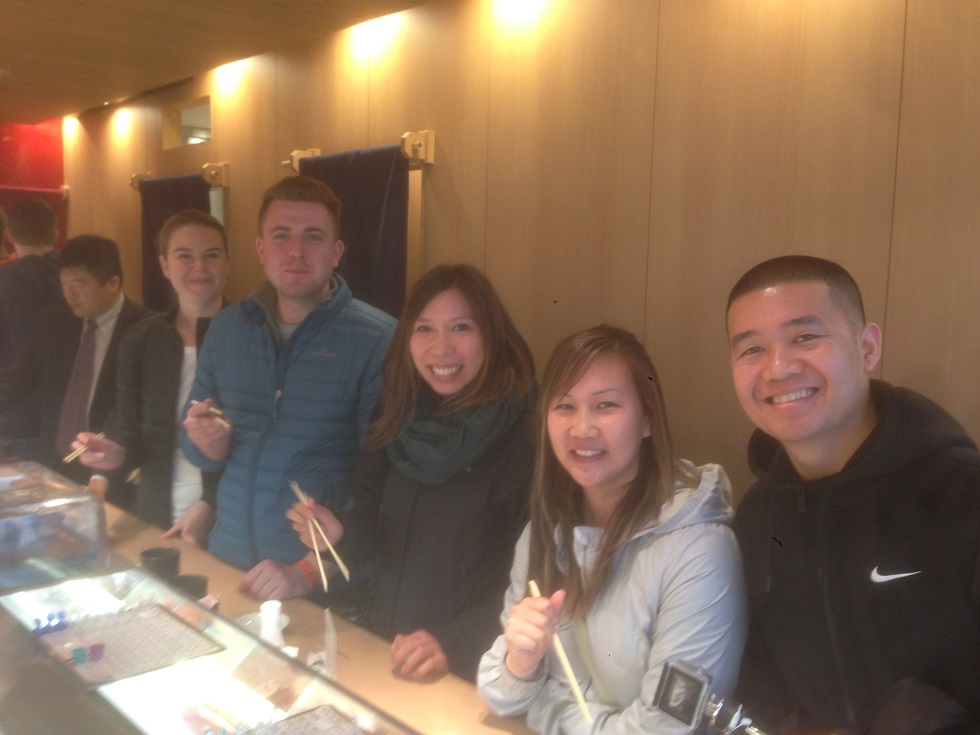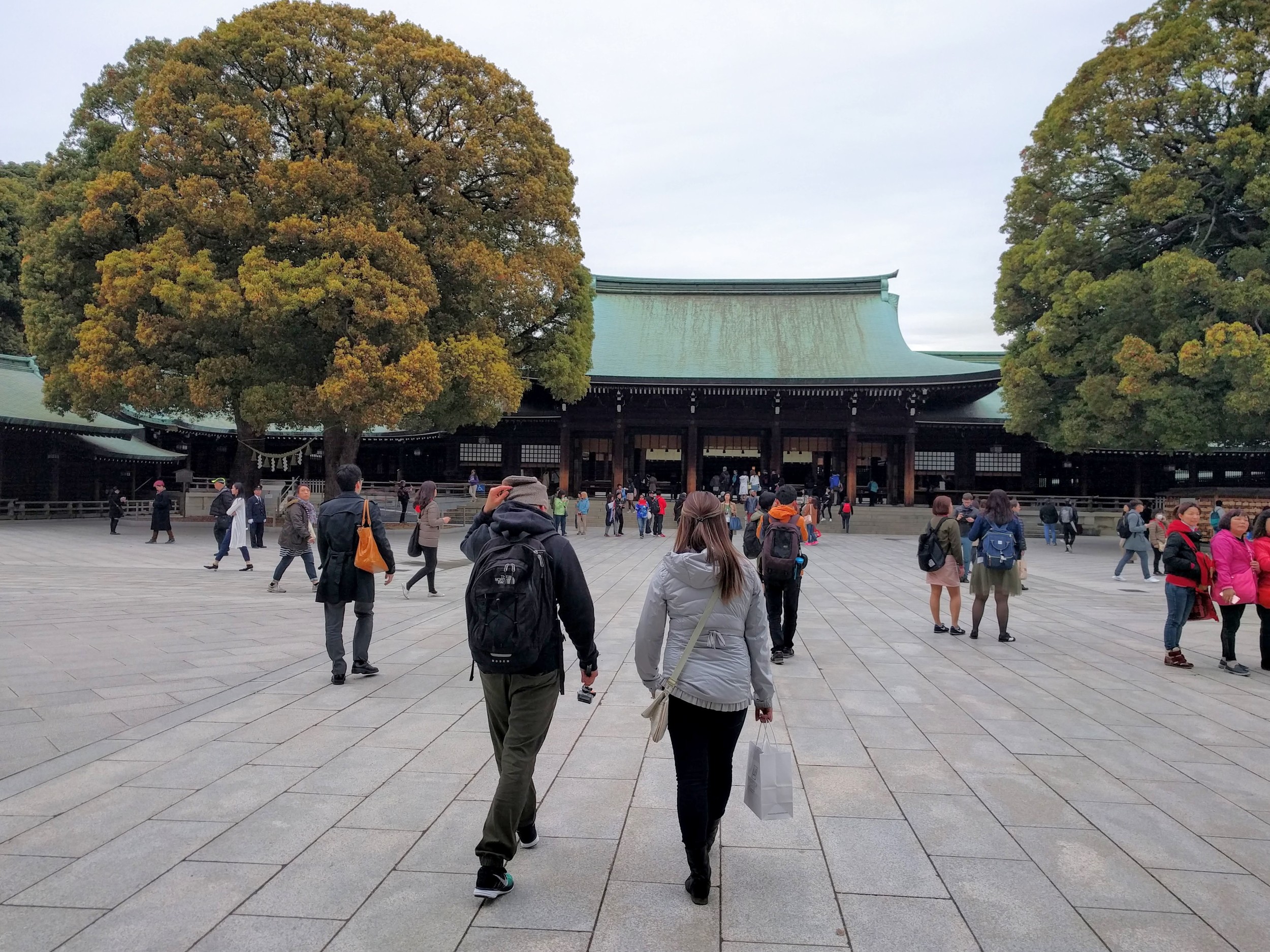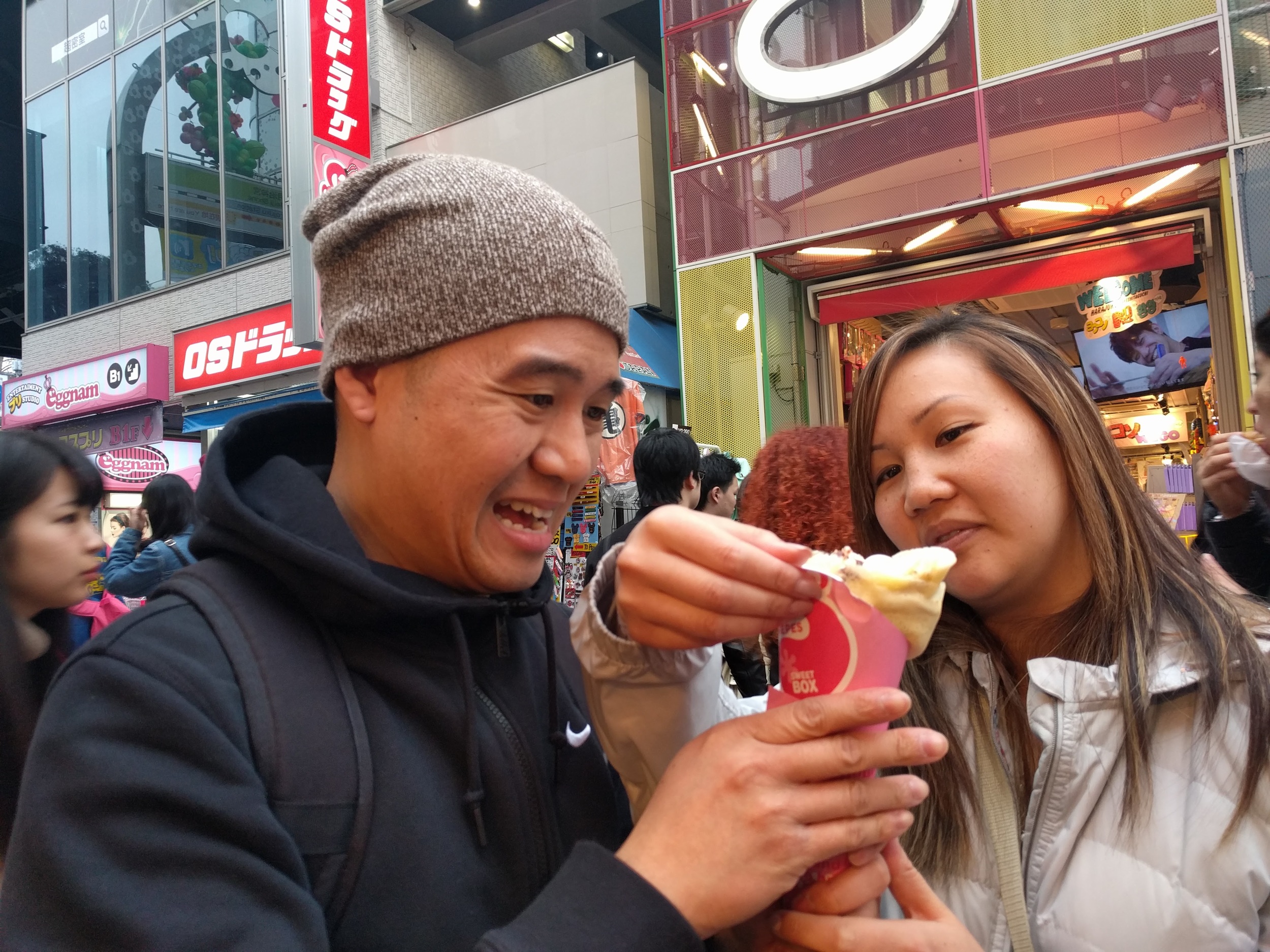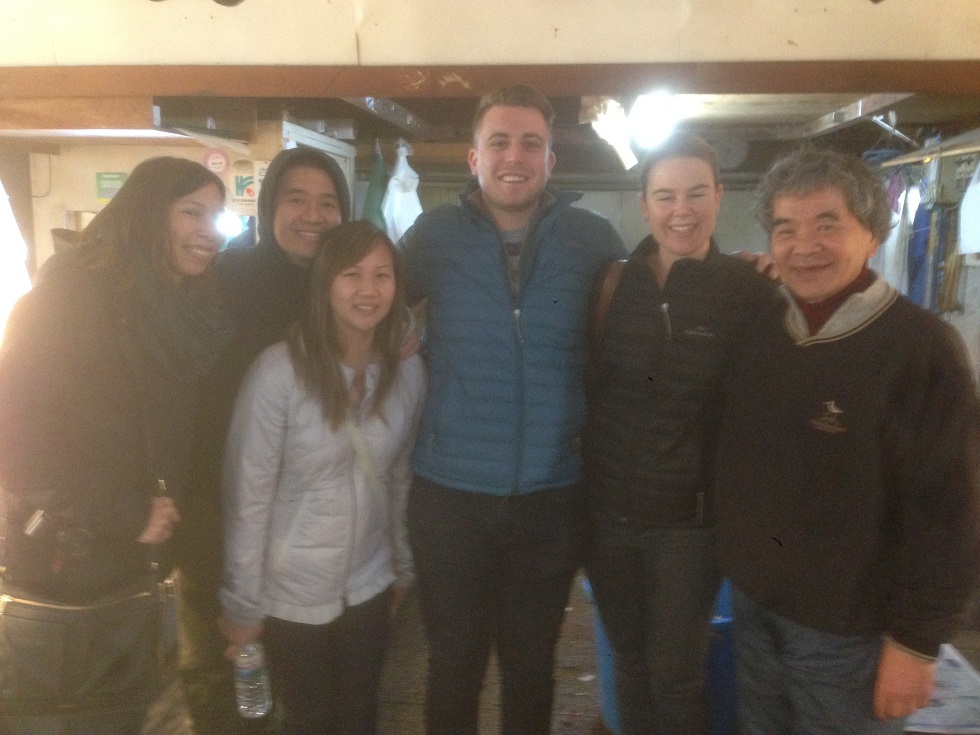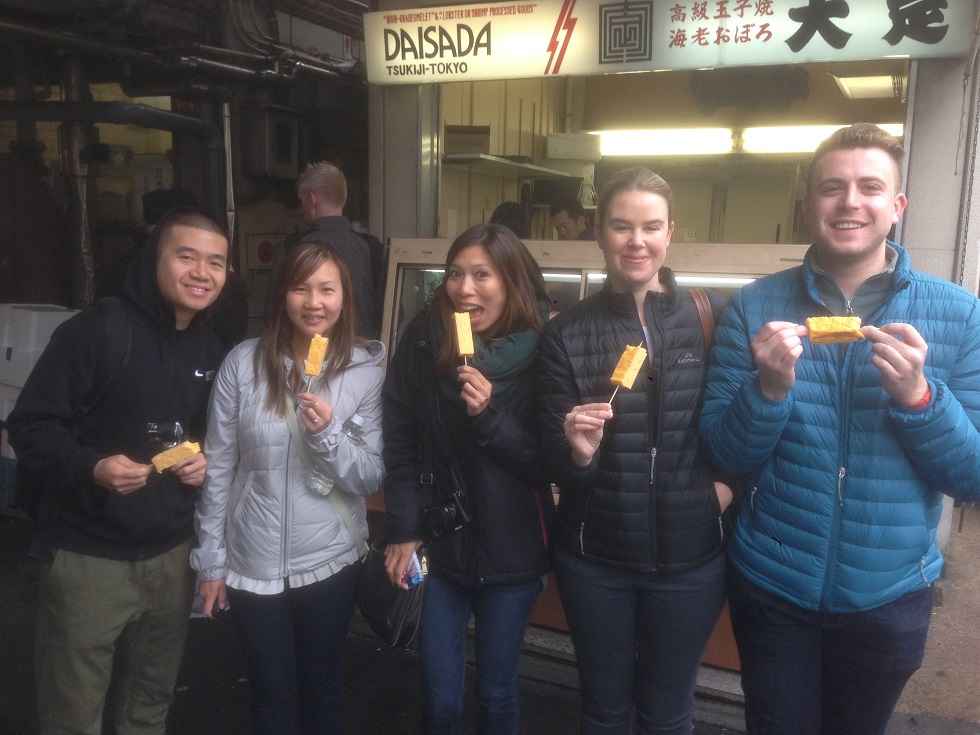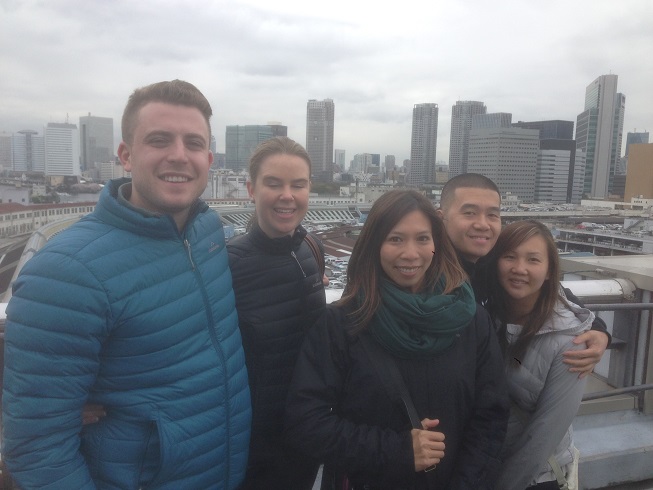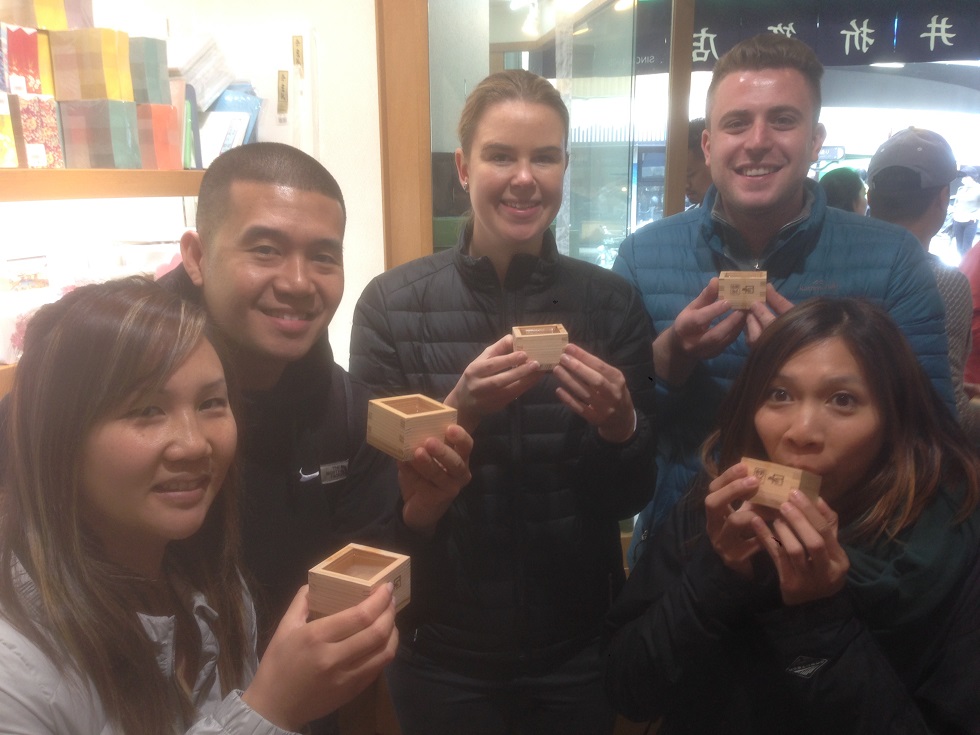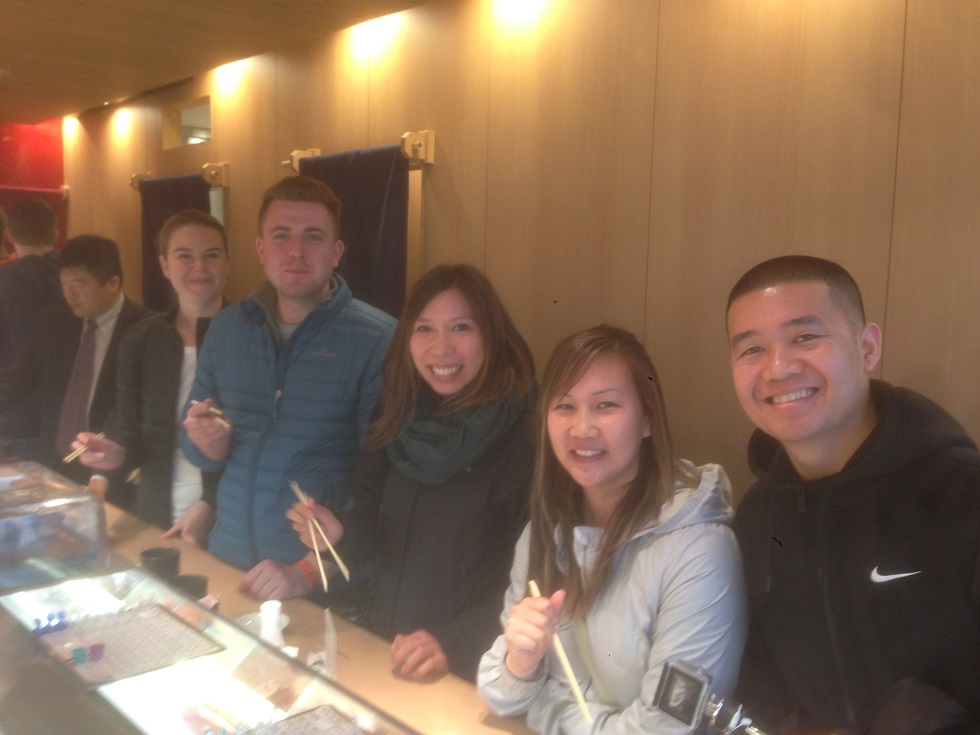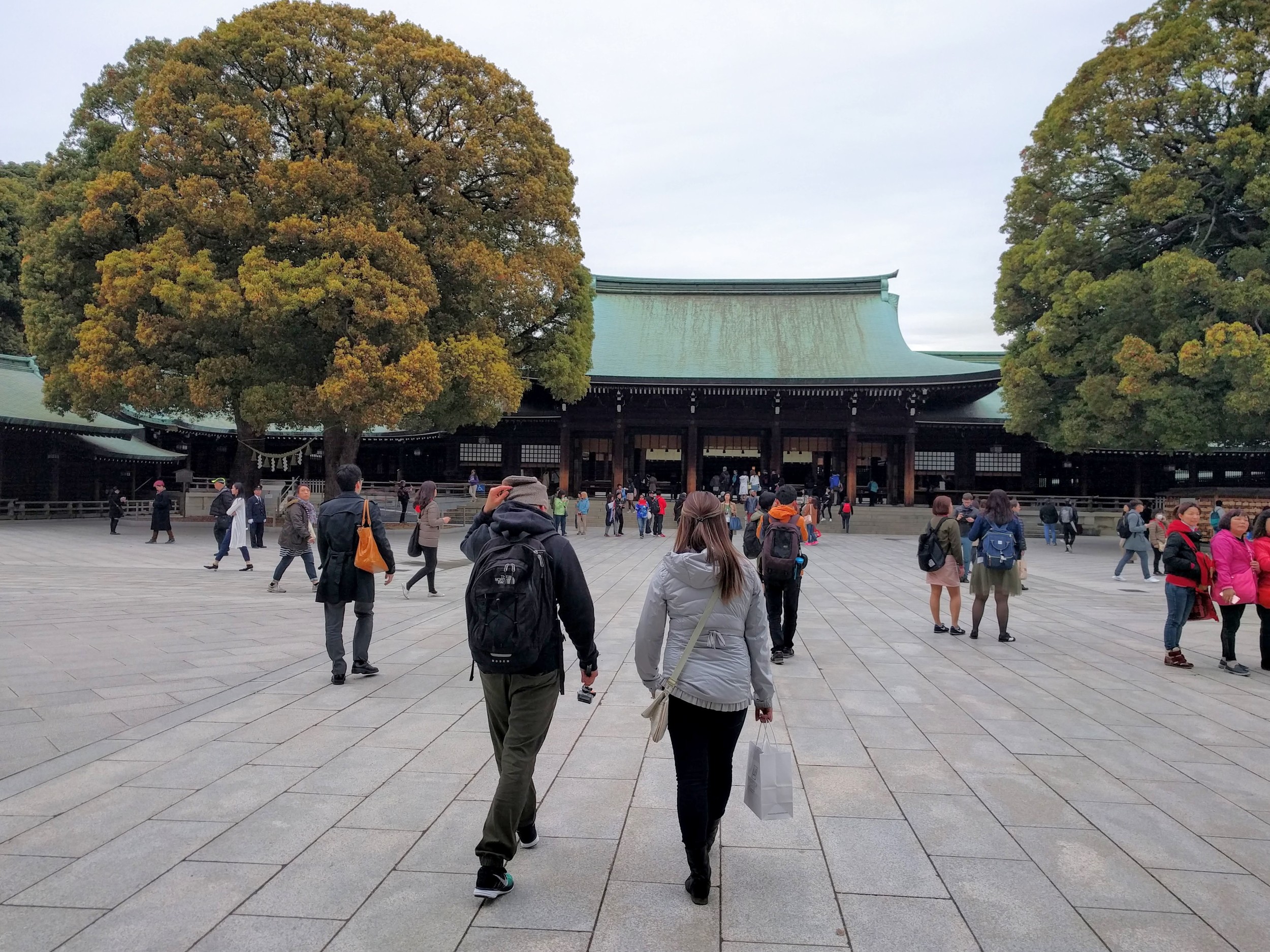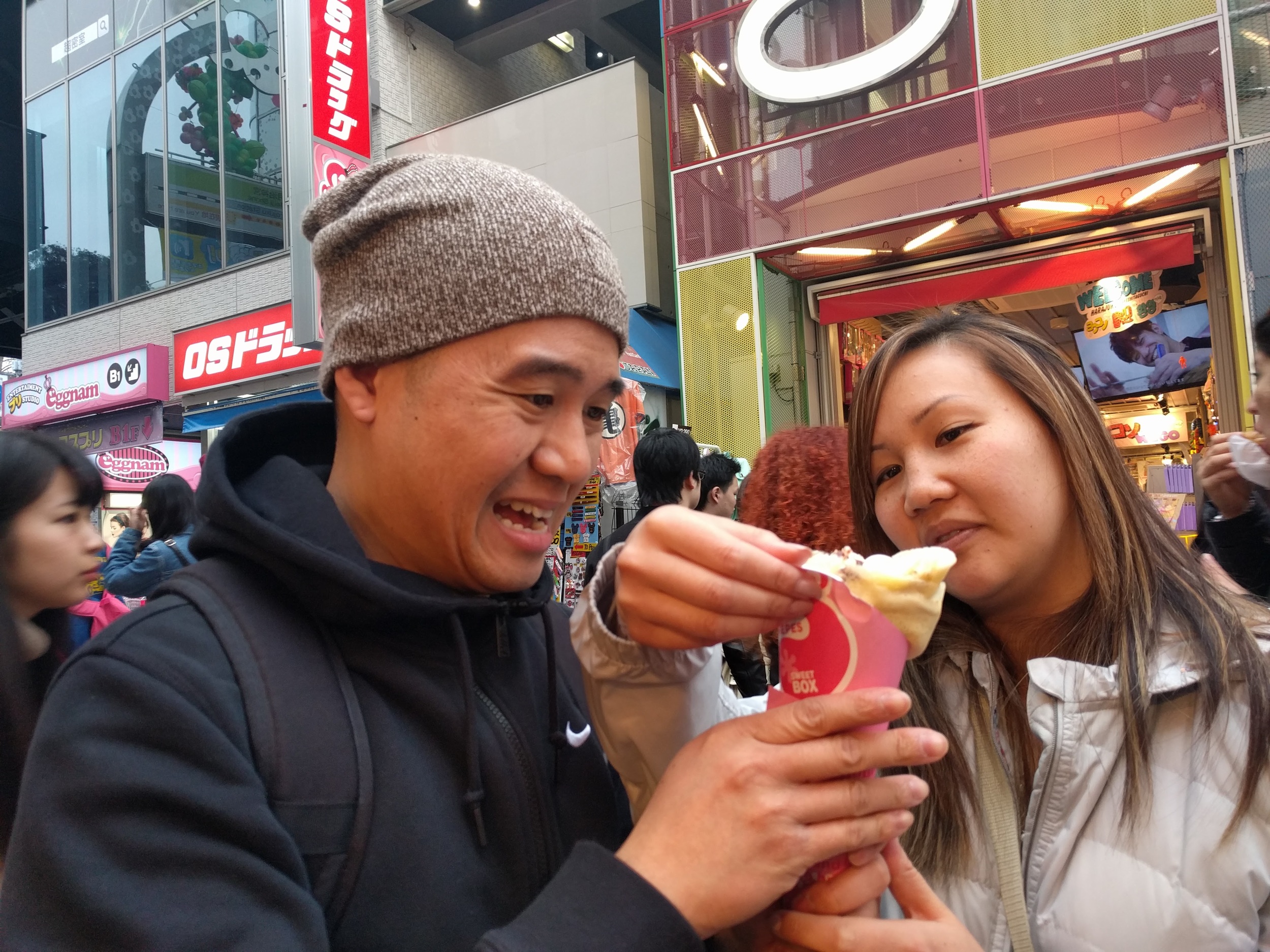 Day 7
This was an absolutely BEAUTIFUL day! The sun was shining, cherry blossoms were calling, and so was some yummy street food! We headed over to Ueno Park for dango, takoyaki, yakitori, yakiniku, okonomiyaki, and, of course, ice cream. :) It was a good day.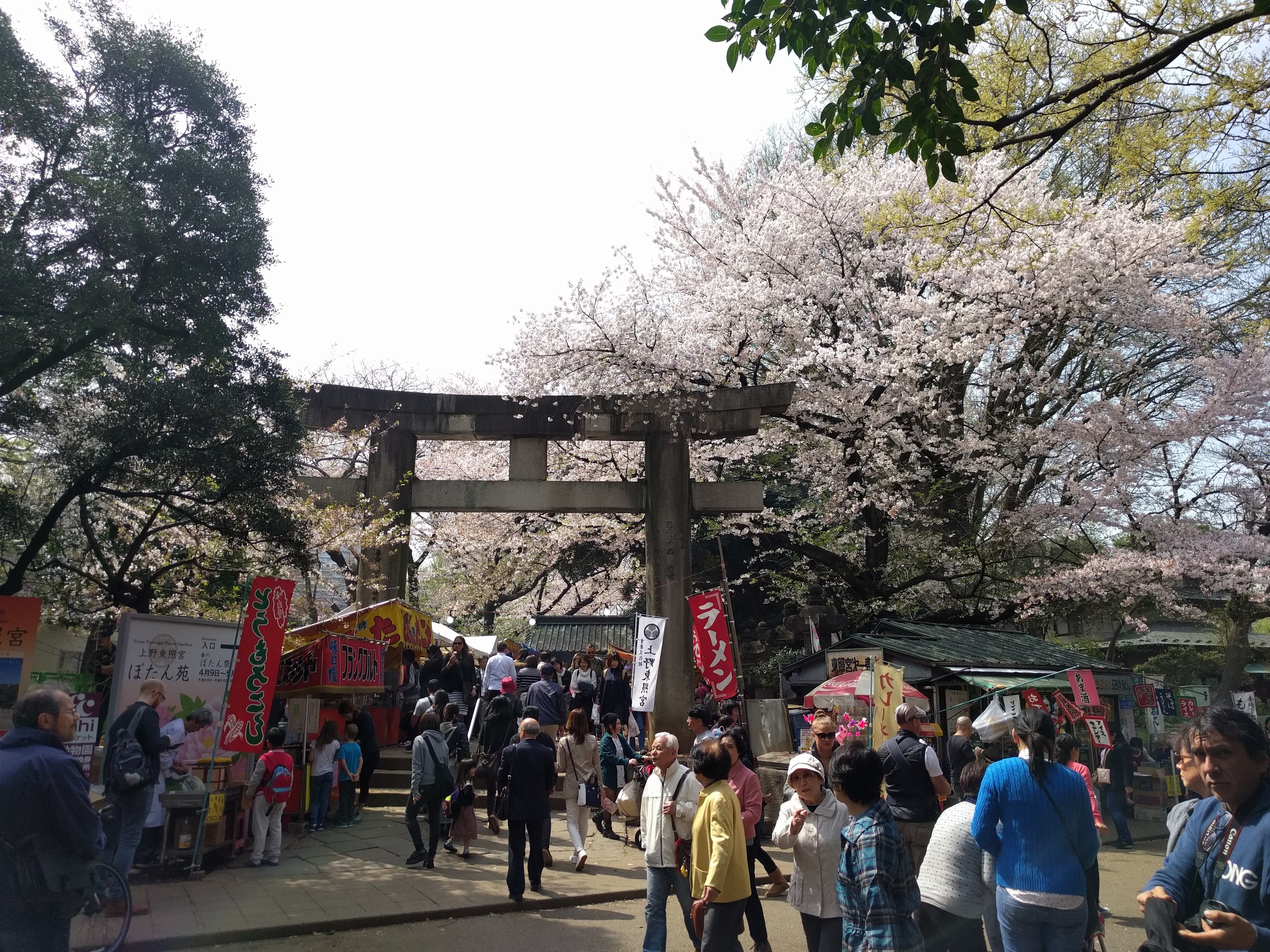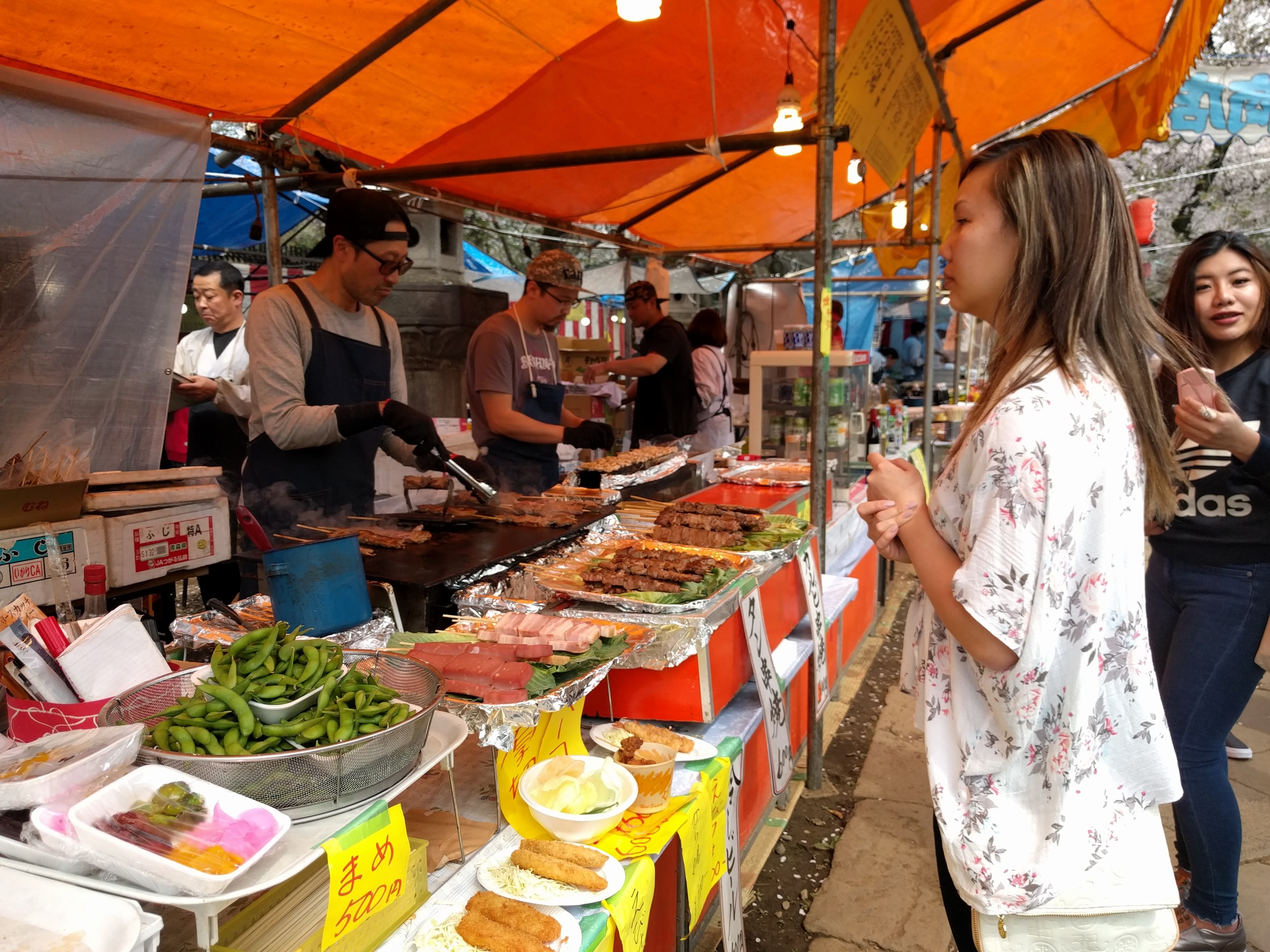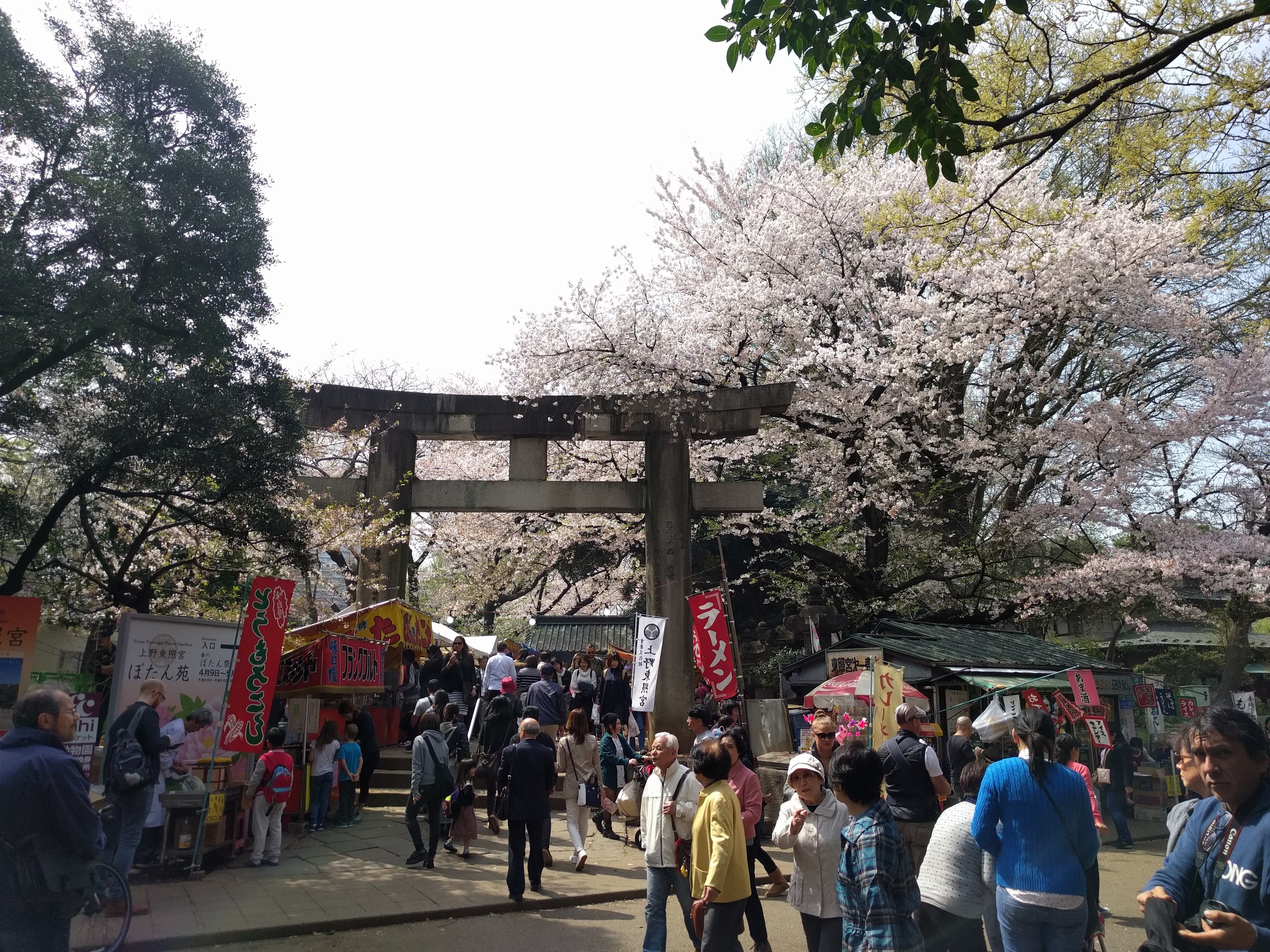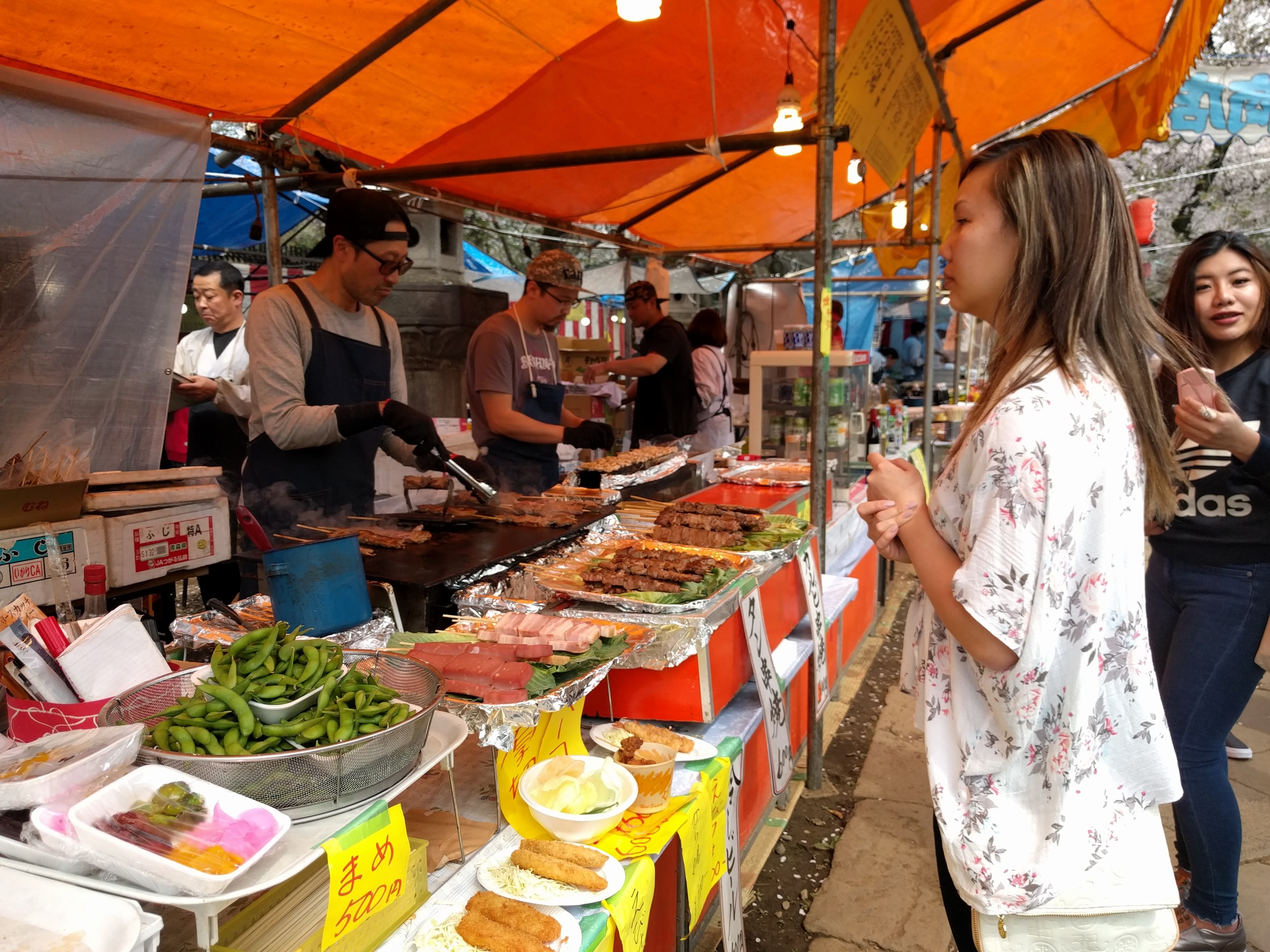 Day 8
It was C & M's last full day in Tokyo. Since it was a little rainy, it was a good time to try the Samurai Museum, located right in Shinjuku (down the street from Robot Restaurant). Although it was a little small, the helmets and armor on display were quite impressive. It was also interactive - they let us try on several pieces, watch a sword wielding demonstration, and even pose with the samurai himself! :)
We also got to feed C & M's ramen addiction one more time, at Ohzeki. This amazing noodle shop is located right in our very own Ebisu and has delicious tsukemen. Instead of noodles in broth like traditional ramen, this one come with broth on the side, that you dip your noodles into. YUM.
Day 9
On Day 9 Christina & Mark woke up early, jumped on a plane, and flew off to their next destination - Hong Kong! Mark thought of everything. After a beautiful cherry blossom proposal, they now get to spend the next three weeks (yes, three!) in Hong Kong and the beautiful Philippines.
So happy to have you in Tokyo with us and so excited to have shared in such a big moment in your lives! Can't wait to hear all about the rest of your travels... and the wedding planning!!! :-P xoxoxoxox