During Tim's Christmas vacation we took the opportunity to tour southeast Asia. We were especially excited to spend three days roaming Siem Reap.
Hello Cambodia!
This city is such a huge tourist attraction for Cambodia that it seems they built their airport right next to it to make it easy for travelers. After arriving we hopped in a taxi and arrived at the Royal Angkor Resort & Spa 15 minutes later. It was just one of many grand hotels lining hotel street in downtown Siem Reap. It was a bit old but we had excellent service, a beautiful pool, and a spacious room (the lot of screaming birds outside our window worried us at first but thankfully they do sleep at night).
Tim found a well-reviewed tour company called Angkor Wat Services and booked three full days of adventure. This turned out to be SUCH a good idea. Without a guide we would have been wandering through temple after temple without any idea of what we were looking at.
After scouring a map I was surprised to see that Angkor Thom is much larger than Angkor Wat, which I'd heard the most about. Look at how many temples there are! We toured Ankgor Wat, Angkor Thom ("angkor" meaning capital city), miscellaneous nearby temples, and a floating village about an hour away.
Angkor Wat in all its glory.
Probably the most memorable part of the trip was witnessing the sun rising over Angkor Wat.
Bayon Temple was home to 216 serenely smiling stone faces; a masterpiece of Khmer baroque architecture.
Phimeanakas Temple turned out to be pyramidal and built even before Angkor Thom.
The much talked about Ta Prohm ("Tomb Raider" movie location) didn't disappoint. Over hundreds of years Kapok trees feasted on the minerals found in these rock walls, slowly crumbling the temples in the process.
Preah Khan - NOT the Tomb Raider temple but just as beautifully overrun with roots.
The many intricate entrance gates, bathing pools, and courtyards...
Cambodia is the poorest country in southeast asia and it was clear when we toured the Floating Village. About a one hour drive from Siem Reap, it consisted of ramshackle houses on the shores and boats on the lake, inhabited by hardworking people who fish daily to feed themselves.
Banteay Srei was a 23 mile drive from Siem Reap. Because it was built of red sandstone, it could stand up to detailed carving and remained well-preserved. Its small stature made it rather cute compared to the grand temples of prior days. We had to duck to fit through the doorways.
Beng Mealea: a crumbling temple 40km east of Angkor Wat. High wooden walkways were erected for tourists because during monsoon months the ground floor is completely flooded.
Our tour guide, Chet, had 13 years of experience guiding tourists through Siem Reap so not only was he overflowing with facts and stories, but he'd also mastered the art of posing his customers for the most cheesy, romantic photos possible. Get ready.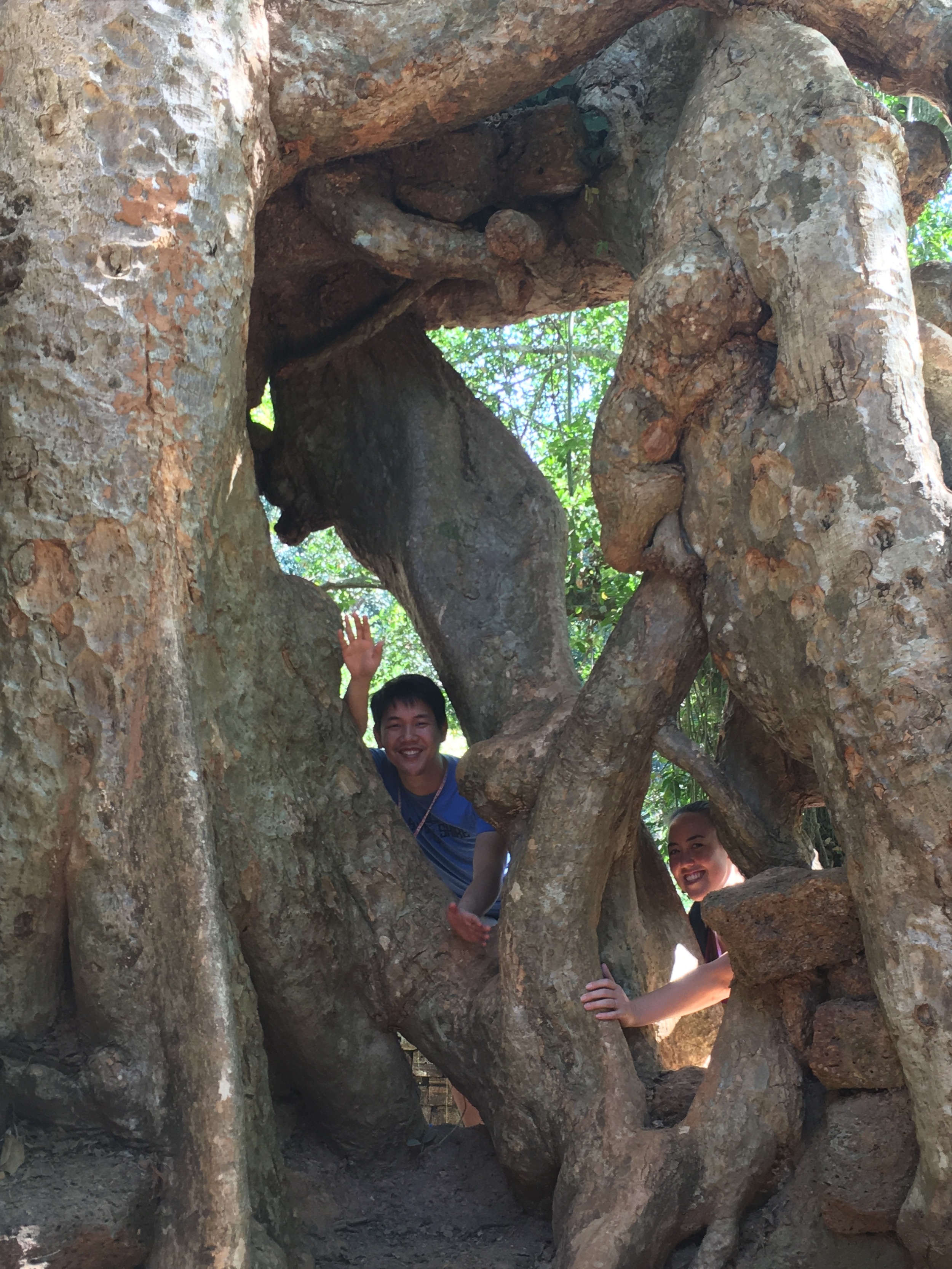 Cambodian food was yummy! It was the kind of standard south asian fare you'd expect except they don't use any hot spices. Two of their signature dishes: Khmer Chicken Curry (in a coconut) and Beef Loc Lak.
The city of Siem Reap was definitely a tourist hub. By night the streets of bars, restaurants, and souvenir shops were overrun with the tourists who'd been overrunning the temples by day.
And that was Siem Reap in a nutshell! So many beautiful sights and so much information... we are still processing our whirlwind trip. Did all of this really happen?