Tim had Thanksgiving break off of work so we took the four-day weekend and made a short trip of it. Our first stop was to Kyoto, a city we hadn't visited since 2012.
On Day 1 we saw Kinkaku-ji Temple, a UNESCO World Heritage Site. The gorgeous Golden Pavilion sits on a lake surrounded by Japanese maples and cherry trees (this must be spectacular during cherry blossom season). The winding paths take you through the large gardens, which are listed as a National Special Historic Site and a Special Place of Scenic Beaty. We were fortunate enough to be there while the leaves were turning brilliant reds, yellows, and golds!
There were lots of crowds here; many foreigners, as expected, but also many Japanese tourists and school children.
Tim thought it would be fun to learn a bit about the formal Japanese tea ceremony during our time in Kyoto. We arranged to have a small-group session and learn more about the art. We had no idea how complex, rigid, and precise this ceremony could be. In order to perform your own tea ceremonies you must go through the proper courses and receive certification and in Kyoto there are only two tea masters that you can receive this certification from. It was good to have the chance to learn a bit more about Japan's rich culture.
It was a bit chilly that day so we decided that some hot shabu shabu was in order. It really hit the spot!
On Day 2 we headed out to Fushimi Inari-Taisha Shrine.
This spot is known for the amazing number of torii gates that line a mountain path through the forest. In fact, there were so many, and we were so chilly, that we didn't make it to the top of this torii hike. Perhaps we'll make it on the next trip. Again, there were many tourists at this site, but the further you went up the pathway, the fewer people you had to contend with. 
We were very impressed with the serenity we found there, in the middle of that forest. Once we headed back to the entrance, we encountered the large crowds again, along with many food stalls and omiage stands.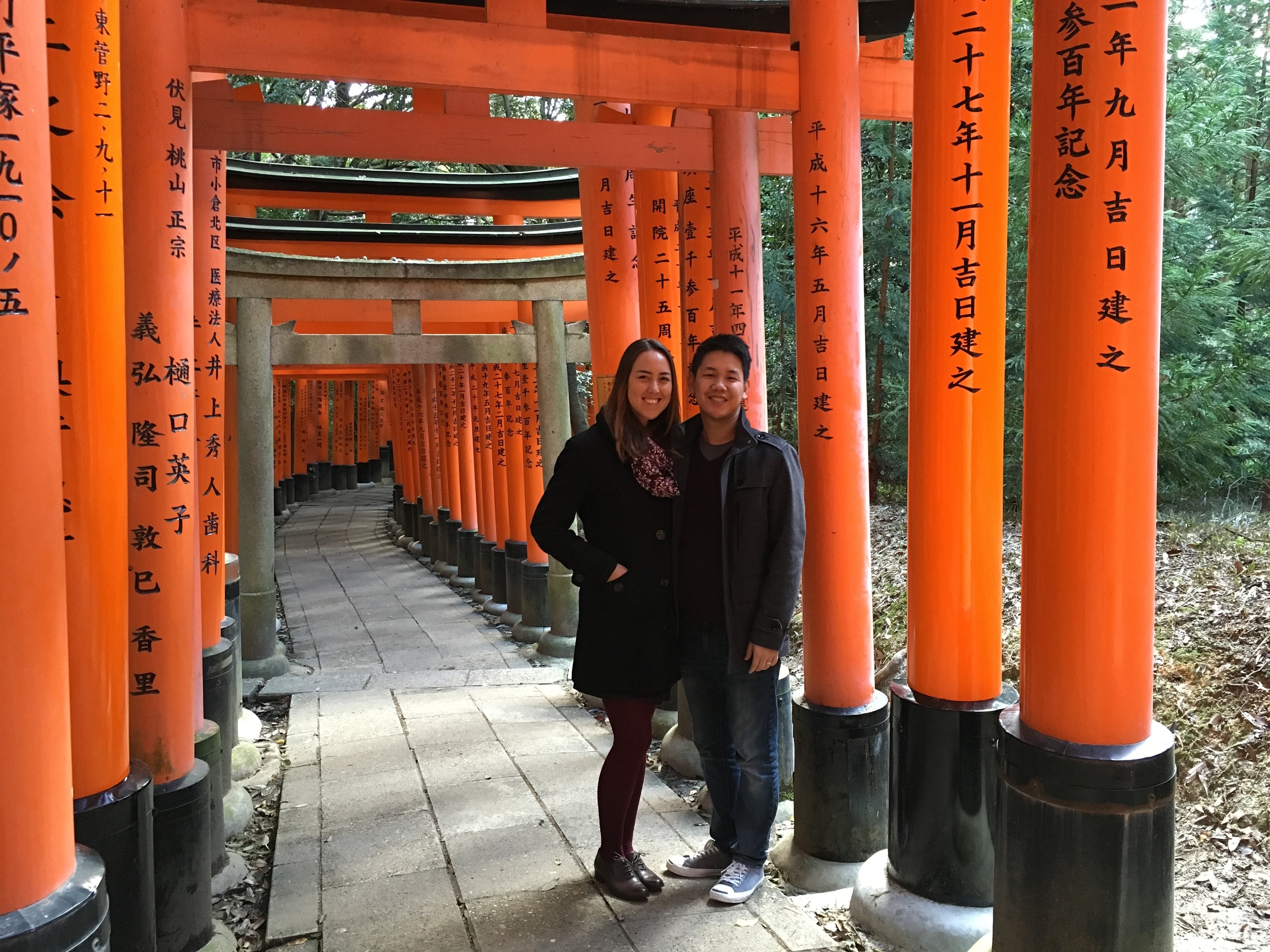 The next destination turned out to be the best fall foliage experience I have ever had...
Zenrinji-Temple is a Buddhist temple, created during the Heian Period (710-1185). At the center is a beautiful pond, around which many gardens have been cultivated. There are many structures and places of worship on these grounds. The sideward facing Amida Buddha statue is particularly famous, as it depicts the god as he turned his head to speak with a priest, Eikan.
I, along with all of the other tourists, could not stop admiring the leaves. They were absolutely beautiful. I really think Japan's fall leaves could be more impressive than cherry blossom season!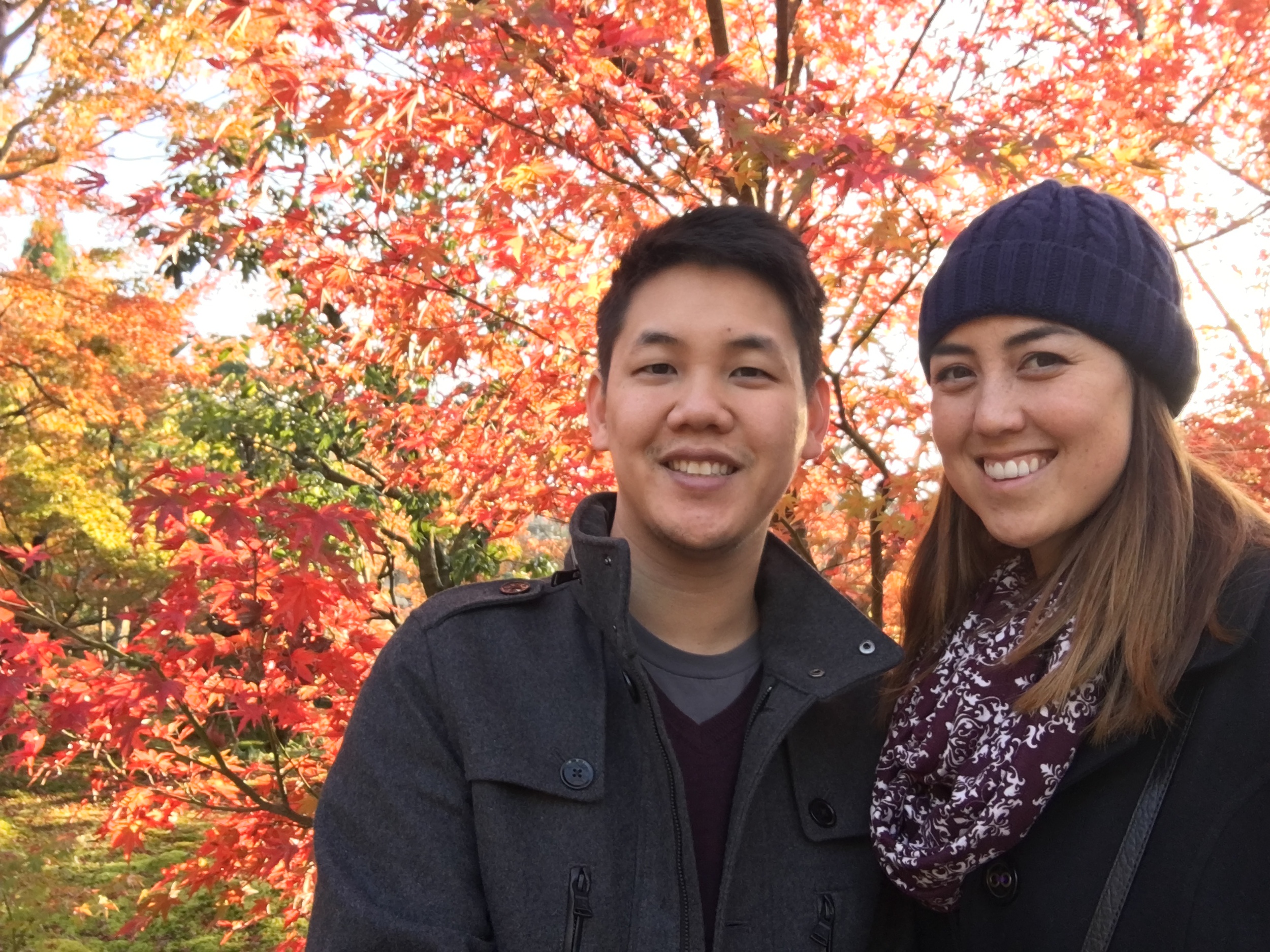 Before we left Kyoto we visited Nijo Castle, another UNESCO World Heritage Site, which happened to be right next to our Air BnB.
This was a very impressive castle, and unlike the few that we'd seen before. Rather than a massive seven floors, this one was single-level and much of the original interior was still intact. We were able to view the beautiful painted walls, screens, wooden floors, and in general, could easily imagine living there in the Edo Period (1603-1867).
Next, it was time to pack up and get back on the shinkansen. Destination: Hiroshima. We dropped off our things at our very tiny AirBnB and got a glimpse of what it would be like to live in teeny Japanese quarters.
Then we headed to our biggest reason for coming - the Hiroshima Peace Memorial Museum. The museum is situated near the Atomic Bomb Dome, which, remarkably, remained standing after The United States dropped an atom bomb directly over it in an attempt to end WWII.
Hiroshima Peace Memorial Park was created to commemorate those who died due to the atomic bomb. Some died immediately, and others died years later, after their bodies eventually felt the full effects of the bomb. One well-known story is that of Sadako and her attempt to fold 1,000 paper cranes to be cured of the leukemia she acquired due to the bomb's radiation. Sadly, she eventually succumbed at only 13-years-old. Her classmates raised money to create a statue to commemorate her and all other children who died due to the bombing. The statue is now surrounded by several cases containing paper cranes from children who have folded them over the years, in remembrance.
The Hiroshima Peace Memorial Museum shared a lot of information about the make-up of the bomb, the effects on the body, as well as personal stories from those who survived it. Surprisingly, it did not mention much about the United States or the war itself. It reminded us of the Holocaust Museum in Washington, D.C. Very difficult to view but very important.
On a lighter note, we visited Hiroshima's shopping and restaurant district for dinner and had absolutely delicious okonomiyake. It was created right in front of us on the largest grill/bar we'd ever seen. Hiroshima is known for its' oysters, so of course we had to order the oyster-topped version.
On our final day we headed to something we were quite excited about - Itsukushima Shrine. It is designated as one of Japan's "Three Views of Japan" and is an image that immediately comes to mind when one thinks of this island nation. We took a 20-minute train ride to the coast, boarded a ferry, and made our way to Itsukushima, commonly known as Miyajima.
I had expected a pretty view of the 16th century torii standing in the ocean water. We got that and so much more.
Deer roam freely and casually through the streets there. Like Nara, they are very friendly, and are always looking for a hand-out. They especially liked Tim.
This UNESCO World Heritage site contains a torii that was built on stilts so that it appears to float in front of the sacred island during high tide. The island is considered so sacred that no births or deaths are allowed to take place there and burials are forbidden.
We enjoyed walking along the shore and admiring the views. It felt like such a serene and special place.
Later, we strolled through the small town, popped into some shops, and picked up some delicious bites from the local vendors.
Four days between two beautiful cities... action-packed, breath-taking, eye-opening.