Our approach to Disney Sea on the Mickey Monorail... Clearly Tokyo is a pedestrian's city!
We were excited to be back at Tokyo Disney Sea! It's a must for any Disney fan, the main reason being that it's unlike any other Disney park. In America, there are the Magic Kingdom parks (there's one here, too), California Adventure, Hollywood Studios, Epcot, and the Wild Animal Kingdom. This one contains completely different lands, many different rides, and different eats!
Check out the map:
American Waterfront has many Colonial America restaurants and themed shops, as well as two non-original rides: "Toy Story Mania" and "Tower of Terror" (the Japanese spin on "Tower" is different). Port Discovery is a small land that includes a 3-D ride experience. Mysterious Island contains some throwbacks - "20 Thousand Leagues Under the Sea" and "Journey to the Center of the Earth" in a desolate volcano setting. Mermaid Lagoon is an undersea world that includes several kiddie rides (think California Adventure's "A Bug's Land") and a live-action Little Mermaid theater performance. Lost River Delta boasts a big 360 degree coaster as well as the "Indiana Jones" ride. Arabian Coast is Aladdin-themed, with many shops and restaurants and a magic show in the "Magic Lamp Theater". Finally, there's Mediterranean Harbor with most of the park's big shops and restaurants and the best viewing area for Fantasmic and the firework displays.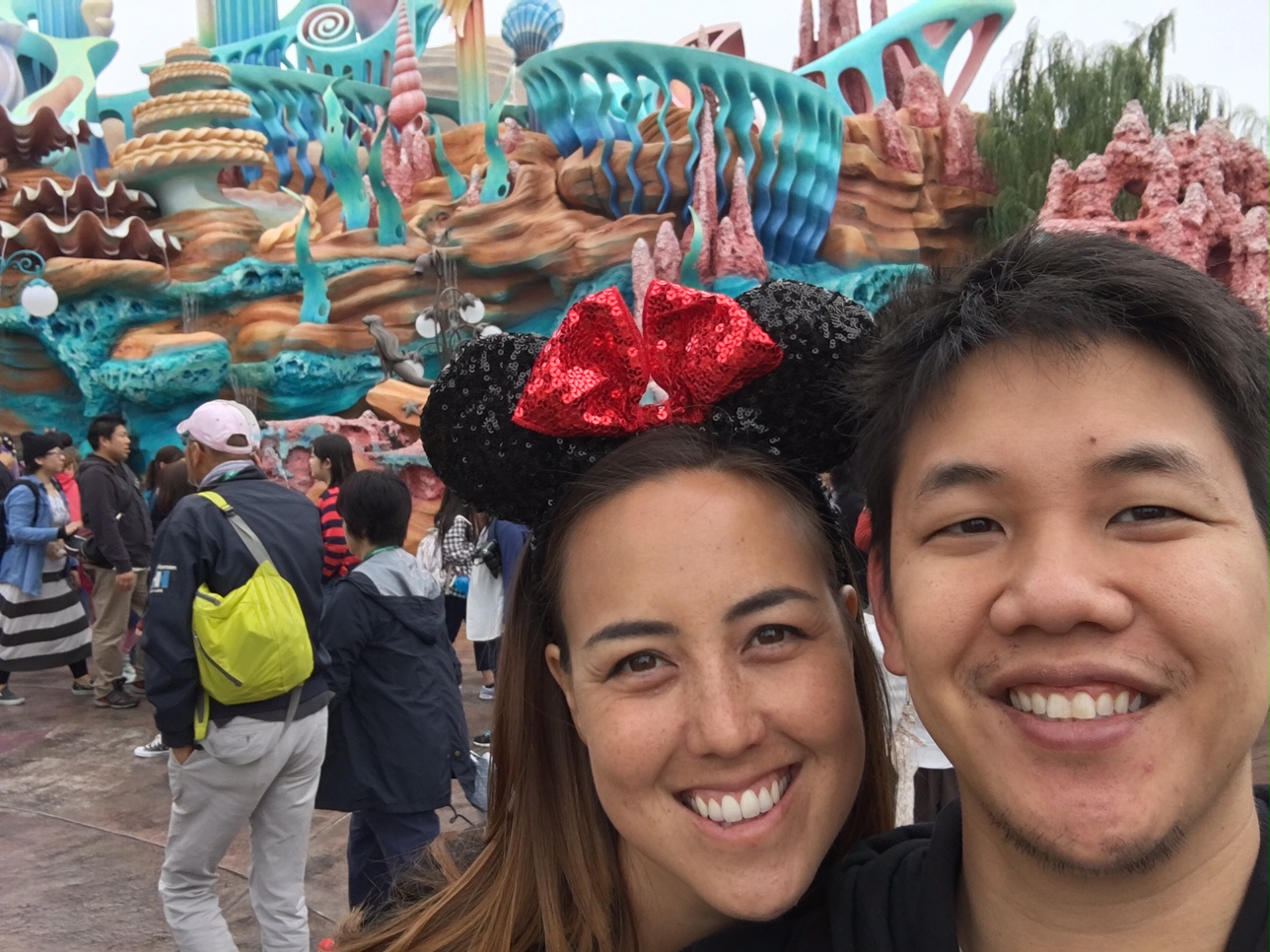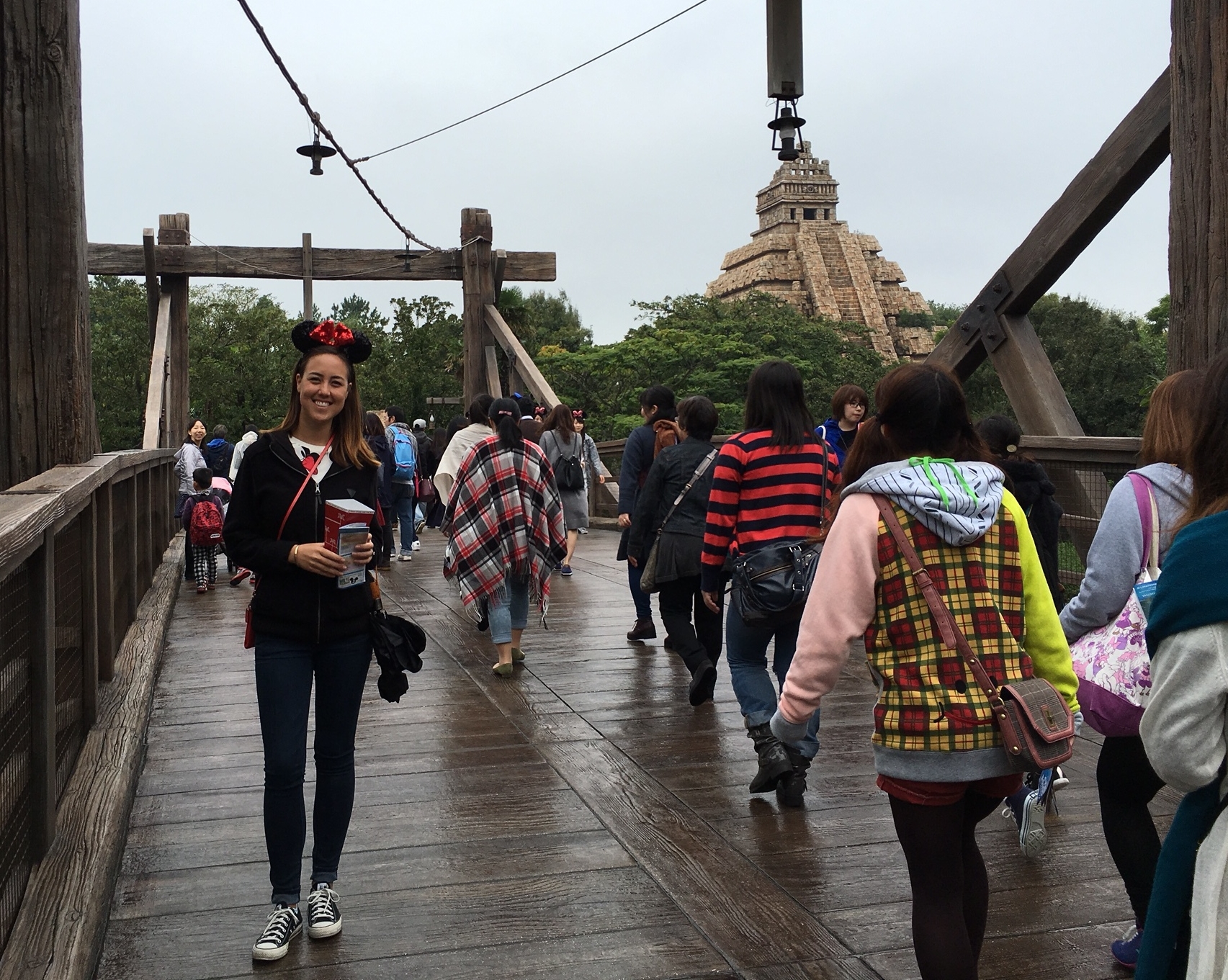 For the first time, we attempted to go to the park on a Saturday and discovered that it's better to go on a weekday... we hit long lines and big crowds everywhere! People TRULY do not mind standing in line here! In fact, it almost seems like if there's a long line for something, it attracts more people to join!
In the beginning of the day it was a bit drizzly but the weather ended up being great - cloudy and cool - so we were able to walk around in comfort. I was excited to see what their Halloween theme entailed, as this had been advertised all over the city for at least a couple of months. We noticed lots of Halloween decor, came across tons of Halloween merchandise, and watched the "Villain's World" show that took place on boats in the middle of the lake. It was neat, but not anything beyond the Halloween decor that happens at Disneyland back home.
We noticed right away on our first trip here that Japanese people LOVE to match each other when they come to the Disney parks. Their attire is very specific, right down to shoes, hair-do, and accessories, and their get-up is always unique - simple matching jeans and t-shirts will not do. There were SO many crazy matching people that I wanted to snap photos of but it was rather difficult (and too obvious). Thankfully, I got this shot, which shows just how prevalent the matching is.
While we're on the subject of fashion, check this out!
There are so many interesting treats to try here...
After walking around for so many hours we boarded a cruise ship and had dinner at the S.S. Columbia's Dining Hall. It was a nice sit-down meal and Tim had the forethought to line up early so we only waited 45 minutes.
The park at night really reminded us of the Italian coast!
In all, we were in the park for about 11 hours and with the help of two fast passes, we were able to hit six attractions. Yes, that's an average of one every two hours. However, we did have a leisurely dinner and we spent some time browsing shops and just touring the park.
Our takeaway was a) go on a weekday b) prepare to stand in long lines c) keep an eye out for those hidden Mickeys!