My friend, Diana, and I decided to meet for a week-long trip to Korea in the beginning of September. She happened to be visiting family in China and given that I was in Japan, it was an easy trip for both of us.
We spent the first three nights in Seoul, north of the Han River, in the older districts of the city. We accidentally stayed right in the middle of Myeongdong, the skincare and street food district - some of the biggest reasons for coming!
The highlights of our trip were visits to the city's historic landmarks. We purchased the very reasonably priced (10,000 won or $10) combination ticket pass for five palaces, including a secret garden. Each was beautiful and unique. Gyeongbokgung Palace was the first (and most impressive) on our list. We stepped out of the underground subway and couldn't have been more surprised... It looked like we had stepped back in time about 600 years.
I am SO glad we stopped to listen to this traditional music outside of the National Folk Museum of Korea. JAM FEST. They look like they're being nutso but they actually know how long they've been going and stop on exactly the same beat! I wish I'd caught it.
Korean food is delicious! Korean BBQ, kimchi, soondubu jjigae, and more... Here are some highlights:
We knew we wouldn't be able to entertain ourselves for a full week in Seoul so after three days we took a 3.5 hour bus ride to the eastern edge of the country, Gangneung. This place was dead. Tourist season ended at the beginning of August and we were one of the few tourists who showed up late. The best reaction we received during our tour in these remote parts was, "Why are you here?"
It was actually a very pretty piece of country. It's an oceanside getaway with plenty of fresh seafood restaurants and not a lot to do so we could understand why it would be a destination for couples. Random fact: The Sun Cruise Resort and Yacht is a giant hotel in the shape of a cruise ship on top of a cliff. We patronized the rotating rooftop bar.
A few more random bits from the trip...
We jumped at the chance to try on a traditional Korean dress - hanbok
There is such a thing as Tequila Sunrise in a plastic bag
We love Korean facial products
Diana guzzles a liter of water a day (she has glowing skin to prove it!)
We witnessed a man being physically pushed out of a dumpling restaurant about 5 times (he kept returning). Hence, Diana's glazed look of concern
Gorgeous blue skies daily
We kept trying to say "gomabseubnida" (thank you)... but no one seemed to understand us
The most exposure I'd had to Asia before this trip was Japan and Thailand, so I was wondering how Korean culture would compare. Some of the interesting things we noticed:
Do not laugh loudly on the subway - people will unabashedly STARE at you until you stop
If you look asian, locals WILL speak to you in Korean, even if you clearly don't understand any of it (sorry, Diana)
Hanocks (traditional homes where you sleep on the floor) are very uncomfortable and even young Koreans want nothing to do with them
People boarding the trains don't wait for others to exit. They just jump on.
Ladies like to paint each of their nails a different color
Old men frequently make loud sighing/yawning noises
Kimchi at every single meal - yes, please!!!
There are TONS of Paris Baguettes all over the city (we ate there at least three times)
Subways are cleaner than NYC but dirtier than Tokyo
People speak enough English that it's easy to get by without knowing any Korean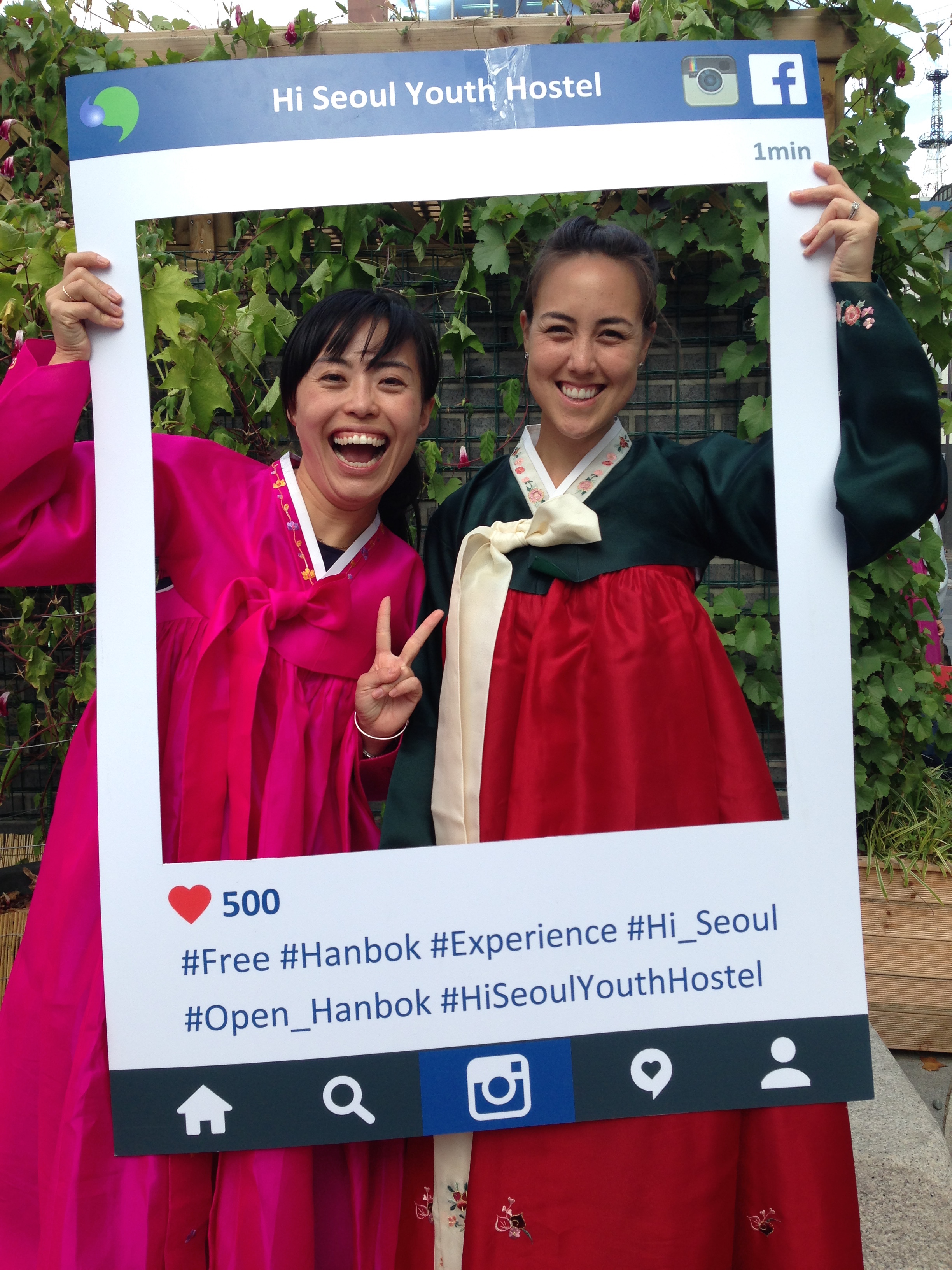 Diana has written an amazingly detailed blog post about our trip. Check it out HERE!